MLP EU - part of a fraudulent network
02.02.2032
MLP EU gives the impression that investors are provided with ideal conditions to make money as fast as they can with holistic investments, whatever that may be. At MLP EU, everything is investment fraud. Everything that the investor sees on his screen serves to mislead the investor. Nothing is traded on mlpeu.com. The money has landed straight into the pockets of the investment fraudsters. Not a cent has been invested. Can you report similar experiences? What can investors do who have been defrauded by MLP EU? What help is available in the case of investment fraud? How can investors get their money back from dubious providers?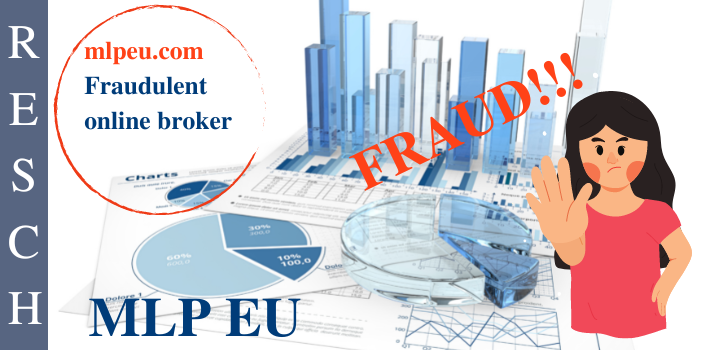 MLP EU: Promises on mlpeu.com are dubious!
You have noticed yourself that the website mlpeu.com makes a very professional impression. A direct approach, supposedly interesting offers as well as the reference to support by the employees, which is supposed to lead to a convincing return on investment and profits. All this seems very convincing. As an unsuspecting investor, you are not in a position to realise that you are merely being played a game and not a cent of your money is being invested. All the money ends up straight in the pockets of the perpetrators, who of course do not trade with the investors' money either. Everything is just staging and illusion.
MLP EU: Who is behind it?
The MLP EU website does not contain a truthful imprint, which should prevent the perpetrators from being easily identified. The data that can be found there are all fake, but more on that later. The domain data of the website mlpeu.com also contain no indication of who once registered the site, but only that the registration took place on 14.10.2022 at PDR, Ltd. and that the real domain owners - quite as expected - are hiding behind a common anonymisation service provider. It is absurd why the website advertises decades of expertise when the website was only registered in 2022.
Who is the operator of mlpeu.com?
On the MLP EU website there is only scanty information about this. In addition to the obligatory support e-mail address info@mlpeu.com, the potential investor is given the telephone number +41(0)225182409 with a Swiss country code. The address is Rue des Bains 33 1205 Genève (Geneva) Switzerland. A good address, but there is no trace of an MLP EU there.
MLP EU: Persons apparently fictitious
But what about the managing directors named in the imprint of the website, can we get to the people behind the MLP EU through them? Unfortunately, we could not find Dr. Danielle Saviliani, Sergio Demati, Regina Hauser, Stefan Mann or Frank Wittich.
MLP EU: International searches
The worldwide search for the MLP EU in the relevant registers leads to no result. The MLP EU is an imaginary product. It does claim to be registered in Geneva, and we also find a registration number, CHE-113.620.730.
But with our research tools, our investigation team succeeded in tracking down the investment fraudsters.
MLP EU: Scheme of investment fraud
The investment fraud plays out unmistakably according to the same pattern: Investors initially invest a small sum - usually 250 euros - are impressed by how quickly this amount increases and are therefore prepared to invest ever higher sums. The disputes start when an investor wants to have his money paid out, because then, ostensibly, taxes, commissions, fees or anything else have to be paid first. Unfortunately, many investors do not realise until it is too late that they have been defrauded and that they never intended to withdraw their money.


MLP EU: What help is available in the case of investment fraud?
Many aggrieved investors ask themselves how to act in the case of investment fraud, as it hardly makes sense to file a criminal complaint, as they primarily serve the purpose of criminal prosecution, but not the recovery of the money. What help can one hope for in investment fraud cases and how do investors get their money back? A lawyer specialising in investment fraud must know how to follow the traces of the money, because as they used to say, money is not gone, it's just somewhere else. In the present, it can be added: It is tricky, but with the right tools it is possible to track money digitally on a regular basis - even if it was deposited with Bitcoin via a Crypto Exchanger.
RESCH Rechtsanwälte GmbH - Experience in investor protection since 1986
If you have been a victim of MLP EU and want to know if and how you can get your money back, call +49 30 885 9770 or fill out the questionnaire. You will receive a free assessment of your case.