Mint by Flagstone UK - Warning: Abuse of identity!
16.01.2023
Mint by Flagstone UK creates the impression that investors are offered excellent opportunities to make safe money with classic investments. Everything at Mint by Flagstone UK is investment fraud. Everything the investor sees on their screen is deception. The money has gone straight into the pockets of the investment scammers. Not a dime has been invested. Nothing is traded on the website mint-im.de. Have you had similar experiences? How do investors get their money back from dubious providers? What can investors do who have been scammed by Mint by Flagstone UK? What help is available in case of investment fraud?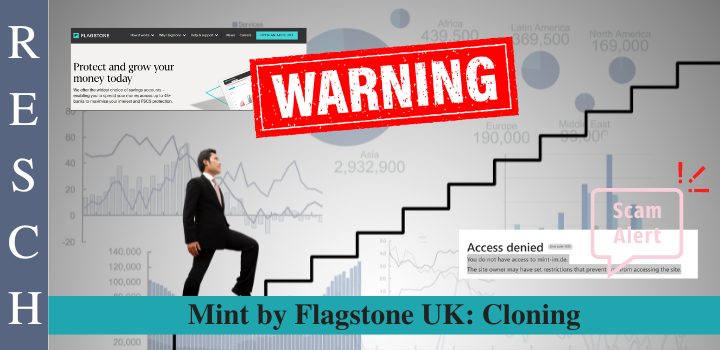 Mint by Flagstone UK: Big promises on mint-im.de
Investors were lured to the mint-im.co.uk website with questionable promises. But everything seemed very convincing. The unsuspecting investor was hardly able to realize that nothing was real. A play was played for him. Not a cent of his money was invested. Everything landed immediately in the pockets of the investment fraudsters. It was not invested profitably. Everything only appearance, no being. And therefore the investor does not get his money paid out. The exciting question is, who is behind this investment fraud?
Mint by Flagstone UK: Domain entry is hidden!
Of course, the investment scammers do not want people to track them down easily. That is why the website did not have a meaningful imprint with the website operators' full details and an address. Also, the domain data of the website mint-im.de do not contain any indication of who once registered the site. The makers of the platform hide in the guise of anonymity.
Mint by Flagstone UK: Who is behind it?
Investors will not be able to answer this question. The investment scammers disguise their identity perfectly - almost. This is normal because they regularly operate various websites where they offer their fraudulent business model. And who is the operator? On the Mint by Flagstone UK website, there were only sparse details about this. In addition to the obligatory support e-mail address, potential investors were offered the contact telephone number +493022043680, which does not allow any conclusions to be drawn about the operators of the platform. Also, the, at first sight, suitable mondäne address under the lime trees 24 in Berlin center is nothing than hot air, it does not lead us to the Machern of Mint by Flagstone UK. You won't find such a company there, not a trace of it.
Mint by Flagstone UK: International searches
The worldwide search for Mint by Flagstone UK in the relevant registers leads to no results. The Mint by Flagstone UK is a fantasy product. On the other hand, the company Flagstone Group Limited (flagstoneim.com) is not a product of a creative pen. This company exists in the United Kingdom and can also be found in the commercial register under the number 08528880.
Mint by Flagstone UK: Brazen Cloning
The Flagstone Group Limited has simply become a victim of a criminal cloning act. And so it is not surprising that Andrew Thatcher, Co-Founder, and Executive Director, and Simon Merchant, Co-Founder, and CEO of Flagstone Group Limited, have nothing to do with the rip-off machinations of the alleged Mint by Flagstone UK. Their names have been misused, it is a case of brazen identity theft, a phenomenon we encounter again and again in the course of our investigations. However, this does not detract from our work. Because: We know the fraudster gang behind this construct very well. There are numerous platforms, clones, and other fraud schemes that we have been able to trace back to this gang in the course of our internal investigations. Such is the case with the alleged Mint by Flagstone UK. With our research tools, our Investigations team has managed to track down the investment scammers.
Mint by Flagstone UK: Warnings from regulators
Unsurprisingly, Mint by Flagstone UK has already been targeted by the UK's FCA (Financial Conduct Authority) for its business practices and questionable demeanor. Thus, the latter issued the following warning on 14.06.2022: "Mint by Flagstone (clone of an FCA-authorized company).
Fraudsters are using the details of firms that are authorized by us to convince people that they are working for a genuine, authorized firm. Learn more about this "clone company". Clone Company Details - Scammers use or provide the following details as part of their tactics to scam people in the UK:
Mint by Flagstone (clone of an FCA-authorized firm),
Address: Unter den Linden 24, 10117, Berlin, GERMANY,
Phone: +493022043680,
E-mail: info@mint-im.de,
Website: mint-im.de"
FCA Authorized Firm Information
"The FCA-authorized firm for which the scammers are allegedly working has no connection with the "clone company." It is authorized to offer, promote or sell services or products in the UK and its correct details are:
Company Name: Flagstone Investment Management Ltd
Company reference number: 605504
Address: 1st Floor, 26-27 Oxendon Street, Clareville House, London, SW1Y 4EL, UNITED KINGDOM
Phone: +4402037458130
Email: jennifer.goodfellow@flagstoneim.com..."
It remains merely a matter of time before other regulatory institutions will also take notice of Mint by Flagstone UK and warn of their criminal activities.
Mint by Flagstone UK: Criminal business practices!
Investment fraud is supposed to time deposits regularly follow the same pattern. Investors enter with a relatively small sum as a fixed deposit. Given the good interest rates and the alleged securities, many gratefully take the chance to increase the time deposit once again. Too late most investors noticed that everything was a swindle. The former side is sometimes no longer attainable. There is no time deposit. Everything was lies and deception. But what happens next?
Mint by Flagstone UK: Scheme of the investment fraud
The investment fraud constantly plays out according to the usual scheme: investors initially put in a small sum - usually 250 euros - are impressed by how quickly this amount multiplies so that they are ready to "invest" higher and higher sums. The conflicts take their beginning, immediately if an investor would like to have paid out its money because then must be paid flimsily first of all taxes, commissions, fees, or whatever. Unfortunately, most investors only realize belatedly that they have fallen for investment scams that never intended to pay out the money again.
Mint by Flagstone UK: What help is there for investment fraud?
Many affected investors wonder how to act in the case of investment fraud because criminal charges make little sense since criminal charges are primarily for prosecution and not for recovering the money. What kind of help is available for investment fraud and how do defraud investors get their money back? A lawyer specializing in investment fraud knows how to follow the money trail, because as they used to say, money is not gone, but unfortunately somewhere else. Now it can be added: It is not easy, but with the right tools it is possible to track money digitally regularly - even if it was deposited with Bitcoin via a Crypto Exchanger.
RESCH Rechtsanwälte GmbH - Experience in investor protection since 1986
If you have been a victim of Mint by Flagstone UK and want to know if and how you can get your money back, call +49 30 885 9770 or fill out the questionnaire. You will receive a free assessment of your case.