Mineit-Ltd - Is this investment fraud?
15.11.2022
Mineit-Ltd pretends that investors are provided with excellent conditions to make money online trading with cryptocurrencies as fast as it is safe. Everything at Mineit-Ltd is investment fraud. The money immediately landed in the pockets of investment scammers. Nothing is traded at Mineit-Ltd. Everything the investor sees on his screen is fake. Not a cent has been invested. Can you report similar experiences? What help is there for investment fraud? How does the investor get his money back from dubious providers? What can investors who have been scammed by Mineit-Ltd do?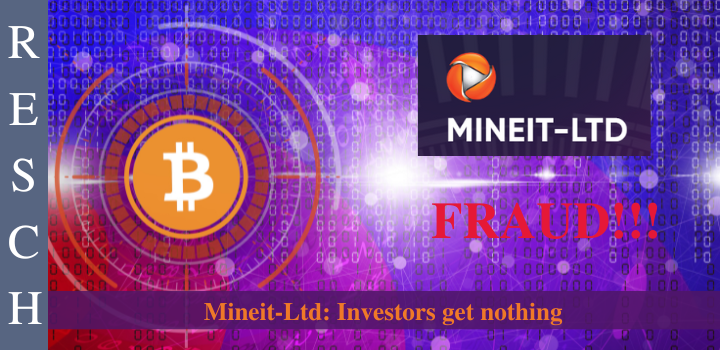 Mineit-Ltd: Unbelievable and dubious promises
What are the astonished investors being served up on mineit-ltd.com? "Mineit-ltd.com offers management of finances on fixed terms. Our team has developed high-yield investment plans with one-time income deferrals after a certain time.... Mineit-ltd.com team consists of specialists with extensive knowledge of computer engineering, blockchain programming, and advanced computing technology who are passionate about mining cryptocurrencies. We offer stable and long-term cooperation and sincerely believe in our common prospects. Join us and become a part of the amazing world of cryptocurrencies." This is just a sample of the affirmations that curious people can find on Mineit-Ltd's website. Not one of these lofty promises made by Mineit-Ltd has been kept. Sadly, the troubling business practices make for miserable experiences and correspondingly unhappy investors!
Mineit-Ltd: Domain entry is hidden!
Of course, the investment scammers do not want people to track them down easily. Therefore, the website does not have a meaningful imprint with the full details and the address of the website operators. Also, the domain data of the website Mineit-ltd.com do not contain any hint of who once registered the site, but only that the registration took place on 22.09.2021 at NameCheap, Inc. and that the real domain owners - quite expectedly for us - hide behind an Icelandic anonymization service called Withheld for Privacy ehf based in Reykjavik.
Mineit-Ltd: Who is behind it?
Who is the operator? On the website of Mineit-Ltd, there are only sparse details about this. In addition to the obligatory support e-mail address info@Mineit-ltd.com, the potential investor then searches in vain for a contact telephone number. In this way thus no conclusions are possible on the Macher of the Mineit Ltd construct. The indicated address 38 Salisbury Road, Worthing, West Sussex in the United Kingdom remains likewise a dead end about the platform responsible persons because from those each trace is missing there. It would also be extremely questionable why an up-and-coming crypto trading company consisting of creative minds - at least according to the company's presentation on the website Mineit-ltd.com - should settle in the southern English seaside resort of Worthing, of all places, which is predominantly popular with an older audience. The tranquil location does not fit the propagated spirit of the company.
Mineit-Ltd: International searches
A worldwide search for a possible Mineit-Ltd in the relevant registers does lead to one result. In the commercial register of the United Kingdom we find indeed a Mine IT Ltd, the registration number is 13429613 and the managing director is Briton Lee Michael Cripps, a motor vehicle mechanic. We have taken a closer look at this company and the evidence is accumulating that Mine IT Ltd, which we can find in the commercial register, has nothing to do with the Mineit-Ltd platform, the company has simply been cloned by the creators of the platform to pretend its legality this way.
Mineit-Ltd: Are the regulators reacting to identity fraud?
Mineit-Ltd is thus a fantasy product and, according to our findings, has nothing to do with Mine IT Ltd. from Worthing, West Sussex. But with our research tools, our Investigations Team has succeeded in tracking down investment fraudsters. It is only a matter of time before regulatory institutions - the German Federal Financial Supervisory Authority (Bundesanstalt für Finanzdienstleistungsaufsicht, BaFin) is mentioned as an example - become aware of Mineit-Ltd and warn about their criminal activities.
Mineit-Ltd: Scheme of the investment fraud
The investment fraud runs apparently after always the same pattern: Investors put in at the beginning a small sum - usually 250 euros - are impressed, by how fast this amount multiplies so that they are ready to "invest" ever higher sums. The annoyance shows itself, as soon as investors want to have their money paid out, because now allegedly first taxes, commissions, fees, or whatever must be paid. Most investors notice much too sluggishly that they have fallen for investment fraudsters, who never had the intention to pay out the money again.

Mineit-Ltd: What help is there for investment fraud?
What to do in case of investment fraud, many desperate investors ask themselves, since a criminal complaint hardly makes sense, because criminal complaints serve above all the prosecution, however not the recovery of the money. What kind of help can one hope for in investment fraud cases and how do investors get their money back? The lawyer specializing in investment fraud must know how to follow the traces of money, because as they used to say, money is not gone, but unfortunately somewhere else. Now, this can be supplemented: It is complex, but with the right tools it is possible to track money digitally regularly - even if it was transferred with Bitcoin via a Crypto Exchanger.
RESCH Rechtsanwälte GmbH - Experience in investor protection since 1986.
If you have been a victim of Mineit-Ltd and want to know if and how you can get your money back, call +49 30 885 9770 or fill out the questionnaire. You will receive a free assessment of your case.