Metaversesworld - Austria's financial regulator FMA warns
02.12.2022
Metaversesworld pretends to offer investors excellent opportunities to make money online trading as fast as it is safe. Everything at Metaversesworld is investment fraud. The money immediately landed in the pockets of the investment scammers. Nothing is traded at Metaversesworld. Not a cent has been invested. Everything the investor sees on his screen is fake. Have you had the same experience? What can investors do who have been scammed by Metaversesworld? How can the investor get his money back from dubious providers? What help is available for investment scams?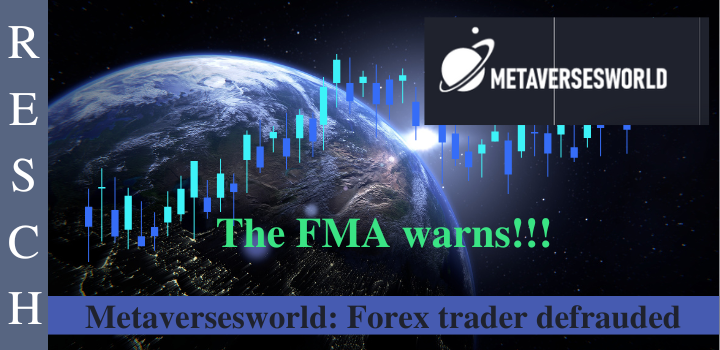 Metaversesworld: Assurances are untrustworthy and unserious
What do the astonished visitors read on www.metaversesworld.org? "The metaversesworld cTrader trading platform is developing rapidly and becoming one of the most popular among traders as it provides an additional level of analysis and access to the full depth of the market. The platform has a very user-friendly interface and many options. There are a wide range of instruments and indicators for technical analysis, news feeds, quotes, and charts. It is a platform of exceptional quality." This is just a small part of the grandiose promises that prospective customers can find on Metaversesworld's website. None of these given promises by Metaversesworld have been kept. Regrettably, the shady business conduct makes for exclusively miserable experiences and unhappy investors!
Metaversesworld: The domain entry is hidden!
Of course, the investment scammers do not want people to track them down easily. That is why the Metaversesworld website does not have an imprint with the full details and the address of the website operators. Also, the domain data of the website metaversesworld.org does not contain any hint of who once registered the site, but only that the registration took place on 12/16/2021 at NameSilo, LLC and that the real domain owners - quite expectedly for us - hide behind an anonymization service called PrivacyGuardian.
Metaversesworld: Who is behind it?
Investors will not be able to answer this question. The investment scammers disguise their identity perfectly - almost. This is normal because they regularly operate various websites where they offer their fraudulent business model. And who is the operator? On the Metaversesworld website, there are only sparse details about that. In addition to the obligatory support e-mail address, the potential investor is also given the telephone number 442045714649 with what is probably a British country code, but this does not allow any conclusions to be drawn about the operators of the platform. As address the 2 Eaton gate, London SW1W 9BJ in the United Kingdom functions, but unfortunately one looks for the platform responsible persons there in vain, and no trace of them. However, you will find a provider of virtual offices there. With the help of such a service, anyone can legally organize a business address without ever having been there themselves. Practical when visitors are rather undesirable.
Metaversesworld: International searches
A worldwide search for Metaversesworld in the relevant registers leads to no results. Metaversesworld is a fantasy product. However, on the website, we learn that Metaversesworld is supposed to be operated by Pristine Group, LLC. This is said to have its headquarters on James Street on the second floor of the St. Vincent Bank LTD building in VC0100 Kingstown, St. Vincent, and the Grenadines. True so far, there is such a company in the commercial register of St. Vincent and the Grenadines. However, not only are we already familiar with this address from other cases, because it appears again and again in connection with platforms that have already been exposed as fraudulent, but the Pristine Group, LLC is also already a name to us. Indeed, it also operates the FinFix and NvestPro platforms, to which many investors have already fallen victim. This is not a good sign, but with our research tools, our investigation team has managed to track down the investment scammers.
Metaversesworld: Warnings from regulators
It is not surprising that Metaversesworld has already been targeted by the Austrian Financial Market Authority (FMA) due to its business practices and questionable appearance. Thus, the latter already issued the following warning on 23.07.2022: "... The FMA warns against entering into transactions with:
Pristine Group LLC (Metaversesworld)
with alleged domicile St. Vincent and the Grenadines
Web: metaversesworld.org/de/
E-mail: support@metaversesworld.org
This provider is not authorized to provide banking services requiring a license in Austria."
Metaversesworld: Scheme of the investment fraud
The investment fraud plays itself out conspicuously after the constant pattern: investors enter with a small sum - usually, 250 euros -, and experience fast, how this amount multiplies so that they are ready to "invest" ever higher sums. The discord comes up, immediately if investors want to have disbursed their money, because then ostensibly at once taxes, commissions, fees, or else what must be paid. Much too sluggishly most investors grasp that they have sat on investment swindlers, who never had the intention to disburse the money again.
Metaversesworld: Who is behind it?
Because the makers of Metaversesworld do everything they can to conceal the true circumstances, investors will probably have a hard time answering this question. This is certainly not uncommon because the perpetrators usually run several of these websites with the same fraudulent business model. These are created in series, put online without interruption, and just as quickly taken offline again. In addition, the top-level domain is changed again and again to evade the financial supervisory and law enforcement authorities.
Metaversesworld: What help is there for investment fraud?
What to do in case of investment fraud, many angry investors ask themselves, because criminal charges hardly make sense, since criminal charges are mainly for prosecution, but not for recovering the money. What kind of help can be used in investment fraud cases and how do investors get their money back? A lawyer specializing in investment fraud must know how to track the money, because as they used to say, money is not gone, but unfortunately somewhere else. Nowadays, this can be added: It is challenging, but with the right tools it is possible to track money systematically digitally - even if it was deposited with Bitcoin via a crypto exchanger.
RESCH Rechtsanwälte GmbH - Experience in investor protection since 1986.
If you have been a victim of Metaversesworld and want to know if and how you can get your money back, call +49 30 885 9770 or fill out the questionnaire. You will receive a free assessment of your case.