Markets Expert - Swiss Financial Supervisory Authority warns!
15.03.2023
Markets Expert pretends that investors are granted excellent opportunities to make fast and safe money in online trading at the same time. Everything at Markets Expert is investment fraud. Not a penny has been invested. Nothing is traded on marketsxpert.com. The money has landed right in the pockets of investment scammers. Everything that the investor sees on his screen is for investor deception. Have you had similar experiences? What can investors who Markets Expert has deceived? What help is available in case of investment fraud? How can investors get their money back from dubious providers?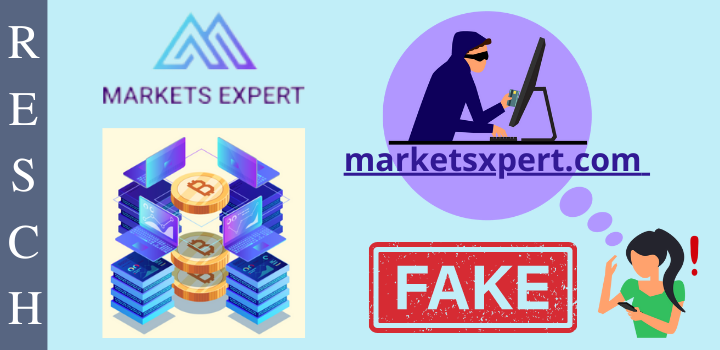 Markets Expert: Questionable and dubious promises on the website
You have noticed that the websites marketsxpert.com, also mrktexpert.com, and markets-xpert.com, make a very professional impression. A direct approach, supposedly interesting offers as well as the reference to support by the employees (brokers), which should lead to a convincing return and profits. All this seems very convincing. As an unsuspecting investor, you are not in a position to realize that you are merely being played a game and not a cent of your money is being invested. All the money ends up right in the pockets of the perpetrators, who of course do not trade with the investors' money either. Everything is just staging and illusion.
Markets Expert: Who is behind it?
The Markets Expert site does not contain a revealing imprint, which is supposed to prevent the perpetrators from being too easy to identify. Also, the domain data of the website marektsxpert.com does not contain any hint of who once registered the site, but only that the registration took place on 23.06.2022 at NameCheap, Inc. and that the real domain owners - quite expectedly for us - hide behind an Icelandic anonymization service called Withheld for Privacy ehf based in Reykjavik. This very same game was also played with the domains mrktexpert.com and markets-xpert.com, they were also registered with NameCheap, Inc. anonymized of course.
Markets Expert: Many phone numbers
The Markets Experts website is available in English, Polish, and Russian. In addition to the obligatory support e-mail address support@xprt-supprt.net, the potential investment prospect is offered a potpourri of contact telephone numbers: The numbers +48 732081344 and +48 780909989 with Polish, the +44 74886755 with British, the +41 225510153 with Swiss and the +1 4505676700 with US-American country code. All this is supposed to fool the gullible investor into believing that this is an internationally operating company with various departments. A misconception.
Markets Expert: Are the fraudsters based in Switzerland?
As for the address Av. des Morgines 10, 1213 Lancy (a district of Geneva) in Switzerland, we have not been able to find any traces of a company called Markets Expert so far. However, the Geneva Trade Center, which claims to be a trading training center, is located there. Whether this is the case and whether there is a connection between the two, we cannot say at this point. In any case, we will take a closer look at the Geneva Trade Center in the course of our investigations. This is also to be able to rule out any possible complicity in the Markets Expert complex.
Markets Expert: International searches
The worldwide search for Markets Expert in the relevant registers leads to no results. It is a fantasy product. Although the makers of Markets Expert would like to make us believe in vague hints on the website that they would have any legalizations, we could not verify this so far, we did not find any signs of it. But with our research tools, our Investigations team has managed to track down the investment scammers.
Markets Expert: Warning from the financial regulator
It is not surprising that Markets Expert has already come under the scrutiny of the Swiss Financial Market Supervisory Authority (FINMA) due to its business practices and questionable appearance. Thus, the latter already issued a warning in this matter on 12.01.2023. It remains only a matter of time until other regulatory institutions will also take notice of Markets Expert and warn against their criminal activities.

Markets Expert: Scheme of investment fraud
Investment fraud usually follows a recurring pattern: investors initially deposit a small amount of money - usually 250 euros - and quickly see this increase, so they are ready to "invest" higher and higher sums. The problems start, every time an investor wants to have his money paid out, because now ostensibly first taxes, commissions, fees, or whatever have to be paid. Most investors discover too sluggishly that they have fallen for an investment scam and never intended to have the money paid out again.
Markets Expert: What help is available for investment fraud?
How to proceed in case of investment fraud? This is a question that many investors ask themselves, as filing a criminal complaint hardly makes sense because these are mainly used for criminal prosecution, not for recovering money. What kind of help can one hope for in the case of investment fraud and how do investors get their money back? The lawyer specializing in investment fraud knows how to follow the traces of money, because as it used to be said, money is never gone, but unfortunately somewhere else. In the present, it can be added: It is tricky, but with the appropriate tools it is possible to systematically track money digitally - even if it was deposited with Bitcoin via a Crypto Exchanger.
RESCH Rechtsanwälte GmbH - Experience in investor protection since 1986
If you have been a victim of Markets Expert and want to know if and how you can get your money back, call +49 30 885 9770 or fill out the questionnaire. You will receive a free assessment of your case.