LibraPros - Experiences: Investment scammers rip off investors
31.08.2022
LibraPros creates the impression that investors are provided with optimal conditions to win both fast and safe money with trading. Everything at LibraPros is investment fraud. The money immediately landed in the pockets of investment scammers. Nothing is traded at LibraPros. Everything the investor sees on his screen is just a fake. Not a cent has been invested. Can you report similar experiences? What help is there for investment fraud? How does the investor get his money back from dubious providers? What can investors who have been defrauded by LibraPros do?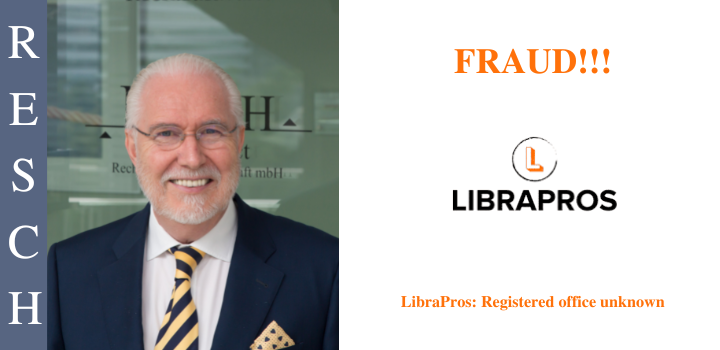 LibraPros: Exaggerated and dubious assertions
What do the astonished investors read on librapros.com? "We offer 24/7 expert support to our registered clients... We are a leading broker in the industry and have a wide range of assets and platforms. We offer generous trading conditions, as well as security and peace of mind." That's just a small sample of the suspect promises that the curious can find on LibraPros' website. Not a single one of these given assurances by LibraPros has been delivered. However, it all seems very convincing. The unsuspecting investor is hardly able to realize that nothing is real. He has been presented with a play. Not a cent of his money is invested. Everything lands immediately in the pockets of investment fraudsters. There is no trading. It's all appearance, no reality. And therefore the investor does not get his money also paid out. Unfortunately, the suspect business practices provide rather disappointed investors and miserable experiences! Now the question arises, who is behind this investment fraud?
LibraPros: Domain entry is hidden!
Of course, the investment scammers do not want people to track them down easily. That is why the website does not have an imprint with the full details and the address of the website operators. Also, the domain data of the website librapros.com does not contain any hint who once registered the site, but only that the registration took place on 02.02.2022 at NameCheap, Inc. and that the real domain owners - quite expectedly for us - hide behind an Icelandic anonymization service called Withheld for Privacy ehf based in Reykjavik.
LibraPros: Who is behind it?
Investors will not be able to answer this question. The investment scammers disguise their identity perfectly - almost. This is normal because they regularly operate various websites where they offer their fraudulent business model. And who is the operator? There are only sparse details about that on the LibraPros website. Besides the obligatory support email address contact@librapros.net still the telephone number +44 2037479324 with British country code is specified to the potenziellen plant prospective customer, which does not permit however any conclusions on the operators of the platform.
LibraPros: Numerous open questions
Who is the managing director? Where is the company headquartered? How many employees does the company have? The creators of the website keep all these questions to themselves. At this point, at the latest, all alarm bells of possible investors should start ringing; such a lack of transparency is highly dubious. In addition: Our internal investigations have shown that LibraPros is directly related to a platform that has already been exposed as fraudulent, namely Absolute Global Markets (AG Markets for short). Both platforms spring from the same pen designed to rip you off. It was not difficult for our internal team of investigators to figure this out.
LibraPros: International searches
A worldwide search for LibraPros in the relevant registries yields no results. The LibraPros is a fantasy product. But with our research tools, our investigation team has succeeded in tracking down investment fraudsters. It is only a matter of time before the regulatory institutions become aware of LibraPros and warn of their criminal activities.
LibraPros: Scheme of investment fraud
Investment fraud regularly follows the well-known scheme: investors initially put in a small sum - usually 250 euros - are impressed by how quickly this amount multiplies and are therefore willing to "invest" higher and higher sums. The arguments start every time investors want to have their money paid out, because now ostensibly taxes, commissions, fees or whatever have to be paid first. Unfortunately, most investors realize only belatedly that they have fallen for investment scammers who never intended to pay out the money again.

LibraPros: What help is there for investment fraud?
How to act in the case of investment fraud, many investors ask themselves, since a criminal complaint hardly makes sense, because criminal charges serve primarily the prosecution, but not the recovery of the money. What kind of help can one hope for in investment fraud cases and how do investors get their money back? The lawyer specializing in investment fraud must know how to trace the money, because as it used to be said, money is never gone, only somewhere else. In the present, one can add: It is tricky, but with the proper tools it is possible to track money digitally regularly - even if it was transferred with Bitcoin via a Crypto Exchanger.
RESCH Attorneys at Law - Experience in investor protection since 1986
If you have been a victim of LibraPros and want to know if and how you can get your money back, call +49 30 885 9770 or fill out the questionnaire. You will receive a free assessment of your case.