KeyMarkets - Unfortunate experience in online trading
24.11.2022
KeyMarkets pretends that fantastic conditions are provided to the investor to make money in online trading as fast as safe. At KeyMarkets, everything is investment fraud. Not a penny has been invested. Everything the investor sees on his screen is for deception. Nothing is traded at KeyMarkets. The money has landed right in the pockets of investment scammers. Have you had similar experiences? What can investors who have been scammed by KeyMarkets do? How can investors get their money back from dubious providers? What help is available in case of investment fraud?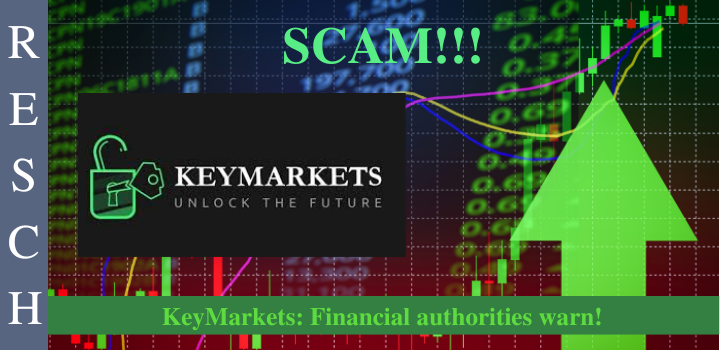 KeyMarkets: Questionable and dubious statements on keymarkets.com!
Investors were lured to the various www.key-markets.com websites with questionable promises. For example, they said, "Open up a new future - Enjoy financial growth." It went on to say, "We offer accurate price quotes, a user-friendly environment, and an understandable trading platform." But it all seemed very convincing. The unsuspecting investor was hardly able to tell that nothing was real. He was being played a game. Not a cent of his money was invested. Everything ended up right in the pockets of the investment scammers. There was no trading. Everything only appearance, no being. And therefore the investor does not get his money paid out. The exciting question is, who is behind this investment fraud?
KeyMarkets: Domain entry is hidden!
Of course, the investment scammers don't want people to track them down easily. That is why the KeyMarkets websites did not have a meaningful imprint with the full details and the address of the website operators. Also, the domain data of the various KeyMarkets websites do not indicate who once registered the sites as part of fraudulent intentions.
KeyMarkets: Who is behind it?
Investors will not be able to answer this question. The investment fraudsters disguise their identity perfectly - almost. This is normal because they regularly operate various websites where they offer their fraudulent business model. Also in the case of KeyMarkets, several domains came into play, for example, key-markets.com, keymarkets.com as well as also key-markets.net.
KeyMarkets: Who is the operator?
On the various websites of KeyMarkets, there was only insufficient information about this. In addition to the obligatory support e-mail address, the telephone number +3522 848 0865 with a Luxembourg country code was listed for potential investors, but this does not allow any conclusions to be drawn about the operators of the platform. There are indications that this phone number was also used in other scams, which is not a good sign. The alleged address Ferdinandstraße 42 in Luxembourg also remains a dead end for the platform operators, a company named KeyMarkets was and is searched for there in vain, no trace of them.
KeyMarkets: International searches
The worldwide search for KeyMarkets in the relevant registers leads to no results. KeyMarkets is a fantasy product. The existence of the former operating company of KeyMarkets, a Key Markets Limited, allegedly located in the Trust Company Complex, Ajeltake Road, Ajeltake Island, Majuro in the Marshall Islands, could not be verified so far either.
KeyMarkets: Marshall Islands?
Wait a minute, Marshall Islands? Ajeltake Island? Ajeltake is a town of Majuro Atoll in the Pacific Ocean and has well under 2,000 inhabitants. Sounds more like an exotic dream island than a suitable location for a broker empire à la KeyMarkets, doesn't it? And so it is. If anything, this place functioned as a shell company. Especially since the named offshore address keeps popping up in connection with fraudulent platforms and even with the Panama Papers, proving once again that the makers of the KeyMarkets construct were up to a lot of things, but certainly nothing good. Nevertheless, our Investigations Team has managed to track down the investment scammers with our research tools.
KeyMarkets: FCA warning
Unsurprisingly, KeyMarkets has already been targeted by the Financial Conduct Authority (FCA) due to its business practices and questionable appearance. For example, the latter issued the following warning back on 14/06/2019, which was updated on 21/05/2021: "Key Markets Limited - We believe that this firm is offering financial services or products in the UK without our authorization... This firm is not authorized by us...
Unauthorized Company - Key Markets Limited
Address: Ajeltake Road, Ajeltake Island, Majuro, MARSHALLS ISLAND, MH96960
Phone: 02035146751
Email: support@key-markets.com, alexaberg@key-markets.com
Website: www.key-markets.com"

KeyMarkets: Warnings in Austria and Switzerland
The FMA also recognized the danger surrounding KeyMarkets some time ago and also issued a warning on 01.08.2019: "The Austrian Financial Market Authority (FMA) can... In an announcement published in the official gazette "Amtsblatt Zur Wiener Zeitung" on 01.08.2019, the FMA, therefore, informs that
Key Markets Ltd.
Trust Company Complex, Ajeltake Road, Ajeltake Island, Majuro, Marshall Islands, MH96960.
Phone: +35228480865
Web: key-markets.netkey-markets.com
E-mail: support@key-markets.net/ support@key-markets.com
is not authorized to provide banking services requiring a license in Austria..."
And also the Zurich cantonal police warned against the machinations of KeyMarkets and issued a warning in this regard on 24.11.2021. It remains merely a matter of time until other regulatory institutions will also take notice of KeyMarkets and warn against their criminal activities.
KeyMarkets: Scheme of investment fraud
The investment fraud plays out according to the well-known scheme: investors initially put in a small sum - usually 250 euros - are impressed by how quickly this amount multiplies, so much so that they are willing to "invest" ever higher sums. The quarrels arise as soon as an investor wants to have his money paid out, because now allegedly taxes, commissions, fees or whatever have to be paid all at once. Unfortunately, many investors discover too late that they have fallen for investment scammers who never intended to pay out the money again.
KeyMarkets: What help is there for investment fraud?
Many defrauded investors wonder what to do in case of investment fraud since criminal charges hardly make sense since these are primarily for criminal prosecution and not for recovering the money. What kind of help is available in investment fraud cases and how do the defrauded investors get their money back? A lawyer specializing in investment fraud knows how to track the money, because as it used to be said, money is never gone, only somewhere else. Today, it can be added: It is complex, but with the appropriate tools it is possible to systematically track money digitally - even if it was transferred with Bitcoin via a Crypto Exchanger.
RESCH Rechtsanwälte GmbH - Experience in investor protection since 1986.
If you have been a victim of KeyMarkets and want to know if and how you can get your money back, call +49 30 885 9770 or fill out the questionnaire. You will receive a free assessment of your case.