Kepler Capital - Money gone! What to do now?
24.07.2023
Kepler Capital, a private equity firm focused on exceptional small businesses in North America, is at the center of a warning from Germany's Federal Financial Supervisory Authority (BaFin). The firm is allegedly offering pre-IPO shares in Nucera AG without authorization and contacting potential investors by telephone without being asked. In addition, it is using the name of the renowned Kepler Cheuvreux Group without having any connection to it. This article examines the background of the investment scam and provides valuable tips on how investors can protect themselves from such schemes.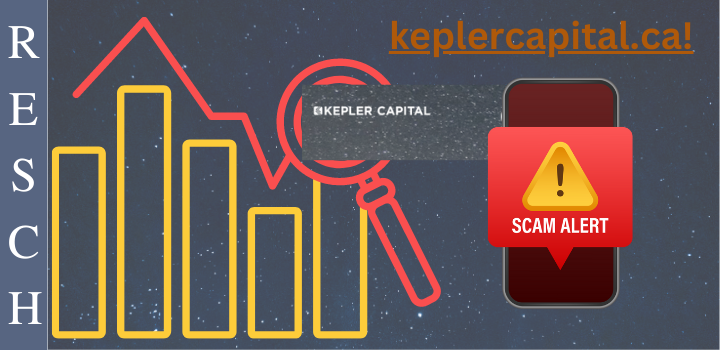 Kepler Capital investment fraud: Identity Misuse and Misrepresentation
Kepler Capital is suspected of committing investment fraud by making unsolicited phone calls offering supposed pre-IPO shares in Nucera AG. This is being done without the required BaFin approval, making the offer illegal. Not only that, the company goes one step further and claims to be part of the renowned Kepler Cheuvreux Group (keplercheuvreux.com), although there is no connection between the two companies.

Keplercapital.com: Warning Signs of Investment Fraud: Tips for Investors
Investors need to be aware of certain warning signs to avoid fraud. Unlicensed platforms such as Kepler Capital should be avoided as they have dubious intentions. Unrealistic profit promises and opaque business practices are clear signs of potential scams. If there are problems paying out funds or investors are pressured to invest quickly, alarm bells should go off.

Research on Kepler Capital (keplercapital.ca)
The domain keplercapital.ca was registered and anonymized by Go Daddy Domains Canada, Inc. on April 24, 2016. The address #630, 1414 8 Street SW, Calgary, Alberta, Canada, T2R 1J6 of Kepler Capital Corporation listed on the website appears to be a shell company in a multi-function office building that houses numerous companies. Such an office service usually includes a phone number, which in this case is 403-536-4023. Potential investors are also offered the email addresses info@keplercapital.ca and investors@keplercapital.ca.

Protection from investment fraud: What to do in the Kepler Capital Case
To protect yourself from investment fraud, it is important to do thorough research before investing. Reviews from other investors can help verify the seriousness of a broker like Kepler Capital. Realistic return promises and fee transparency are other indicators of a reputable online broker. It is advisable not to rush and take your time to make an informed decision.

Recovering funds invested with Kepler Capital: Help from Experts
The law firm Resch Rechtsanwälte offers its support to all investors who have become victims of investment fraud. The experts will help to recover the invested funds and prevent further fraud attempts. With their specialized knowledge in investment fraud and tracing funds, especially digital currencies via crypto exchanges, they assist investors and guide them through the complex recovery process.

Characteristics of Legitimate Online Brokers: What investors can look for
Reputable online brokers have clear characteristics. Licensed and regulated brokers are more trustworthy because they are subject to certain standards and controls. A transparent fee structure and easily accessible customer support are other signs of a reputable broker. Positive customer reviews and a good reputation should also factor into the decision. All of these qualities are lacking at Kepler Capital (keplercapital.ca).

FAQ - Questions and Answers about Kepler Capital (keplercapital.ca)
Question: Is Kepler Capital legitimate?
No, Kepler Capital is involved in an investment fraud case and has been warned by BaFin for illegal business practices.
Question: How can I protect myself from investment scams?
Do your research before investing, check the broker's license, and look for realistic return promises and fee transparency.
Question: What can I do if I have already invested with Kepler Capital?
If you have invested with Kepler Capital and wish to reclaim your money, you should contact Resch Attorneys at Law.

Kepler Capital (keplercapital.ca): Conclusion
Kepler Capital is at the center of an investment fraud case in which the company illegally offered pre-IPO shares of Nucera AG and misused the name of the Kepler Cheuvreux group. Investors should be aware of the warning signs to protect themselves from dubious platforms such as keplercapital.ca. The law firm Resch Rechtsanwälte is on the side of affected investors and helps them to trace and recover their invested funds. Thorough research and transparent business practices are key to distinguishing reputable online brokers from fraudsters and avoiding investment scams.

RESCH Resch Rechtsanwälte GmbH - Investor protection experience since 1986
If you have been a victim of Kepler Capital (keplercapital.ca) and want to know if and how you can get your money back, call +49 30 885 9770 or request a call back from an investment fraud lawyer. You will receive a free evaluation of your case.