Juicy Holdings B.V. - Experiences: Juicy Fields is a huge investment scam
08.08.2022
Juicy Holdings pretends that investors are offered excellent conditions to make both fast and safe money with trading. Everything at Juicy Holdings is investment fraud. Not a dime has been invested. Nothing is traded at Juicy Holdings. The money has landed right in the pockets of the investment scammers. Everything the investor sees on his screen is fake. Have you had similar experiences? What can investors who have been scammed by Juicy Holdings do? What help is available for investment scams? How can investors get their money back from dubious providers?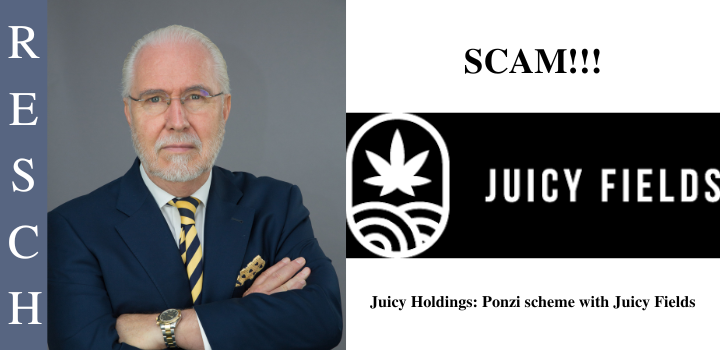 Juicy Holdings B.V.: Promises on juicyholdings.com are baseless and dubious!
What are the unsuspecting investors on juicyholdings.com served up? "Container modules - Juicy Holdings B.V. has been designing, producing, and installing complete container modules and technical solutions for cannabis cultivation for almost ten years. Our starting point was Amsterdam, mainly because our greenhouses were the best equipped and most suitable for cannabis cultivation in the region. This allowed us to improve our systems and adapt them to this exceptional culture, as well as to develop new systems and test them in the field. Today, we are working there and in many other countries, with natural and cannabis projects already in production in Europe, South America, and South Africa, demonstrating our experience and expertise in cannabis cultivation." This is just a sample of the implausible promises that interested parties can find on Juicy Holdings' website. The idea of container modules is not new but has proven too inefficient in all attempts by market leaders.
Juicy Holdings B.V.: Who runs the project?
There is nothing usable about this on the Juicy Holdings website. The company Juicy Holdings B.V. with the business address Rokin 92-96, 1012 KZ Amsterdam in the Netherlands is clearly stated, but the people behind Juicy Holdings cannot be found under this address. This company was registered in the year 2021. In addition, the obligatory support e-mail address and the Dutch telephone number +31629150651 can be found on the website of Juicy Holdings. What role the Swiss-based Juicy Fields AG plays in the company construct is still open at the moment.
Juicy Holdings B.V.: Who is behind it?
Many investors will certainly find it difficult to answer this question, as the Juicy Holdings makers are doing a lot to conceal the true circumstances. Of course, this is not unusual. In the case of Juicy Holdings, this was probably done not least to deceive the financial supervisory and law enforcement authorities. But not only these. While Juicy Grow GmbH was initially registered in 2020 under an address on Berlin's Kurfürstendamm, the company changed its registered office to the Netherlands. Probably also do not have to comment on the meager balance sheet, of just 316,786.44 euros. The fact is that the US citizen Alan Glanse was managing director and was replaced by the South African Willem van der Merwe at the beginning of 2022. The latter resigned in July 2022. In addition, there are numerous speculations about the real people behind the company. Sometimes there is talk of a German aristocratic family, while elsewhere there are reports of a group of men with Russian passports.
Juicy Holdings B.V.: Warnings from the financial supervisory authorities
The transactions with German investors would have required BaFin approval. Even after BaFin prohibited these transactions, virtual investments in hemp plants continued without interruption. On 03/30/2022, BaFin published a first warning because Juicy Holdings B.V. did not provide potential investors with a sales prospectus as required by law. On 03.06.2022 BaFin finally prohibited Juicy Holdings from selling investments in Germany.
Juicy Holdings B.V.: Deliberate fraud
In the meantime, it has become clear that Juicy Holdings is deliberate investment fraud. Industry insiders warned from the start that things were not above board there. The pictures of the farms showed the cultivation of cannabis, but neither the cultivation method nor the harvest quality and certainly not the further processing met even the minimum standards for medical products. All the more absurd were the proceeds from the sale announced at the same time. These were half as much as those of the market leaders, who, by the way, had to invest tens of millions in the construction of closed greenhouses and certified facilities for further processing. Juicy Holdings has never been able to prove this.
Juicy Holdings B.V.: Scheme of the investment fraud
The investment fraud runs unmistakably according to the well-known scheme: investors initially put in a small sum - usually 250 euros - are impressed by how quickly this amount increases and are therefore prepared to "invest" ever higher sums. The trouble starts every time an investor wants to have his money paid out, because now taxes, commissions, fees or whatever have to be paid first. Unfortunately, most investors realize far too late that they have fallen for investment scammers who never intended to pay out the money again.

Juicy Holdings B.V.: What to do in case of investment fraud
What to do in case of investment fraud, many affected investors ask themselves, since a criminal complaint hardly makes sense, because criminal complaints serve above all the prosecution, but not the recovery of the money. What kind of help can one hope for in investment fraud cases and how do affected investors get their money back? A lawyer specializing in investment fraud must know how to follow the traces of the money, because as they used to say, money is not gone, but somewhere else. Now it can be added: It is complicated, but with the appropriate tools it is possible to systematically trace money digitally - even if it was deposited with Bitcoin via a crypto exchanger.
RESCH Attorneys at Law - Experience in investor protection since 1986
If you have been a victim of Juicy Holdings and want to know if and how you can get your money back, call +49 30 885 9770 or fill out the questionnaire. You will receive a free assessment of your case.
See also:
Juicy Fields - Investors' experiences
10..08.2022
JuicyFields - Pyramid schemes
22.08.2022