Jointbid - BaFin Regulatory authority warns
29.03.2023
Jointbid creates the impression that investors are offered the best opportunities to make money in Forex and CFD trading as quickly as safely. Everything at Jointbid is investment fraud. Nothing is traded on jointbit.com. Not a penny has been invested. Everything the investor sees on his screen is deception. The money has gone straight into the pockets of the investment scammers. Have you had the same experience? How does the investor get his money back from dubious providers? What help is there for investment fraud? What can investors who have been scammed by Jointbid do?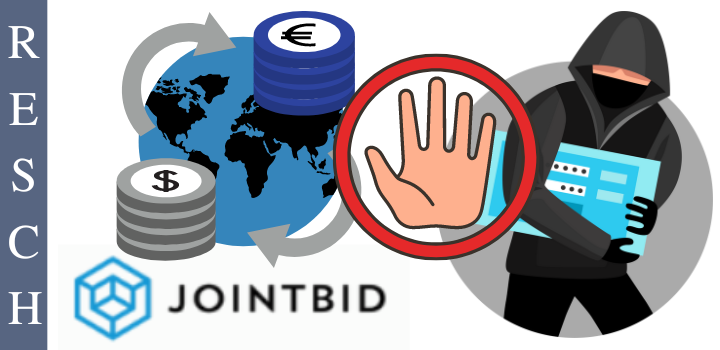 Jointbid: Dubious affirmations on jointbit.com
What do unsuspecting prospective investors read on jointbit.com? "We operate in an atmosphere of trust and camaraderie where partners help each other.... We strive to provide our customers with the best value and service in the industry... Adding value through straightforward commissions and ancillary services." That's just one small passage of the suspect promises prospective customers will find on Jointbid's website. Not one of these lofty promises by Jointbid has been kept. Regrettably, questionable business conduct rather provides unhappy investors and miserable experiences!
Jointbid: Who is behind it?
Answering this question might be quite difficult for investors, as the Jointbid makers do everything they can to conceal the true circumstances. However, this is nothing out of the ordinary, as the perpetrators often operate several of these websites with the same fraudulent business model. Such sites are created in advance, quickly uploaded to the Internet, and just as quickly taken offline again; moreover, the top-level domain is often changed to confuse financial regulators and law enforcement agencies. In the present case, the fraudsters have additionally secured the domain jointbid.net. On Jan. 13, 2023, BaFin published a warning about Jointbid.
But who is the operator of Jointbid?
Nothing usable can be found on the website of Jointbid in this regard. Admittedly, the operator Jointbid, without naming a legal form, is given with the address 12 Endeavour Square, London E20 1JN, the makers of Jointbid are certainly not to be found there, after all, it is at best a letterbox company. In addition, the e-mail address support@jointbid.net and the British telephone number +44 2038560852 can be found there. The domain jointbit.com was registered with NameCheap, Inc. on 22.09.2022.
Jointbid: Scheme of the investment fraud
The investment fraud plays out conspicuously according to the same scheme: investors initially put in a small sum - usually 250 euros - are impressed by how quickly this amount multiplies, so much so that they are willing to "invest" higher and higher sums. The annoyance opens up when an investor wants to have his money paid out, because then ostensibly at once taxes, commissions, fees, or whatever must be paid. Many investors realize unfortunately only too late that they fell for investment fraud and never the intention existed to disburse the money again.
Jointbid: What help is there for investment fraud?
How to act in case of investment fraud, many defrauded investors ask themselves, because filing a criminal complaint hardly makes sense, because criminal complaints are mainly for prosecution, not for recovering the money. What kind of help is available for investment fraud and how do the victimized investors get their money back? The lawyer specializing in investment fraud must know how to follow the traces of money, because as it was said in the past, money is not gone, but only somewhere else. Nowadays, it can be added: It is complicated, but with the proper tools it is possible to track money digitally regularly - even if it was deposited with Bitcoin through a crypto exchanger.
RESCH Rechtsanwälte - Experience in investor protection since 1986
If you have been a victim of Jointbid and want to know if and how you can get your money back, call +49 30 885 9770 or fill out the questionnaire. You will receive a free assessment of your case.