InvestBoost - Spanish CMNV warns against online brokers
The apparent online broker InvestBoost sells itself as a reputable platform for online trading. However, there is increasing information that unacceptable conditions prevail at InvestBoost. More and more traders are reporting telephone terror, rip-offs and investment fraud in connection with InvestBoost. All of them have lost their capital invested with InvestBoost. Doubts are spreading. Meanwhile, many InvestBoost traders have the feeling that it is an investment scam. The InvestBoost website can still be accessed. All investors of InvestBoost wonder if they have become victims of an investment fraud? And what can InvestBoost traders do if the suspicion of investment fraud is confirmed? How can InvestBoost investors get their money back? Does it make sense to file a criminal complaint against InvestBoost with the police? Where can I get help in case of investment fraud?
InvestBoost: Untrustworthy affirmations on investboost.co!
What must the astonished traders receive on www.investboost.co? "Choosing the right broker is a key factor for successful trading. We are selected for first-class trading conditions and quality service. We have come a long way to offer the opportunity to trade more than 500 financial instruments with record spreads on major currency pairs. InvestBoost's trading system opens up the international financial market to you. A variety of settings and a flexible approach of the platform allow you to successfully perform both short-term and long-term trading. We are not only an opportunity to trade Forex, but also a fast direct access to trading stocks, CFDs and indices." This is just a small part of the questionable promises that interested parties can find on InvestBoost's website. Not one of these given promises by InvestBoost has been kept. Unfortunately, the questionable business conduct rather ensures disappointed investors and bad experiences!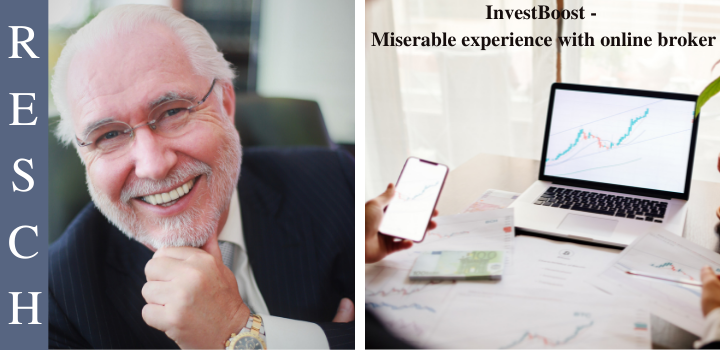 InvestBoost: Hide-and-seek game with the domain entry!
Remarkable for the business practices of the InvestBoost makers is that the website does not contain any imprint with complete information about the legally responsible operators of the website. However, this is a legal obligation for companies that directly address customers on the German market. Consequently, the operators of the website have a legal obligation to provide a summonable address of the owner of the website in the imprint. If these minimum requirements of the Telemedia Act are violated by the operators of a website, this is also a cause for concern. If you look at the corresponding domain data of the website www.investboost.co, you will find that the website was registered by Malarkey Consulting LTD only on 07/13/2020 and that the real domain owners are hiding behind the anonymization service Epik, LLC.
InvestBoost: Who is behind it?
Answering this question will be rather difficult for many investors, as the InvestBoost makers do everything they can to conceal the true circumstances. However, this is not unusual, as the perpetrators often operate various of these websites with the supposedly same business model and quickly put them online, but also shut them down again just as quickly. In many cases, the top-level domain is also frequently changed, possibly also in order to deceive the financial supervisory and law enforcement authorities. And who is the operator? On the website www.investboost.co there is only sparse information: "This website is owned and operated by Malarkey Consulting LTD, company registration number: 2020/IBC00078 and registered address 8 Copthall, Roseau Valley, 00152 Commonwealth of Dominica". Dominica is a tiny island nation in the Caribbean. It gained inglorious notoriety as the home of shell companies that played a dubious role in various offshore leaks, such as the Panama Papers and Paradise Papers.
InvestBoost: The customer acquisition of the investment fraudsters
The same approach can be found here again and again: In order to attract new traders, the offers of InvestBoost are propagated in all conceivable media and channels. For example, advertisements are placed in social media, such as Facebook. Not infrequently, the offers are incorrect claims. In addition, they upload films on Youtube or Vimeo, in which interested traders are convinced with fictitious references. Here, supposed celebrities report about their experiences with online trading and cryptocurrencies, often with the erroneous reference to the TV show "Die Höhle der Löwen". With the same intention, an affiliate program is usually launched to give others incentive to beat the advertising drum for InvestBoost.
InvestBoost: criminal business practices!
As soon as the customer has registered on the trading platform, he receives calls from alleged financial brokers who like to refer to their years of experience and their satisfied customer base. In many cases, however, the makers of this business model are suspected fraudsters, against whom the Federal Criminal Police Office and the Federal Financial Supervisory Authority (BaFin) also warn. Mostly the traders start with a small sum as stake. Beforehand, investors are also often motivated to install remote maintenance software, such as Anydesk or Teamviewer on their computers, so that assistance can supposedly be provided with the first steps. In many cases, the computer is subsequently manipulated and unwanted transactions are carried out. In the process, the investment fraudsters often also gain access to their victims' online banking. What is particularly criminal, however, is when supposed profits are displayed on the trading platform in order to entice the customer to place further high stakes. In some cases, even small sums are returned in order to lull investors into a sense of security. Who then does not want to further increase the stakes? But what happens next?
InvestBoost: Repayment of the money is tied to conditions
An exit is then however usually no longer possible, rather a repayment of the money is attached to further deposits. This is where the employees come in, claiming alleged tax debts and commission payments. These would have to be settled first, then it would come to the disbursement of the allegedly obtained profits. For this purpose, tax and commission invoices are sent to the investors, which are often decorated with fake coats of arms and, of course, have to be paid urgently. However, it is never possible to offset these payments against the supposedly achieved profits. If one refuses to make these further payments, the supposed profits are often turned into losses and the customer is harmed to the maximum. However, this is usually not the end of the horror, but the investors are often permanently confronted with calls from other dubious providers, which indicates that the contact details of the investors are further traded among the investment scammers. In the end, the "savior" regularly comes forward, claiming to have uncovered the whole scam. He impresses with his insider knowledge. No wonder, since he is part of the fraud gang. The next rip-off! And of course, the "savior" also wants a small fee - in advance!
InvestBoost: Scheme of investment fraud?
There is no regulation of the online broker InvestBoost. InvestBoost lacks authorization by a recognized European supervisory authority, such as the English Financial Conduct Authority (FCA) or the Cyprus Securities and Exchange Commission (CySec), which is often used by brokers. Likewise, there is no authorization from the Swiss Federal Financial Supervisory Authority (finma) or the Financial Market Authority (FMA) of Austria, which is responsible for Switzerland. For this, there is a warning from the CNMV. This is the Spanish supervisory authority for the financial market and financial services. It is not hard to see that InvestBoost is a scheme of capital investment fraud. All investors harmed by InvestBoost are advised to immediately consult an investment fraud attorney.
InvestBoost: Where do the fraudsters operate?
Investors are certainly dealing with InvestBoost investment fraud in Germany, Switzerland and Austria. InvestBoost's illegal activities were by no means limited to German-speaking countries. Because InvestBoost is also targeting traders in Spain and Russia, it is only a matter of time before those who have been defrauded contact us from there as well. Going through the list of regulators is advisable before any financial commitment to reduce the risk of becoming a victim of investment fraud.
InvestBoost: Claims for damages against participating banks
In Germany, it is forbidden to provide financial services and investment transactions without a permit from the Federal Financial Supervisory Authority (BaFin). It is prohibited to conduct, support or facilitate transactions of this kind, even across borders into Germany. Companies that nevertheless engage in this type of business are obligated to pay damages to those affected. The investment fraud cases would not have been conceivable without such banks.
InvestBoost: Investors want their money back!
Fortunately, the constellation is not as hopeless as it seems. The aggrieved investors can defend themselves and demand their invested capital back. At present it is rather improbable that the investment fraudsters of InvestBoost are seized promptly, nevertheless there is cause to hope. The reason for hope is that the funds flowed through accounts provided by financial institutions that are concerned about their good reputation. Unfortunately, those responsible for the accounts failed to check the legality of the traders' deposits, some of which were large and therefore subject to controls. These delays made the investment fraud possible in the first place.
InvestBoost: They want their money back! How does it work?
Equipped with this knowledge, investors would not have entered into a business relationship with InvestBoost. Now the only option left to them is to try to recover the invested capital. Many investors cannot even imagine that there is any real chance of ever seeing their money again. Clearly yes! There are numerous legal bases to fall back on. The generic term is "money laundering." When investment fraudsters collect money, the crime of money laundering is committed. Financial institutions are obliged to take action against money laundering. This is where we come in if there is a good chance of success. Relevant questions should be answered in advance. Where did the funds embezzled by InvestBoost go? Is there a possibility for the victims of the investment fraudsters to get back their money invested with InvestBoost? What actions are required now? Such questions can best be answered by a lawyer specializing in investment fraud.
InvestBoost: Who can help?
What to do in case of investment fraud? What help in the case of investment fraud can the victims of InvestBoost hope for? InvestBoost victims will ideally find the help they need from an experienced investment fraud attorney. He or she will be able to take care of your InvestBoost case both in terms of the criminal aspects of investment fraud, as well as the recovery of funds and possible claims for damages. A lawyer for trading is also a possibility, because he is also familiar with the methods of fraudulent brokers, such as InvestBoost.
InvestBoost: Follow the money trail!
Abuses of such kind on the not regulated capital market pursue the Anlegerschutzkanzlei Resch attorneys for over 30 years. The way of the InvestBoost is so regarded nothing new. Over the years, Resch Rechtsanwälte has developed extensive and powerful tools for tracking down the missing funds and tracing the money flows. In times of the internet it has become really hard to make funds really disappear. The more expeditiously those affected follow the trail of the money, the more promising it is that they will get back their invested capital. It is important now that the investors harmed by InvestBoost react immediately.
RESCH Attorneys at Law - Experience in investor protection since 1986
If you have become a victim of InvestBoost and want to know if and how you can get your money back, call 030 885 9770 or fill out the questionnaire. You will receive a free assessment of your case.