Invest Revolut - Is it a good way to invest?
20.01.2023
Invest Revolut pretends that investors are offered ideal conditions to make both fast and safe money when buying and selling cryptocurrencies. Everything at Invest Revolut is investment fraud. Nothing is traded on invest-revolut.com. Everything that the investor sees on his screen is fraud. The money has gone straight into the pockets of the investment scammers. Not a cent has been invested. Can you tell us about such experiences? What can investors do who have been defrauded by Invest Revolut? How can investors get their money back from dubious providers? What help is available in case of investment fraud?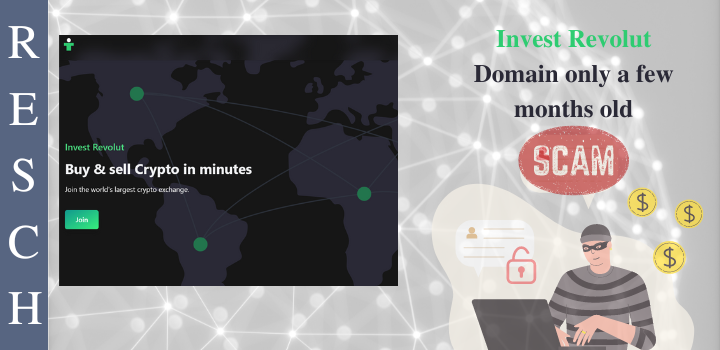 Invest Revolut: Statements are exaggerated and dubious
What is presented to the dumbfounded visitors on www.invest-revolut.com there? "Your success is our goal! That's why we provide you with various educational materials, an economic calendar, data on fundamental and technical analysis, and important market news. We believe in limitless opportunities! Popular trading instruments, from major currency pairs to cryptocurrencies - all on the Invest Revolut platform." This is just a small sample of the questionable affirmations investors can find on Invest Revolut's website. Not a single one of these given assurances by Invest Revolut has been kept. Unfortunately, Invest Revolut's half-assed business practices make for bad experiences as well as unhappy investors!
Invest Revolut: Who is behind it?
Investors might find it rather difficult to answer this question, as Invest Revolut makers do everything they can to conceal the true circumstances. This is certainly not unusual because the scammers mostly run several of these websites with the same fraudulent business model. Such are continuously produced, quickly uploaded on the Internet, and just as swiftly taken offline again, moreover, the top-level domain is repeatedly changed to deceive financial regulators and law enforcement agencies.
But who is the operator of Invest Revolut?
There are a few details about this on the Invest Revolut website. The company Sailor Consulting LLC with the business address First Floor, First ST Vincent Bank LTD Building, James Street, Kingstown VC0100, St. Vincent and the Grenadines is clearly stated, but the makers of Invest Revolut cannot be found under this address, as it is an offshore letterbox company. Besides, there is the obligatory support e-mail address support@invest-revolut.net as well as the British telephone number +44 7418379808. The domain invest-revolut.com was registered on 24.05.2022 with Hostinger, UAB.
Invest Revolut: Scheme of the investment fraud
Investment fraud constantly follows the same scheme: investors enter with a small sum - usually 250 euros - and quickly experience how this amount increases, so that they are ready to "invest" higher and higher sums. The misfortunes begin, as soon as an investor would like to have his money paid out, because now all at once taxes, commissions, fees, or something else must be paid. Much too late most investors see through that they sat on an investment fraud and never the intention existed to disburse the money again.

Invest Revolut: What help is there for investment fraud?
Many desperate investors ask themselves how to proceed in the case of investment fraud because criminal charges hardly make sense since criminal charges are primarily used for criminal prosecution and not for recovering the money. What help is available in cases of investment fraud and how do the affected investors get their money back? A lawyer specializing in investment fraud knows how to follow the money trail, because as they used to say, money is never gone, but unfortunately somewhere else. Nowadays it can be added: It is tricky, but with the right tools it is possible to track money systematically digitally - even if it was deposited with Bitcoin via a Crypto Exchanger.
RESCH Rechtsanwälte GmbH - Experience in investor protection since 1986
If you have been a victim of Invest Revolut and want to know if and how you can get your money back, call +49 30 885 9770 or fill out the questionnaire. You will receive a free assessment of your case.