Ibinex - Dubious broker cheats investors
18.11.2022
Ibinex pretends to provide investors with optimal conditions to make money trading cryptocurrencies as quickly as safely. Everything at Ibinex is investment fraud. The money has landed right in the pockets of investment scammers. Everything the investor sees on his screen is deception. Nothing is traded at Ibinex. Not a cent has been invested. Can you report similar experiences? How does the investor get his money back from dubious providers? What can investors who have been deceived by Ibinex do? What help is available in case of investment fraud?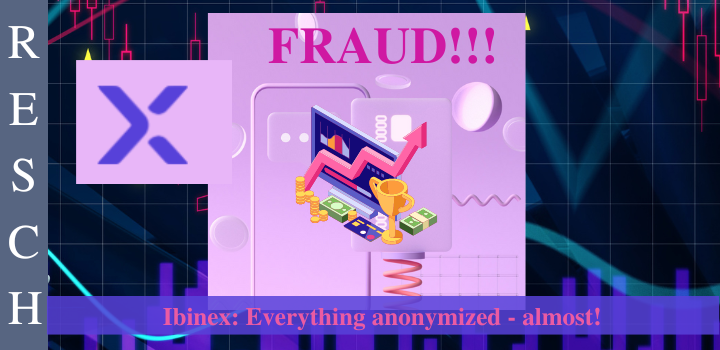 Ibinex: Promises are vague and suspect
What are the astonished visitors on www.ibinex.com made believe there? "Act smarter. Faster. Easier. Ibinex gives you the power to get started right away, regardless of your experience level. We combine our 24/7 global live chat with a comprehensive support center to ensure your questions are answered and your needs are met 24/7 - no matter who or where you are." That's just a small quote from the suspect's claims that curious minds will find on Ibinex's website. Not one of these full-bodied assurances from Ibinex has been delivered. Regrettably, the troubling business practices make for bad experiences and consistently disappointed investors.
Ibinex: The domain entry is hidden!
Of course, the investment scammers do not want people to easily track them down. That is why the Ibinex website does not have a meaningful imprint with the full details and the address of the website operators. Also, the domain data of the ibinex.com website does not contain any indication of who once registered the site, but only that the registration took place on 02.08.2011 at GoDaddy, LLC and that the real domain owners are hiding behind an anonymization service.
Ibinex: Criminals acquire old domains
Now you might think that a website that has been up and running for such a long time must be reputable. However, one should keep in mind at this point that the owners and thus the operators of such a domain can change several times over time, and so it was in this case. The fact that the domain has existed for such a long time is unfortunately no guarantee that all owners of this domain have always been up to good deeds.
Ibinex: Who is behind it?
Investors will not be able to answer this question. The investment fraudsters disguise their identity perfectly - almost. This is normal because they regularly operate various websites where they offer their fraudulent business model. And who is the operator? There is insufficient information about this on the current version of the Ibinex website. In addition to the obligatory support email address cs@ibinex.com, the phone number +44-7-8888-74454 with a British country code is listed for the potential trader, but this does not allow any conclusions to be drawn about the operators of the platform. In the small print, we find the Estonian address Pärnu mnt 139d, Kesklinna linnaosa, Tallinn, Harju maakond, 11317, where the current operating company of the Ibinex trading platform, Xshop OÜ, is supposed to have its seat.
Ibinex: A longer history
However, it becomes exciting now, if one looks at older, archived versions of the web page. Not only did the design of the site change several times, but the operators of the platform also changed again and again. In 2015, for example, it was an Ibinex Ltd, ostensibly to be found in Suite 305 at Grifith Corporate Centre, Beachmont, Box 1510, Kingstown, St. Vincent, and the Grenadines, that was supposed to be responsible for the platform. Since this was a mailbox address and there is also a virtual office provider in the Grifith Corporate Centre, it is hard to imagine that the former Ibinex makers were located there. With the help of such virtual offices, anyone can organize a business address at the desired location without ever having been there themselves. Practical when visitors are rather undesirable.
Ibinex: From the Caribbean via England to Estonia
In 2017, it was then suddenly Ibinex UK Ltd, ostensible address 27 Old Gloucester Street in London, United Kingdom, that appeared as the operating company. Again, it would have been rather unlikely to encounter the real faces behind Ibinex UK Ltd, as this address is also home to a virtual office provider. Then, in early 2018, the operator merry-go-round continued to spin and an Ibinex Financials Estonia OÜ came into play, Estonian Address: Harju maakond, Tallinn, Kesklinna linnaosa, Roosikrantsi tn 2-399, 10119 (we already know this address from other verified scams, not a good sign!).
Ibinex: On the trail of the backers
And slowly we are getting closer to the matter of the backers. The owner of this still active company is an Israeli named Yehezkel Shabat, born on 16.06.1961, and the representative of the company is a Cypriot named Andreas Theodosiou, born on 10.02.1978. In any case, we will conduct further research regarding the two persons just mentioned.
Ibinex: Current state of the investigation
But finally, we come to the current operating company of Ibinex, Xshop OÜ, ostensibly also located in Estonia: Pärnu mnt 139d, Kesklinna linnaosa, Tallinn, Harju maakond, 11317. We find this in the Estonian Commercial Register under the number 14576471 and the company was registered on 28.09.2018. Here, the already previously mentioned Andreas Theodosiou appears again, this time as the owner and representative of the company at the same time, in addition, to another representative, the Estonian Siim Sellik. Incidentally, there are other platforms operated by Xshop OÜ, for example, Coinitix (coinitix.com). There we find the same risky business model as Ibinex, which only pays off for the creators of this construct. With our research tools, our investigation team has thus succeeded in tracking down the investment scammers.
Ibinex: Scheme of the investment fraud
Investment fraud notoriously follows the same pattern: investors initially put in a small sum - usually 250 euros - and are impressed by how quickly this amount increases, so much so that they are willing to "invest" higher and higher sums. The annoyance emerges when investors want to have their money paid out, because then blandly at once taxes, commissions, fees, or whatever must be paid. Most investors grasp unfortunately only with a delay that they sat down an investment fraud and never the intention existed to disburse the money again.
Ibinex: What help is there for investment fraud?
What to do in case of investment fraud, many investors ask themselves, because filing a criminal complaint hardly makes sense, because criminal complaints serve above all the prosecution, but not the recovery of the money. What help can one hope for in investment fraud cases and how do aggrieved investors get their money back? A lawyer specializing in investment fraud must know how to follow the money trail, because as they used to say, money is not gone, but unfortunately somewhere else. Now, this can be added to: It is complex, but with the right tools it is possible to systematically track money digitally - even if it was transferred with Bitcoin via a Crypto Exchanger.
RESCH Rechtsanwälte GmbH - Experience in investor protection since 1986
If you have been a victim of Ibinex and want to know if and how you can get your money back, call +49 30 885 9770 or fill out the questionnaire. You will receive a free assessment of your case.