Hansraj Limited - In the sights of the British financial supervisory authority
20.04.2023
Regarding Hansraj Limited, our research department has now been able to provide some important information. Hansraj Limited pretends to provide investors with excellent opportunities to make money as quickly as safely through their wealth-building plans. However, everything at Hansraj Limited is investment fraud. Nothing is traded on hansrajltd.com. Everything the investor sees on his screen is misdirection. Not a penny has been invested. The money has landed right in the pockets of investment scammers. Have you had similar experiences? What can investors do who have been defrauded by Hansraj Limited? What help is available in case of investment fraud? How can investors get their money back from dubious providers?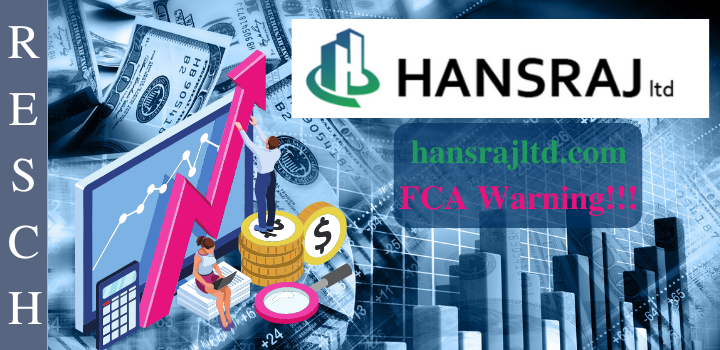 Hansraj Limited: Assurances on hansrajltd.com are unserious
What do astonished investors have to read on Hansraj Limited's website? "One of our main goals at Hansraj Limited is to build long-term relationships with our clients to help you build and preserve your family wealth for generations." All of this seems convincing. Investors are hard-pressed to realize that you are just being played a game and not a dime is being invested. The money ends up directly in the pockets of the perpetrators. Everything is just staging and illusion. Unfortunately, the half-silly business conduct makes for bad experiences and disappointed investors!
Hansraj Limited: Who is behind it?
Since the Hansraj Limited makers do everything to conceal the true circumstances, many investors will probably find it difficult to answer this question. This is certainly not unusual because scammers often run several such websites with the same fraudulent business model. These are continuously produced, quickly uploaded to the Internet and just as quickly taken down, plus the top-level domain is often changed to fool financial regulators and law enforcement. We know all too well the signature left by the perpetrators. They always follow the same pattern, so in this case, too, it was not difficult for us to assign them to the right group of perpetrators right away. Shares are offered, mostly for Chinese start-ups. The websites are always perfectly made and the brokers, who speak English at a native level, are not only professional but also on a very high psychological level. Moreover, this is not just an investment scam affecting only Germany, Austria, and Switzerland. The fraudsters sometimes have the whole world in their sights. After time-consuming investigations, the names and locations of this highly criminal group have now been largely identified. A special feature of this gang is the perfect presentation of their scam, i.e. their fraud model. This includes a flawless design within their web presences as well as not infrequently the alleged locations of Taiwan, Singapore, Japan, and South Korea, but sometimes other locations in this world. The total loss is likely to be more than half a billion euros. The investment scammers are a unit of British and Americans, originally from Thailand, but currently from Malaysia, advising the whole world with their well-made scams.
But who is running Hansraj Limited?
The Hansraj Limited site does not contain a full masthead, which should prevent the perpetrators from being too easy to identify. The domain data of the website hansrajltd.com also contains no indication of who once registered it, but only that the registration took place on 13.10.2021 at Dreamscape Networks International Pte Limited and that the real domain owners only appear anonymously. Spain was included as the country of registration, but according to the domain data, the IP location should again be in Moldova. The situation with the domain hansrajlimited.com is quite similar. The registration took place with the same provider and was also anonymized, but already on 03.10.2021.
Hansraj Limited: British bogus addresses
In addition to the obligatory support e-mail address info@hansrajltd.com, the viewer of the website is also shown the British telephone number +44(0)2037693412. The addresses of the operating company are Jsa Services Limited 4th Floor, Radius House, 51 Clarendon Road, Watford WD17 1HP, and 67 Lombard Street in London. Unfortunately, we were unable to track down the legitimate creator of the hansrajltd.com and hansrajlimited.com websites at either address.
Hansraj Limited: International searches
A worldwide search for Hansraj Limited in the relevant registers leads to one result. A Hansraj Limited can be found in the commercial register of the United Kingdom under the number 0911089. The address in the register is Jsa Services Limited 4th Floor, Radius House, 51 Clarendon Road, Watford WD17 1HP, which is exactly the address published on the hansrajltd.com website. So is everything all right after all? Not quite.
Hansraj Limited: Misuse of identity
The company, which is registered in the Commercial Register, was already dissolved on 04.10.2022, so there are no more activities to be recorded from this company. Our investigations have shown that the company entered in the register is not the platform owner of hansrajltd.com or hansrajlimited.com. The fraudsters have simply used the data of the once legally operating company called Hansraj Limited to pretend their legality. This a clear case of identity fraud. But with our research tools, we have managed to track down the investment fraudsters.
Hansraj Limited: Warning from the UK FCA
Unsurprisingly, Hansraj Limited has been targeted by the Financial Conduct Authority (FCA). The latter issued a warning on 25/03/2022: "HANSRAJ LIMITED - We believe this firm may be offering financial services or products in the UK without our authorization... This firm is not authorized by us...
Unauthorized Company - HANSRAJ LIMITED
Address: 64 Lombard, London, UNITED KINGDOM, and.
4th Floor, Radius House, 51 Clarendon Road, Watford, UNITED KINGDOM, WD17 1HP, and
67 Lombard St, London, UNITED KINGDOM, EC3V 9AJ
Phone: 02037693412
Email: info@hansrajlimited.com, info@hansrajltd.com
Website: hansrajlimited.com, hansrajltd.com
Other Information: Please note that HANSRAJ LIMITED (09110891) has no links to these websites..."
Hansraj Limited: Scheme of investment fraud
The investment fraud plays out conspicuously according to the same scheme over and over again: investors initially put in a small sum - usually 250 euros - and are impressed by how quickly this amount multiplies, so much so that they are willing to "invest" higher and higher sums. The conflicts start when investors want to have their money paid out, because now ostensibly taxes, commissions, fees, or whatever have to be paid first. Unfortunately, most investors find out too slowly that they have fallen for investment scammers who never intended to pay out the money again.
Hansraj Limited: What help is there for investment fraud?
What to do in case of investment fraud, many affected investors ask themselves, because criminal charges hardly make sense, since criminal charges are mainly for prosecution, but not for recovering the money. What kind of help can be used in investment fraud cases and how do affected investors get their money back? A lawyer specializing in investment fraud knows how to follow the money trail because as it used to be said, money is never gone, only somewhere else. Now you can add: It is complex, but with the right tools it is possible to systematically track money digitally - even if it was deposited with Bitcoin via a crypto exchanger.
RESCH Rechtsanwälte GmbH - Experience in investor protection since 1986
If you have been a victim of Hansraj Limited and want to know if and how you can get your money back, call +49 30 885 9770 or fill out the questionnaire. You will receive a free assessment of your case.