Grow Prime - CFD trading scam
17.04.2023
Grow Prime creates the impression that investors are granted fantastic opportunities to make equally fast and safe money while trading contracts for difference (CFD). Everything about Grow Prime is investment fraud. The money has landed right in the pockets of investment scammers. Everything the investor sees on his screen is to deceive investors. Not a cent has been invested. Nothing is traded on grow-prime.com. Can you report similar experiences? What help is there for investment fraud? What can investors do who have been defrauded by Grow Prime? How can investors get their money back from rogue providers?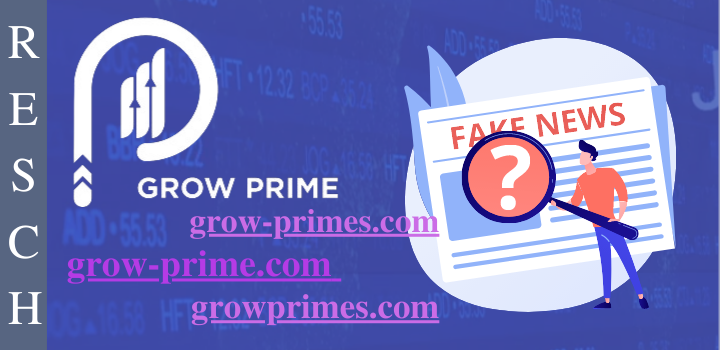 Grow Prime: Assurances are dubious and unserious
You have noticed that the websites grow-prime.com, growprimes.com, and grow-primes.com make a convincing impression. A direct approach, supposedly interesting offers as well as the reference to support by the employees (brokers), which is supposed to lead to a convincing return on investment and profits. All this looks very convincing. The investors are hardly able to recognize that only a play is played to you and not a cent of your money is invested. This ends up in the pockets of the perpetrators without any detours, who do not trade with the investors' money either.
Grow Prime: Who is behind it?
The Grow Prime sites do not contain a revealing imprint, which should prevent the perpetrators from being too easy to identify. The domain data of the respective websites also contains no indication of who once registered them, only that the registration of grow-prime.com took place on 04.05.2022, of grow-primes.com on 28.10.2022 and growprimes.com on 12.12.2022, respectively, with NameCheap, Inc. and that the real domain owners in all the aforementioned cases hide behind the Icelandic anonymization service Withheld for Privacy ehf. The perpetrators use multiple platforms to offer their fraudulent business model.
Grow Prime: And who is the operator of this construct?
On grow-prime.com, there are only sparse details about this. In addition to the email address contacts@growprime.com, potential investors are still offered the option to leave an email address so that Grow Prime will then get back to them, but this does not allow any conclusions to be drawn about the operators of the platform as well as their true location. The Canadian address 100 King St. W., Suite 5700 Toronto, ON, M5X 1C7 proves to be a hoax upon closer inspection; there is no company named Grow Prime there. Moreover, it is also unclear who is the CEO of this flimsy operation or who is responsible for the web content on Grow Prime's sites. All this information is missing from the websites, which - per se - is already extremely suspicious.
Grow Prime: International searches
The worldwide search for Grow Prime in the relevant registers leads to no results. The Grow Prime is a fantasy product, even if the makers want to convince us of the opposite several times, for example by placing the registration number 72968909 on their websites, and claiming there that FINRA would regulate it (it is unclear which FINRA meant here).
Grow Prime: Bogus regulation?
If you click on the registration number, however, you end up at an institution called FINMSA (Financial Market Supervisory Authority, finmsa.org.uk), which is supposedly responsible for the regulatory part in the UK. Just so you know, we have no experience with this licensing and supervisory institution called FINMSA. That alone raises questions, after all, we deal with regulatory entities in our office daily. In the UK, the FCA (Financial Conduct Authority) is responsible for this type of regulation, and they know nothing about a firm called Grow Prime.
Grow Prime: Identity fraud
The registration number 09167090 is also being used, which is supposed to belong to Grow Investment Ltd. So far so good, this company exists in the commercial register of the United Kingdom, but it is located at 152 Nelson Road in Twickenham, England, and not at 128 City Road in London. Thus, the scammers have simply used the data of the legally operating company to be able to appear in a legal guise.
Grow Prime: Searching for clues
It should also be noted that although the name Grow Prime can be found in possible registries, such as Grow-Prime Ltd. from London, we dare to doubt that this company is responsible for the web content on grow-prime.com, growprimes.com, and grow-primes.com, according to our investigations, there is a lot to be said against it. But with our research tools, our Investigations Team has succeeded in tracking down investment fraudsters. This is because the perpetrators leave behind indicative traces within each of their web presences and in the course of contact with their fraud victims, which now need to be evaluated.
Grow Prime: Scheme of the investment fraud
The investment fraud plays out according to the same pattern over and over again: investors enter with a small sum - usually 250 euros - and quickly experience how this amount multiplies so that they are prepared to "invest" ever higher sums. The conflicts start when an investor wants to have his money paid out. For then, blandly, taxes, commissions, fees, or anything else must first be paid. Much too delayed, most investors realize that they have fallen for investment scammers who never intended to pay out the money again.
Grow Prime: What help is available for investment fraud?
How to proceed in case of investment fraud, many affected investors ask themselves, because filing criminal charges makes little sense, because criminal charges are primarily for prosecution, not for recovering the money. What kind of help can be used in cases of investment fraud and how do aggrieved investors get their money back? A lawyer specializing in investment fraud must know how to follow the traces of money because as it used to be said, money is not gone, but unfortunately somewhere else. In the present, this can be supplemented: It is exhausting, but with the proper tools it is possible to track money digitally regularly - even if it was transferred with Bitcoin via a Crypto Exchanger.
RESCH Rechtsanwälte GmbH - Experience in investor protection since 1986
If you have been a victim of Grow Prime and want to know if and how you can get your money back, call +49 30 885 9770 or fill out the questionnaire. You will receive a free assessment of your case.