Gold Panning AI - Investment fraudsters do not pay out
22.03.2023
Gold Panning AI implies that investors are granted fantastic opportunities to redeem equally quick and safe money with cryptocurrencies. With Gold Panning AI, everything is investment fraud. Everything the investor sees on their screen is for deception. The money immediately landed in the pockets of the investment scammers. Nothing is traded on goldpanning.ai. Not a cent has been invested. Can you tell us about similar experiences? How do investors get their money back from dubious providers? What can investors who have been scammed by Gold Panning AI do? What help is available in case of investment fraud?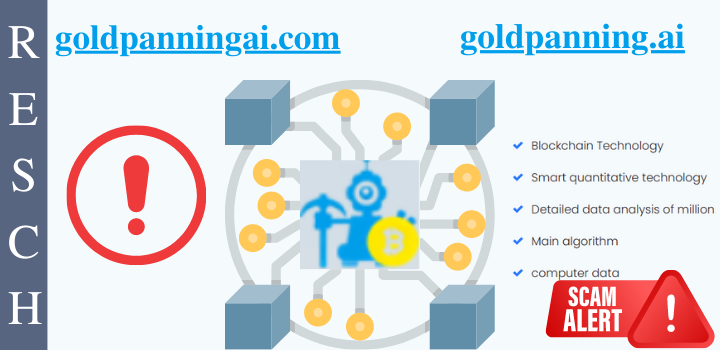 Gold Panning AI: Promises are exaggerated and dubious
You have noticed that the websites goldpanning.ai and goldpanningai.com make a very professional impression. A direct approach, supposedly interesting offers as well as the reference to support by the employees (brokers), which is supposed to lead to a convincing return and profits, and that part, without any investment of capital. All this seems very convincing. As an unsuspecting investor, you are not in a position to realize that only a play is being played for you and not a cent of your money is being invested. All the money ends up right in the pockets of the perpetrators, who of course do not trade (trade) with the investors' money either. Unfortunately, dubious business practices tend to make for bad experiences and disappointed investors!
Gold Panning AI: Who is behind it?
The Gold Panning AI sites do not contain a revealing imprint, which is supposed to prevent the perpetrators from being too easy to identify. The domain data of the websites is also not helpful when it comes to identifying the domain owners. The domain goldpanning.ai was registered on 07/08/2022 with NameCheap, Inc. The domain goldpanningai.com was registered later, on 09/30/2022 with name.com, Inc. Regarding the registrant, one can find the following information there: "ha ha ha". An address can also be found within the domain data, but in Chinese, which we were able to translate as follows: Haha E-Commerce Ltd, 678 Milton Road, Mongkok, Kowloon, Hong Kong, 15C OCBC Commercial Centre. Hong Kong then.
But who is running Gold Panning AI?
But then the Gold Panning AI website talks about the company's headquarters being located in the heart of Colorado in Boulder at 4845 Pearl East Circle. The address does exist, at least this is not a lie. However, the address is not one of the glass skyscrapers in the picture, which was placed on the website right next to the named address, but a small, inconspicuous office building, located on a highway in Boulder, which has just over 100,000 inhabitants. No big city flair, no financial district, and no trading empire à la Gold Panning AI far and wide. However, there is a provider of virtual offices at this address. Anyone can thus legally and easily organize a business address there without ever having been there themselves. There is also information on the website that Gold Panning AI has now arrived in France, but where the appropriate business premises are located is skillfully concealed. It is also mentioned that the Asian market has already been conquered by Gold Panning AI. Where exactly and in which form is also left open? All this is already extremely questionable and does not make a strong impression on us.
Gold Panning AI: International Searches
The worldwide search for a possible Gold Panning AI in the relevant registers leads to one result. A Gold Panning AI Marketing Sdh Bhd can be found in the commercial register of Colorado under the number 20221830865. The entry was made on 24.08.2022. And what does that tell us? Unfortunately nothing at all. Because such an entry in the commercial register says nothing about the intentions of a company, and they do not bode well in the case of Gold Panning AI! It is not for nothing that the site goldpanning.ai can currently no longer be accessed. However, with the help of our research tools, our investigation team has managed to track down the investment scammers.
Gold Panning AI: Investment Fraud Scheme
The investment fraud usually follows the notorious scheme: investors enter with a small sum - usually 250 euros - and quickly experience how this amount increases so that they are ready to "invest" higher and higher sums. The quarrels start every time an investor wants to have his money paid out, because then allegedly taxes, commissions, fees, or whatever have to be paid all at once. Only belatedly do many investors realize that they have been duped by investment scammers who never intended to pay out the money again.

Gold Panning AI: What help is there for investment fraud?
How to act in case of investment fraud, many affected investors ask themselves, because filing criminal charges makes little sense, because criminal charges are primarily for prosecution, not for recovering the money. What kind of help can one hope for in the case of investment fraud and how do the affected investors get their money back? The lawyer specializing in investment fraud knows how to follow the trail of money because as it used to be said, money is never gone, but unfortunately somewhere else. Today can be added: It is exhausting, but with the right tools it is possible to track money systematically digitally - even if it was deposited with Bitcoin via a Crypto Exchanger.
RESCH Rechtsanwälte GmbH - Experience in investor protection since 1986
If you have been a victim of Gold Panning AI and want to know if and how you can get your money back, call +49 30 885 9770 or fill out the questionnaire. You will receive a free assessment of your case.