Gemini - Experiences: Investment scammers embezzle investors' money
12.08.2022
Gemini implies that investors are offered ideal conditions to make fast and safe money with trading at the same time. With Gemini, everything is investment fraud. Not a penny has been invested. Everything the investor sees on his screen is fake. The money has landed right in the pockets of the investment scammers. Nothing is traded at Gemini. Can you tell us about such experiences? What help is there for investment fraud? How do investors get their money back from dubious providers? What can investors who have been defrauded by Gemini?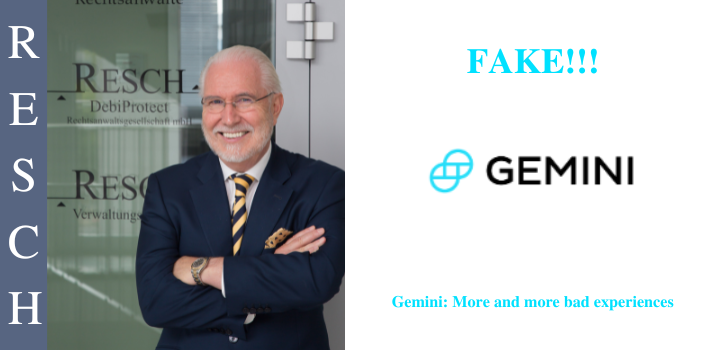 Gemini: Suspicious and dubious assertions on the website
What surprised investors being served up on gemini.com? "Whether you are an experienced investor or just starting, Gemini has all the tools you need. Execute your trading strategies with the professional crypto trading platform ActiveTrader." This is just a small passage of the exaggerated assurances that interested parties can find on Gemini's website. None of these given promises by Gemini have been delivered. Unpleasantly, the dubious business practices rather provide for unhappy investors and bad experiences!
Gemini: Who is behind it?
Very many investors might find it rather difficult to answer this question because the Gemini makers do everything they can to conceal the true circumstances. However, this is nothing unusual, because the perpetrators usually operate several of these websites with the same fraudulent business model. Such are created in series, quickly uploaded on the Internet, and just as swiftly taken offline again, moreover, the top-level domain is changed again and again to fool financial regulators and law enforcement agencies.
Gemini: Who runs the site?
There is nothing usable on the gemini.com website in this regard. Admittedly, the operator Gemini Trust Company, LLC. is given a New York business address. The originally reputable company was registered in 2014, but something has been going wrong for some time. Since the beginning of January 2021, a dramatic increase in the number of complaints filed in public forums against Gemini Trust Company LLC can be observed. In them, investors report their negative experiences after opening an account with the company.
Gemini: Scheme of investment fraud
The investment fraud constantly follows the usual pattern: investors initially put in a small sum - usually 250 euros - are impressed by how quickly this amount increases and are therefore willing to "invest" ever higher sums. The trouble starts when investors want to have their money paid out, because now, blandly, taxes, commissions, fees, or whatever have to be paid all at once. Many investors grasp unfortunately much too delayed that they sat down an investment fraud and never the intention existed to disburse the money again.

Gemini: What help is available in case of investment fraud
What to do in the case of investment fraud, many investors ask themselves, does not make much sense to file a criminal complaint, because criminal complaints serve primarily the prosecution, but not the recovery of the money. Which help can one use with investment fraud cases and how do damaged investors get their money again? The lawyer specializing in investment fraud must know how to track the money, because as they used to say, money is never gone, but unfortunately somewhere else. Today, one can add to that: It's tricky, but with the right tools it is possible to systematically track money digitally - even if it was transferred with Bitcoin via a Crypto Exchanger.
RESCH Attorneys at Law - Experience in investor protection since 1986
If you have been a victim of Gemini and want to know if and how you can get your money back, call +49 30 885 9770 or fill out the questionnaire. You will receive a free assessment of your case.