Gemini - mogemini.top Fraudulent broker
16.05.2023
Our in-house research department has compiled important information on the Gemini platform. Gemini creates the impression that the investor is provided with excellent conditions to make fast as well as safe money when trading currencies. Everything at Gemini is investment fraud. Everything that the investor sees on his screen is designed to deceive investors. The money has landed right in the pockets of the investment scammers. Not a cent has been invested. Nothing is traded on mogemini.top. Have you had similar experiences? What help is there for investment fraud? What can investors do who have been defrauded by Gemini? How do investors get their money back from dubious providers?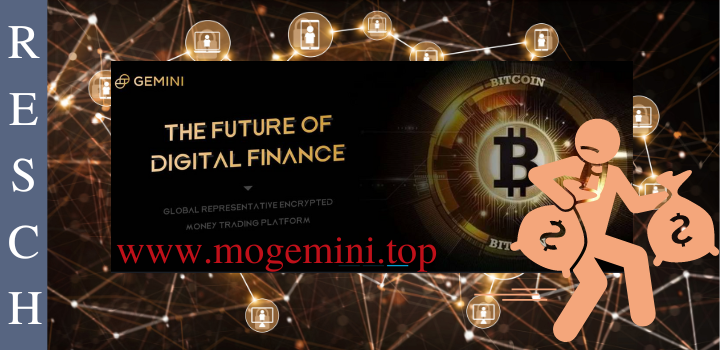 Gemini: Information is untrustworthy and dubious
What is made believe the perplexed prospective customers on mogemini.top there? They could determine that the Websites mogemini.top and aogemini.top make a very professional impression. A direct approach, supposedly interesting offers as well as the reference to support by the employees (brokers), which is supposed to lead to a convincing yield and profits. All this looks very convincing. As an unsuspecting investor, you are not in a position to realize that you are merely being played a game and not a cent of your money is being invested. All the money ends up right in the pockets of the perpetrators, who of course do not trade with the investors' money either. Sadly, the suspect business practices tend to make for unhappy investors and bad experiences!
Gemini: Who is behind it?
The Gemini websites do not contain an imprint, which should prevent the perpetrators from being too easy to identify. The domain data of the websites mogemini.top and aogemini.top also contains no indication of who once registered them, but only that the registration of the former took place on 13.11.2022 and that of the latter on 13.10.2022 - both respectively with NameSilo, LLC - and that the real domain owners in both cases hide behind an anonymization service called PrivacyGuardian, LLC.
But who is operating Gemini?
Potential investors are neither given a contact telephone number (only the Australian prefix +61 is used, but without the corresponding phone number), nor a valid business address. Also, the name of a managing director is skillfully concealed. Although the website states that an MS Cryptocurrency Perpetual Contract Exchange is located in New York, USA and that there are various offshoots in many countries around the world, it does not specify who or what this could be and where exactly in New York this MS Cryptocurrency Perpetual Contract Exchange should be located.
Gemini: Identity abuse?
Furthermore, the many parallels to a company that is also called Gemini and uses the same logo, but appears with the domain gemini.com, are striking. It looks as if the creators of the domains mogemini.top and aogemini.top have used the data of this Gemini to appear in a more legal guise. Is this a case of identity theft? At least it looks like it, even if Gemini, which operates with the domain gemini.com, does not seem to work very cleanly lately, the complaints about this once so-reputable company are increasing. Our investigations into this matter have been ongoing for quite some time.
Gemini: International searches
The worldwide search for a Gemini with the domains mogemini.top and aogemini.top in the relevant registers leads to no results. It is a fantasy product. The Gemini with the domain gemini.com can be found in possible registers, but according to our findings, it has nothing to do with the machinations practiced on mogemini.top and aogemini.top. But with our research tools, our investigation team has succeeded in tracking down investment fraudsters. It is only a matter of time until other regulatory institutions will become aware of Gemini operating here with the domains mogemini.top and aogemini.top - the alleged clone of Gemini with the domain gemini.com - and will warn about their criminal activities.
Gemini: Scheme of investment fraud
The investment fraud usually plays out according to the well-known scheme: investors initially put in a small sum - usually 250 euros - and are impressed by how quickly this amount multiplies, so much so that they are willing to "invest" higher and higher sums. The problems show up as soon as an investor wants to have his money paid out, because then blandly first of all taxes, commissions, fees, or whatever have to be paid. Most investors grasp only with delay that they were deceived by investment swindlers, who never had the intention of paying out the money again.
Gemini: What help is available for investment fraud?
Many angry investors wonder how to proceed in the case of investment fraud, since criminal charges hardly make sense, because criminal charges are primarily for prosecution and not for recovering the money. What kind of help is available for investment fraud and how do affected investors get their money back? A lawyer specializing in investment fraud knows how to follow the money trail because as they used to say, money is not gone, but unfortunately somewhere else. In the present, one can add: It is not easy, but with the right tools it is possible to track money digitally regularly - even if it was transferred with Bitcoin via a Crypto Exchanger.
RESCH Rechtsanwälte GmbH - Experience in investor protection since 1986
If you have been a victim of Gemini and want to know if and how you can get your money back, call +49 30 885 9770 or fill out the questionnaire. You will receive a free assessment of your case.