Sneaky and mean: The illusionary facade of GainGround.
20.07.2023
The truth behind the glittering facade of the alleged online trading company GainGround (sometimes appearing in the spelling variant Gain Ground) is scarier than it first appears. At first glance, the websites gainground.pro and gain ground.live appear plausible and convincing with their smooth professionalism, convincing trading offers, and apparent broker support. But a critical and closer look reveals the perfidious deception. In essence, it is all a well-orchestrated game in which not a single cent of the investor's money is invested. Trading Forex, Indices, Cryptocurrencies, Commodities? Absolutely not! There is no trading here! Instead, all the money goes directly into the infinitely deep pockets of the perpetrators.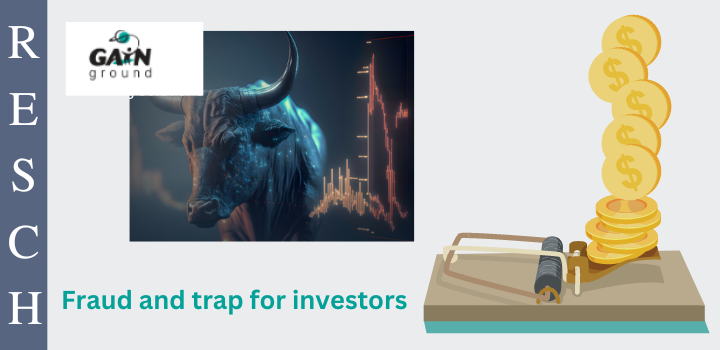 The trail to nowhere: Examination of the domain data of the GainGround websites
The sites leave a murky trail. There is no detailed imprint that could lead to the identification of the operators. The domain data of gainground.pro and gainground.live only reveal that both were registered at PublicDomainRegistry Ltd. on 02.02.2023, with the real domain owners cleverly hiding behind anonymization services.
The fraud network: links to other websites
Our investigations have revealed that these perpetrators operate multiple websites where they offer their bogus business schemes. There are notable overlaps with scam sites such as RCE Banque, Capital Group, Zenith Investment Partners and EvoCrypto, as well as Pixpal and StyxTrade. The sudden mention on the GainGround website of the "EvoTrade" web trader is surprising. Who or what is this supposed to be if the platform is actually called GainGround?
Search for the real operators: Missing and misleading information
As far as the operators of this shoddy construct are concerned, there are few concrete clues. Apart from a few support email addresses (support@gainground.live) and a UK phone number (+44 2030973958), the only address listed on the website is 22 High Street, London SW1A 1AA, UK. But this leads to an investigative dead end. The postcode does not belong to High Street in London but to the area around Buckingham Palace. It is unlikely that the operators of GainGround are based there, in the royal palace. And "Aleksej", the supposedly friendly broker of GainGround, turns out to be a sneaky rip-off artist within this whole structure, not a trace of seriousness on his part!
Identity theft and misrepresentation
Our worldwide search for GainGround in the commercial registers led us to a "GainGround Management Company Ltd." in the United Kingdom. But again, appearances are deceiving. The registered address does not match the one on the website, and the company listed in the register has nothing to do with online trading. This is a clear case of identity theft.
The end is near: Expect regulatory action
Despite the difficulties in tracking down the real culprits, we are confident that regulators will soon take notice of GainGround and warn them about their illegal activities. It is only a matter of time, after all, we are dealing with criminal activities that will sooner or later bring regulators to the scene.
A possible way out for victims of investment fraud
Indeed, it may seem hopeless if you have already entrusted all your savings to the online investment scammers around GainGround, hoping to make good profits - after all, that is what the brokers predicted. The good experiences so far turn into bad experiences in a flash, when you realize that you have fallen for a clever scam and all your deposited money has disappeared into nirvana. So what now? What should you do? What should you do? Who can help you get your money back? If you have been a victim of GainGround and want to know if and how you can get your money back, call us at +49 30 885 9770 - we will review your case thoroughly and will be happy to prepare a free initial assessment for you.
The Resch Rechtsanwälte GmbH tracks the flow of your money - whether you transferred it to real bank accounts or in the form of cryptocurrencies. Many victims of such nasty online investment scams do not even know that it is quite possible to track cryptocurrency transactions in the blockchain with the appropriate tools. Currently, my specially trained IT department performs blockchain analysis on all online investment scams using Chainalysis - the world's leading cryptocurrency blockchain tracking tool - whenever cryptocurrencies are used. This allows us to track fraudsters' payment flows with precision, time and time again. With expert rigging work, appropriate knowledge, and a team that performs its work correctly and efficiently, it is quite possible to follow the money flows and help aggrieved investors get their rights.