FXKovner - Misappropriating investors' money
14.03.2023
FXKovner pretends to provide investors with optimal opportunities to make money in online trading as quickly as safely. Everything at FXKovner is investment fraud. Everything that investors see on their screens is designed to deceive investors. The money has landed right in the pockets of investment scammers. Not a cent has been invested. Nothing is traded on fxkovnerfx.com. Have you had similar experiences? How do investors get their money back from dubious providers? What help is available in case of investment fraud? What can investors do who have been defrauded by FXKovner?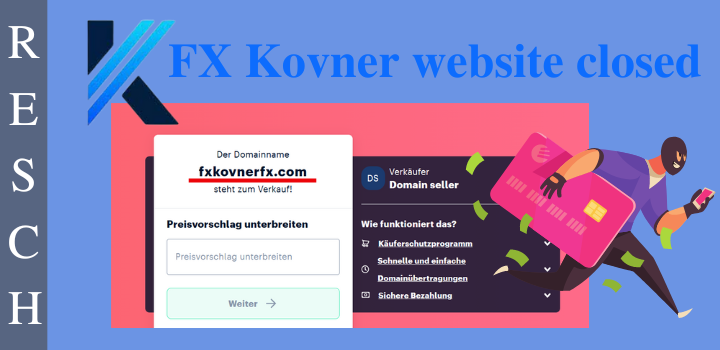 FXKovner: Promises are unbelievable and unserious
You have noticed that the website fxkovnerfx.com makes a very professional impression. A direct approach, supposedly interesting offers, and the reference to support by the employees (brokers), should lead to a convincing return and profits. All this seems very convincing. As an unsuspecting investor, you are not in a position to realize that you are merely being played a game and not a cent of your money is being invested. All the money ends up right in the pockets of the perpetrators, who of course do not trade with the investors' money either. Everything is just staging and illusion.
FXKovner: Who is behind it?
The FXKovner site does not contain a revealing imprint, which should prevent the perpetrators from being too easy to identify. The domain data of the fxkovnerfx.com website also does not contain any helpful clue as to who once registered the site. Although a Don Stanley with a New York address is mentioned by name as the registrant, we doubt that he can be held responsible for the suspicious activities taking place on the website. However, our investigation into this matter is still ongoing. The registration of the FXKovner web page took place on 13.07.2021 with NameCheap, Inc. Besides the E-Mail address support@fxkovnerfx.com handled the FXKovner in the context of the customer contact still with the two British telephone numbers +44 7741044970 and +44 7943190051, which does not permit however any conclusions on the operators of the platform.
FXKovner: International searches
The worldwide search for the possible FXKovner in the relevant registers leads to one result. We found an FXKovner Capital Holding Group Ltd. in the commercial register of the United Kingdom. This was registered on 17.06.2021, the business address given in the registration was Rm905, The Broadgate Tower 20 Primrose Street, London, EC2A 2EWin the United Kingdom, and the managing director is Christopher George Rushton, a Briton born in 1995. At this point, we cannot say for sure whether this is actually the origin of the fxkovnerfx.com platform, or whether this company was merely cloned by the scammers to feign their legality, which is often the case in cybercrime cases. In this context, it is striking that FXKovner Capital Holding Group Ltd. was also already deleted on 20.12.2022. But with our research tools, our Investigations team has managed to track down the investment scammers.
FXKovner: Investment fraud scheme
Investment fraud usually follows a recurring pattern: investors initially put in a small amount of money - usually 250 euros - are impressed by how quickly this amount increases, so much so that they are willing to "invest" higher and higher sums. The problems arise as soon as investors want to have their money paid out, because then ostensibly at once taxes, commissions, fees, or anything else must be paid. Many investors see through unfortunately only with a delay that they have fallen for investment swindlers, who never had the intention to disburse the money again.
FXKovner: What help is there for investment fraud?
How to proceed in the case of investment fraud, many defrauded investors ask themselves, makes the filing of criminal charges little sense, because they primarily serve the prosecution, but not the recovery of the money. What kind of help is available in cases of investment fraud and how do the affected investors get their money back? The lawyer specializing in investment fraud knows how to follow the money trail because as they used to say, money is never gone, it's just somewhere else. Now, this can be supplemented: It is challenging, but with the proper tools, it is possible to systematically track money digitally - even if it was transferred using Bitcoin via a crypto exchanger.
RESCH Rechtsanwälte GmbH - Experience in investor protection since 1986
If you have been a victim of FXKovner and want to know if and how you can get your money back, call +49 30 885 9770 or fill out the questionnaire. You will receive a free assessment of your case.