ForexTB (FXTB) - is it serious? Experience and rating
"ForexTB, is it reputable or unserious?" many an investor will ask. What experiences have investors made with the trading platform ForexTB from Cyprus? What judgment will investors come to and how are the business practices evaluated? Have you invested money in trading and are dissatisfied with the results? What can investors do then and what help is available?
ForexTB (FXTB): Statements worth discussing on the ForexTB.com website!
What can you read on the ForexTB.com website, among other things? "We offer a selection of over 300 popular financial assets. With ForexTB you can dive into global markets and trade CFDs of forex assets such as EUR/USD, GBP/USD, or CFDs of commodities such as gold, silver and crude oil. Furthermore, you can trade CFDs of multinational companies like Apple, Alphabet and Facebook, as well as the major indices NASDAQ, S&P 500 and FTSE 100." This is just a small sample of statements investors can find on the ForexTB website. Have you been able to benefit from ForexTB's investment advice? Have you successfully participated in trading with a ForexTB CFD trading account or have you had other experiences? Have you lost money and you wonder why? And who is behind Forex TB?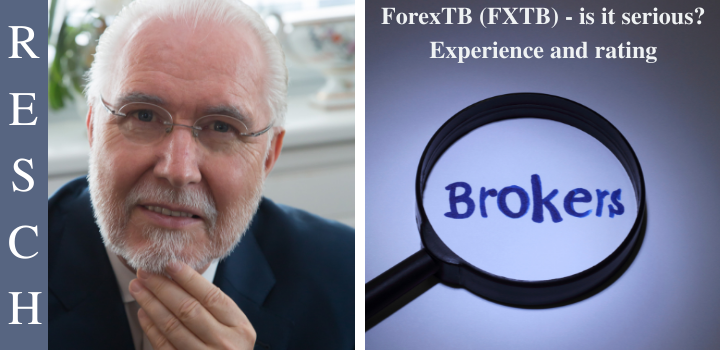 ForexTB (FXTB): Who is it?
And who is the operator of the ForexTB.com website? In the footer of the website you can read in mini font: "This website (www.forextb.com/eu) is operated by Forex TB Limited, an investment firm from Cyprus. It is authorized and regulated by the Cyprus Securities and Exchange Commission with CIF license number 272/15.". So Forex TB Limited is the operator licensed in Cyprus.
ForexTB (FXTB): License in Cyprus
Cyprus? There we still remember the financial crisis, where the tax haven Cyprus was on the verge of bankruptcy and investors had to cope with huge losses. Recently, the financial center Cyprus has again attracted negative attention, because citizenships were sold to criminal investors for sums of billions and even the president of the parliament was involved and later had to resign. The operator of the ForexTB platform is Forex TB Limited. Forex TB Limited can be found in the financial location of Cyprus at the address Iacovou Tompazi 1, Vashiotis Business Center, 1st floor office 101, Neapoli 3107, Limassol, Cyprus. There is also a license issued by the Cyprus Financial Supervisory Authority. Basically, licensed providers can offer all financial products, such as CFD, Forex and trading with cryptocurrencies. However, if they offer these highly complex products in other countries of the EU, then they have to comply with their legal requirements. In Germany, for example, there is a ban on offering small investors certain financial products with margin calls and thus high risks of loss. Furthermore, advisors must provide comprehensive information about the risks of the financial products. Were you informed about the risks or did you have other experiences?
ForexTB (FXTB): CFD transactions with small investors?
And what to make of the financial transactions of ForexTB or Forex TB Limited with German retail investors? The ForexTB.com website offers transactions with Contracts for Difference (CFD) and Forex. Here it is necessary to realize that transactions with CFDs with private German retail investors are restricted for these companies. It was not until the end of 2019 that the German Federal Financial Supervisory Authority (BaFin) extended these trading restrictions, stating, "Financial contracts for difference (CFDs) may continue to be marketed, distributed and sold to retail investors in Germany only on a restricted basis. ... BaFin is thus once again addressing the considerable investor protection concerns that it had already expressed when it first banned CFDs with margin calls in May 2017. In particular, BaFin sees an incalculable risk of loss for small investors in these contracts for difference. Losses here are not limited to the customer's capital investment, but can cover his entire assets and amount to a multiple of his invested capital. ... Small investors may not be lured into risks associated with CFDs with start-up credits, rebates, bonuses or other incentives, according to the supervisory authority." This is something that companies, including ForexTB and Forex TB Limited, must inform their clients about. If they do not do this, they are liable for damages and investors can claim their money back.
ForexTB (FXTB): Questionable business practices!
Although ForexTB is a licensed platform, more and more investors report to us about the dubious business practices of the brokers. Here, the same scheme can be found again and again, as can be found in investment fraud...: People are lured to the platform in the context of so-called cold calls or through switched advertising in social media. As soon as the customer has registered on the trading platform, he receives calls from alleged financial brokers who like to refer to their years of experience and satisfied customer base. In most cases, investors start with a small sum as a stake. Beforehand, investors are also often motivated to install remote maintenance software, such as Anydesk or Teamviewer on their computers, so that assistance can allegedly be provided with the first steps. In many cases, the computer is subsequently manipulated and unwanted transactions are carried out. In the process, the investment fraudsters often also gain access to their victims' online banking. What is particularly criminal, however, is when supposed profits are displayed on the trading platform in order to entice the customer to place further high stakes. In some cases, even small sums are returned in order to lull investors into a sense of security. Who then does not want to further increase the stakes? But what happens next?
ForexTB (FXTB): Repayment of the money is linked to conditions
However, an exit is then usually no longer possible, rather a repayment of the money is linked to further deposits. This is where the employees come in, claiming alleged tax debts and commission payments. These would have to be settled first, then it would come to the disbursement of the allegedly obtained profits. For this purpose, tax and commission invoices are sent to the investors, which are often decorated with fake coats of arms and, of course, have to be paid urgently. However, it is never possible to offset these payments against the supposedly achieved profits. If one refuses to make these further payments, the supposed profits are often turned into losses and the customer is harmed to the maximum. However, this is usually not the end of the horror, but the investors are often permanently confronted with calls from other dubious providers, which indicates that the contact details of the investors are further traded among the investment scammers.
ForexTB (FXTB): investors want their money back! How does it work?
If you had known all this, you would have certainly never got involved in this business. You will now ask yourself how you can get your money back? Many investors can't even imagine that there is any real chance of ever seeing their money back. Clearly yes! There are numerous legal bases to fall back on. The generic term is "money laundering." When investment fraudsters collect money, the crime of money laundering is committed. Financial institutions are obliged to take action against money laundering. This is where we come in with good chances of success.
ForexTB (FXTB): Tracking the money!
For more than 30 years, the investor protection law firm Resch Rechtsanwälte has been pursuing such abuses on the grey capital market. In this respect, the activities of ForexTB are nothing really new. We have built up a set of instruments to follow the money trail. In the age of the Internet, it has become very difficult to make funds really disappear. The important thing is to act as quickly as possible.
RESCH Attorneys at Law - experience in investor protection since 1986
If you have become a victim of ForexTB (FXTB) and want to know if and how you can get your money back, call 030 885 9770 or fill out the questionnaire. You will receive a free assessment of your case.