Flash Coin Mine - Online Trading Scam
01.03.2023
Flash Coin Mine pretends that investors are offered excellent conditions to make fast and safe money while trading online at the same time. Everything at Flash Coin Mine is investment fraud. Nothing is traded on flashcoinmine.com. The money immediately landed in the pockets of the investment scammers. Everything the investor sees on his screen is fake. Not a cent has been invested. Have you had similar experiences? What can investors do who have been scammed by Flash Coin Mine? How can investors get their money back from rogue providers? What help is available in case of investment fraud?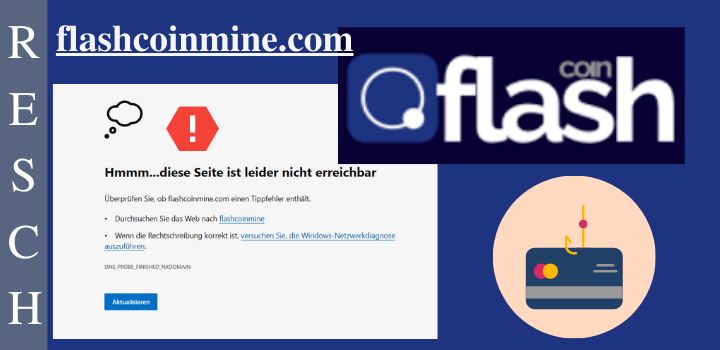 Flash Coin Mine: Suspicious and dubious information
You have noticed that the flashcoinmine.com website makes a very professional impression. A direct approach, supposedly interesting offers as well as the reference to support by the employees (brokers), which is supposed to lead to a convincing return and profits. All this seems very convincing. As an unsuspecting investor, you are not in a position to realize that you are merely being played a game and not a cent of your money is being invested. All the money ends up right in the pockets of the perpetrators, who of course do not trade with the investors' money either. Everything is just staging and illusion.
Flash Coin Mine: Who is behind it?
The Flash Coin Mine site does not contain a revealing imprint, which should prevent the perpetrators from being too easy to identify. The domain data of the flashcoinmine.com website also does not contain any clue as to who once registered the site, but only that the registration was made on 11/14/2022 with NameCheap, Inc. and that the real domain owners - quite expectedly for us - are hiding behind the Icelandic anonymization service Withheld for Privacy ehf. The predecessor site Flash Coin Mining with the domain flashcoinmining.com was also registered with NameCheap, Inc. on July 12, 2022, and also anonymized.
But who is running Flash Coin Mine?
Besides the obligatory support email address info@flashcoinmine.com, no contact phone number is presented to the investor on flashcoinmine.com. The address was given on the website - xx00, E. Union Ave Suite 1100 Denver, Los Angeles, USA - can be disregarded in the search for the people responsible for the platform, because on closer inspection it makes no sense at all. It probably means East Union Avenue in Denver in the state of Colorado, but which house number hides the aforementioned Suite 1100? And why is Los Angeles, California, which is about 1,650 km away from Denver, suddenly named as the company's headquarters? This erroneous address is no mere oversight, it is a pure calculation, after all, the perpetrators want to make it as difficult as possible to get to them.
Flash Coin Mine: International Searches
The worldwide search for Flash Coin Mine in the relevant registers leads to no results. The Flash Coin Mine is a fantasy product. There is still a note on the Flash Coin Mine website that the copyright is supposed to belong to a pretend BTC Limited, and we also found such a company in the commercial register of the United Kingdom, but we are currently still checking whether there is a connection here, or whether this is another attempt to confuse investors. And we cannot confirm the statements about Flash Coin Mine being an investment bank, according to the information on the website. There is no such bank. But with our research tools, our Investigations team has managed to track down the investment scammers.
Flash Coin Mine: Warnings from regulators
Unsurprisingly, Flash Coin Mine has already been targeted by the Financial Conduct Authority (FCA), UK, with its business practices and questionable demeanor. As such, they issued the following warning back on 12/21/2022: "Flash Coin Mine / www.flashcoinmine.com - We believe this company may be offering financial services or products in the UK without our authorization. Find out why you should be cautious when doing business with this unauthorized company and how you can protect yourself...
Unauthorized Company - Flash Coin Mine / www.flashcoinmine.com
Address: xx00, E. Union Ave Suite, 110 Denver, Los Angeles, UNITED STATES OF AMERICA.
Website: www.flashcoinmine.com"
Flash Coin Mine: Scheme of the investment fraud
The investment fraud plays out according to the same scheme: investors get in with a small sum - usually 250 euros - and quickly experience how this amount multiplies so that they are ready to "invest" higher and higher sums. The annoyance begins as soon as an investor would like to have his money paid out, because now ostensibly all at once taxes, commissions, fees, or whatever must be paid. Much too sluggishly, most investors realize that they have fallen for investment fraud and that there was never any intention to pay out the money again.
Flash Coin Mine: What help is there for investment fraud?
How to act in case of investment fraud, many defrauded investors ask themselves, because criminal charges hardly make sense, since criminal charges primarily serve the prosecution, but not the recovery of the money. What help can one hope for in the case of investment fraud and how do defraud investors get their money back? The lawyer specializing in investment fraud knows how to follow the traces of money, because as they used to say, money is not gone, but unfortunately somewhere else. In the present, one can add: It is not easy, but with the right tools it is possible to track money digitally regularly - even if it was transferred with Bitcoin via a Crypto Exchanger.
RESCH Rechtsanwälte GmbH - Experience in investor protection since 1986
If you have been a victim of Flash Coin Mine and want to know if and how you can get your money back, call +49 30 885 9770 or fill out the questionnaire. You will receive a free assessment of your case.