Fivoro - Fraudulent platform
Thursday, June 22, 2023
Our internal research department has already gathered some information about the Fivoro platform. Fivoro, a fraudulent platform, has attracted the attention of the Romanian financial regulator ASF with their dubious business practices. They have enticing offers and professional appearances, but it is a sophisticated illusion. Have you had similar negative experiences with Fivoro? If you have been a victim of Fivoro and would like to get your money back, please contact us.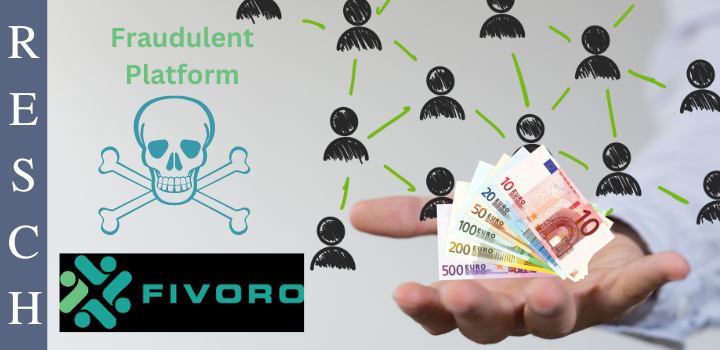 Dubious promises on fivoro.com
You may have already noticed that the websites fivoro.com, fivoro.pro and platform.fivoro-trading.com (fivoro-trading.com) give an extremely professional impression. They directly target the visitor and present seemingly tempting offers, especially pointing out that their employees (brokers) provide comprehensive support in order to reap considerable profits. This undoubtedly leaves a convincing impression. However, for inexperienced investors, it is difficult to realize that in reality only a show is being put on here and not a single cent goes into the actual investment. Instead, all the money ends up straight into the pockets of these criminals who have no interest in actually trading on behalf of the investors. The entire scenario turns out to be a sophisticated illusion.
Who operates the Fivoro portals?
It turns out to be extremely difficult to find information about the operators of the fivoro websites, as they do not provide clear information in the imprint. The domain data of fivoro.com, fivoro.pro and platform.fivoro-trading.com (fivoro-trading.com) do not provide any information about the original registrants. What we do know is that fivoro.com was registered on 01/21/2022 and fivoro.pro was registered on 02/20/2023 both with Hostinger UAB. The domain platform.fivoro-trading.com was registered on 05/16/2022 with NameCheap, Inc. The true owners of these domains cleverly hide their identity behind a common anonymization service, which is not at all surprising.
Fivoro: Who is behind it?
The realization is of great importance that the backers often operate multiple websites to spread their fraudulent business model. This phenomenon is also evident in this case. The websites are available in different languages such as English, German, Dutch, and French. In addition to the email addresses compliance@fivoro.pro and support@fivoro.pro, potential investors are also offered various phone numbers including +44 2035408523 (UK), +31 97010282239 (NL), and +14 388037180 (CA). However, this information does not provide clear clues about the actual platform operators or their locations.
Only fake addresses on Fivoro
The addresses mentioned, include 25 North Colonnade, London E145HD in the United Kingdom, TNW West Kon. Wilhelminaplein 1, 1062 HG Amsterdam in the Netherlands and 120 Adelaide St W #2500, Toronto, ONM5H1T1 in Canada, give some impression of credibility. Nevertheless, we have not yet been able to locate a company named Fivoro at any of these locations. There are no concrete leads to help us.
Fivoro scammers "certify" themselves
It is worth noting that the machinations behind Fivoro try to maintain a legal veneer by any means possible. A prime example of this is the display of a supposed certificate from the Crypto Commission Authority on their website. At first glance, this sounds like a reputable authority, but unfortunately, we have to admit that we are completely unfamiliar with such an institution. Additionally, on the website of the said Crypto Commission Authority, we can find a list of "our members" where several trading platforms are listed. Interestingly, we have already exposed some of these platforms as fraudulent, and this, of course, gives us deep insight.
International searches on Fivoro
A worldwide search for Fivoro in the relevant registers yields no results. Fivoro turns out to be a pure fantasy product. As for the alleged operating company, Urvashi Limited, which claims to be based in St. Vincent and the Grenadines and bears the registration number 26702 BC 2022, we were unable to find any entry about this company in the commercial register of the Caribbean state. There are several possible reasons for this. It is conceivable that this company existed in the past but was dissolved or otherwise ceased business operations, as a result of which it can no longer be found in the officially accessible commercial register of Saint Vincent and the Grenadines, and thus the required information is no longer readily available. However, it is also possible that it was a pure fantasy from the beginning. Further analysis will shed light on this. Our investigation team has used its research tools to track down investment fraudsters.
Fivoro: In the sights of the regulators
Unsurprisingly, Fivoro has already been targeted by the Romanian financial regulator Autoritatea de Supraveghere Financiara (ASF) for its business practices and questionable demeanor. On 21.11.2022, the ASF published a warning on the case, which read as follows: "URVASHI LIMITED (FIVORO - fivoro.com) The company URVASHI LIMITED (FIVORO - fivoro.com) is not authorized by the Financial Supervision Authority to provide investment services and activities by the provisions of Law No. 126/2018 on Financial Instruments." It is only a matter of time before other regulators become aware of Fivoro's activities and warns about its criminal actions.