Fischer Group - British and Swedish fake address
11.01.2023
Fischer Group creates the impression that investors are granted the very best opportunities to make both fast and safe money with online trading. Everything at Fischer Group is investment fraud. Nothing is traded on fischer-group-consulting.com. The money immediately landed in the pockets of the investment scammers. Everything the investor sees on his screen is deception. Not a cent has been invested. Have you had similar experiences? How does the investor get his money back from dubious providers? What can investors who have been deceived by Fischer Group? What help is available in case of investment fraud?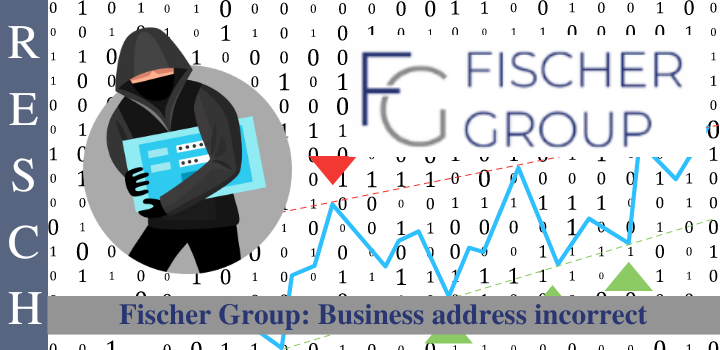 Fischer Group: Information is dubious and dubious
What are the dumbfounded visitors to fischer-group-consulting.com being served up? "The Fischer Group is an association of auditors, tax consultants and ... Management consulting, consulting and services accounting." This is just one small example of the suspect claims that belie the fact that it is merely about online trading that interested parties can find on the Fischer Group website. Not a single one of these given assurances by Fischer Group has been kept. Unfortunately, disturbing business practices tend to make for unhappy investors and bad experiences!
Fischer Group: Who is behind it?
Many investors will probably have a hard time answering this question because the Fischer Group makers do everything they can to conceal the true circumstances. However, this is nothing unusual, because the scammers often operate several of these websites with the same fraudulent business model. These are produced in series, put online without interruption, and just as swiftly taken offline again; moreover, the top-level domain is often changed to evade financial regulators and law enforcement agencies.
Who operates fischer-group-consulting.com?
There is hardly any actionable information on Fischer Group's website in this regard. Although the operator Fischer Group Ltd. is listed with the addresses 41b Naseby Road, Dagenham, RM10 7JR, UK and Odinsgatan 13, 411 03, Gothenburg, SE, the makers of Fischer Group cannot be found there, after all, these are fake addresses. Besides, there is also the usual e-mail address info@fischer-group-consulting.com and the telephone number +46 31 753 97 33. The domain fischer-group-consulting.com was registered on 28.04.2022 with 1API GmbH.
Fischer Group: Scheme of investment fraud
The investment fraud runs evidently after always the same pattern: Investors set at the beginning a small sum - usually 250 euro -, are impressed, with how fast this amount increases and are therefore ready to "invest" ever higher sums. The trouble starts when investors want to have their money paid out, because then taxes, commissions, fees, or anything else have to be paid first. Unfortunately, many investors understand much too sluggishly that they sat on investment cheats, and never had the intention to disburse the money again.
Fischer Group: What help is available for investment fraud?
Many angry investors wonder how to act in the case of investment fraud since criminal charges make little sense because criminal charges are primarily for prosecution and not for recovering the money. What kind of help is available for investment fraud and how do affect investors get their money back? A lawyer specializing in investment fraud must know how to track the money, because as they used to say, money is not gone, but somewhere else. Now you can add: It is difficult, but with the right tools it is possible to track money digitally regularly - even if it was deposited with Bitcoin through a Crypto Exchanger.
RESCH Rechtsanwälte GmbH - Experience in investor protection since 1986
If you have been a victim of Fischer Group and want to know if and how you can get your money back, call +49 30 885 9770 or fill out the questionnaire. You will receive a free assessment of your case.