Finotive - Reviews: This is investment fraud
24.10.2022
Finotive implies that the investor is provided with optimal conditions to make money online trading as fast as it is safe. At Finotive, everything is investment fraud. Nothing is traded at Finotive. Not a cent is invested. The money has landed straight into the pockets of the investment scammers. Everything the investor sees on his screen is a fraud. Have you had similar experiences? How do investors get their money back from dubious providers? What can investors do who have been defrauded by Finotive? What help is available in the case of investment fraud?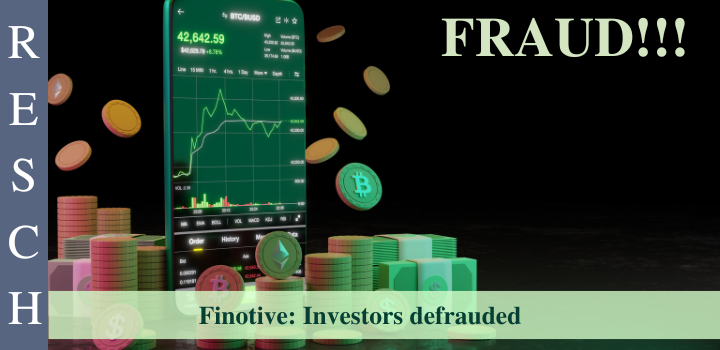 Finotive: Assurances on finotive.net are questionable and dubious!
What are the perplexed investors being told on www.finotive.net? It says: "Finotive is one of the top addresses for automated traders. Our order matching engine data centre processes over 500,000 trades per day, with over two thirds of all trades coming from automated trading systems. Finotive is the online forex CFD provider of choice for high volume traders, scalpers and robots." It all seemed very convincing. The unsuspecting investor was hardly in a position to realise that nothing was real. He was being played a game. Not a cent of his money was invested. Everything ended up right in the pockets of the investment scammers. There was no trading. It was all pretence, no reality. And that is why the investor does not get his money back. The exciting question remains, who is behind the investment fraud?
Finotive: Domain entry is hidden!
Of course, the investment fraudsters don't want you to be able to track them down easily. The website of finotive.net did have a reference to a possible operator, which, however, came to nothing, but no complete imprint. When querying domain data, one finds that the website was registered on 01.12.2020 by Porkburn LLC. The actual organisation behind it is said to be a certain "Vatachi Global Partners LTD with the registered number 25341 BC 2019 and address Suite 305, Griffith Corporate Centre, Beachmont, P.O. Box 1510, Kingstown, Saint Vincent and the Grenadines". However, this company does not exist and cannot be found in the relevant registers.
Finotive: Who is behind it?
Investors will not be able to answer this question. The investment fraudsters conceal their identity perfectly - almost. This is normal, because they regularly operate various websites on which they offer their fraudulent business model. And who is the operator? On the finotive.net website, there was only scanty information about this. Besides the obligatory support e-mail address support@finotive.net, there was also a contact form. A complete business address is missing, only the reference to the alleged operators of the website can be found at the end of the website. There one found the following note: "This website is operated by VT Group LTD with the business address 40B Geriou Ave 3051, Nicosia, Cyprus". After a short search on the internet, however, there is no registered company under this name in Cyprus. So there was no real intention behind it to support investors in trading - on the contrary, only criminals cover their tracks and do not want to be found.
Finotive: International search for traces
The worldwide search for VT Group and Vatachi Global Partners LTD in the relevant registers leads to no result. They are pure fantasy products. But with our research tools, our investigation team has succeeded in tracking down the investment fraudsters.
Finotive: Warnings from the supervisory authorities
It is hardly surprising that Finotive and VT Group LTD have already been targeted by the Austrian Financial Market Authority (FMA) with their business practices and questionable appearance. The FMA already issued a warning on 08.05.2021: "Attention! The FMA warns investors against concluding transactions with:
● VT Group LTD
with its registered address apparently at 40B Geriou Ave 3051, Nicosia, Cyprus
● www.finotive.net
● support@finotive.net
This provider is not authorised to carry out banking transactions in Austria...".
Similarly, on 28.06.2021, the Spanish Financial Supervisory Authority (CNMV) and the Belgian Financial Supervisory Authority (FSMA) issued warnings.
Finotive: Scheme of investment fraud
The investment fraud apparently plays out according to the same pattern: investors initially put in a small sum - usually 250 euros - and are impressed by how quickly this amount multiplies, so that they are prepared to "invest" ever higher sums. Annoyance sets in as soon as investors want their money paid out, because now, ostensibly, taxes, commissions, fees or whatever have to be paid first. Only belatedly do many investors find out that they have fallen for investment fraudsters who never intended to pay out the money again.
Finotive: What help is there for investment fraud?
What to do in case of investment fraud, many defrauded investors ask themselves, because filing criminal charges hardly makes sense, because criminal charges are mainly for prosecution, but not for recovering the money. What kind of help can one hope for in the case of investment fraud and how do the aggrieved investors get their money back? The lawyer specialising in investment fraud must know how to follow the money trail, because as it used to be said, money is never gone, only somewhere else. Today one can add to that: It is not easy, but with the right tools it is possible to track money digitally on a regular basis - even if it was transferred with Bitcoin via a Crypto Exchanger.
RESCH Attorneys at Law - Experience in investor protection since 1986
If you have been a victim of Finotive and want to know if and how you can get your money back, call +49 30 885 9770 or fill out the questionnaire. You will receive a free assessment of your case.