Financial Focus Ltd - an unregulated broker for traders
07.03.2023
Financial Focus Ltd creates the impression that the investor is provided with excellent conditions to win equally fast and safe money in online trading. Everything at Financial Focus Ltd is investment fraud. The money has landed right into the pockets of investment scammers. Not a penny has been invested. Nothing is traded on financialfocusltd.com. Everything the investor sees on his screen is fake. Have you had the same experience? What can investors who Financial Focus Ltd has scammed? What help is available in case of investment fraud? How can investors get their money back from dubious providers?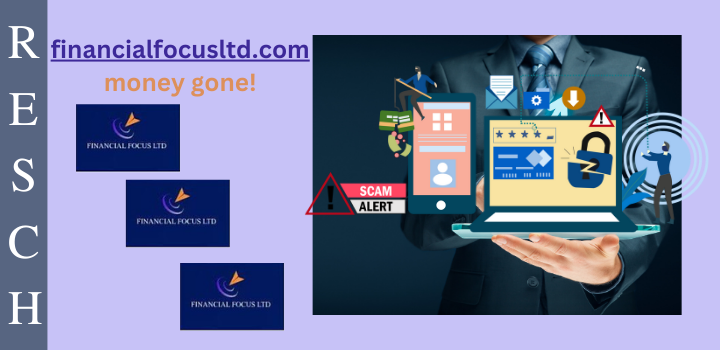 Financial Focus Ltd: Unbelievable and dubious promises on financialfocusltd.com
You have noticed that the website financialfocusltd.com makes a very professional impression. A direct approach, supposedly interesting offers as well as the reference to support by the employees (brokers), which should lead to a convincing return and profits. All this seems very convincing. As an unsuspecting investor, you are not in a position to realize that you are merely being played a game and not a cent of your money is being invested. All the money ends up right in the pockets of the perpetrators, who of course do not trade with the investors' money either. Everything is only staging and illusion.
Financial Focus Ltd: Who is behind it?
The Financial Focus Ltd. website does not contain a revealing imprint, which should prevent the perpetrators from being too easy to identify. The domain data of the website financialfocusltd.com also contains no indication of who once registered the site, but only that the registration took place on 27.07.2022 at alibaba.com Singapore E-Commerce Private Ltd. and the real domain owners - quite as expected - do not reveal themselves in persona.
Financial Focus Ltd: Hardly any information available
Besides the obligatory support email address support@financial-focusgroup.com still the contact telephone number +44 2030978855 with British country code is specified to the potenziellen plant prospective customer, which does not permit however any conclusions on the operators of the platform. An address remains the Macher of the platform one in the context of the Web appearance likewise debtor, also one is concealed, who the managing director is. And thus already here the alarm bells of possible investors should shrill because business transparency looks different in each case.
Financial Focus Ltd: International searches
The worldwide search for Financial Focus Ltd. in the relevant registers leads to a result. A Financial Focus Ltd. can be found in the commercial register of the United Kingdom under the registration number 07760451. The managing director is Briton Matthew James Jordan, born in 1984, and the company was registered in 2011. And here we finally find a business address: 14 Rumble Dene, Pewsham, Chippenham, England, SN15 3XE. So far so good.
Financial Focus Ltd: Several open questions
However, the question now arises as to why a company that was already entered into the register in 2011 did not launch a website until 2022. It seems that the company in the company register is not the originator of the website financialfocusltd.com, otherwise, the website would have been launched a long time ago. Is this case a case of identity theft to pretend to the victims that it is legal?
Financial Focus Ltd: What happens next?
There is a need for clarification and we will get to the bottom of the matter. With our research tools, our investigation team has successfully tracked down investment fraudsters. It is only a question of time until the regulatory institutions become aware of the construct around the alleged Financial Focus Ltd. and warn of their criminal activities. As Financial Focus Ltd. is very energetically active in the Russian market, we are of course keeping an eye on this market and the associated financial supervisory bodies.

Financial Focus Ltd: Scheme of investment fraud
The investment fraud follows the well-known pattern: investors initially put in a small sum - usually, 250 euros - and are impressed by how quickly this amount increases, so much so that they are willing to "invest" higher and higher sums. The Scherereien take their course if an investor would like to have its money paid out because then pretended all at once taxes, commissions, fees or something else must be paid. Much too delayed many investors recognize that they sat down an investment fraud and never the intention existed to disburse the money again.
Financial Focus Ltd: What help is there for investment fraud?
How to act in case of investment fraud, many investors ask themselves, because criminal charges hardly make sense, since criminal charges are mainly for prosecution, but not for the recovery of the money. What kind of help can be used for investment fraud and how do defraud investors get their money back? A lawyer specializing in investment fraud must know how to follow the money trail because as they used to say, money is never gone, it's just somewhere else. Now that can be added to: It is challenging, but with the right tools it is possible to systematically track money digitally - even if it was transferred with Bitcoin via a Crypto Exchanger.
RESCH Rechtsanwälte GmbH - Experience in investor protection since 1986
If you have been a victim of Financial Focus Ltd and want to know if and how you can get your money back, call +49 30 885 9770 or fill out the questionnaire. You will receive a free assessment of your case.