FGI Finance - Investment scammers make funds disappear
31.03.2023
FGI Finance implies that investors are granted ideal conditions to make fast and safe money with stocks, gold, funds, cryptocurrencies, and securities at the same time. However, everything at FGI Finance is investment fraud. Nothing is traded on fgi-finance.com. Not a penny has been invested. The money has landed right in the pockets of investment scammers. Everything that the investor sees on his screen is fraud. Have you had similar experiences? How does the investor get his money back from dubious providers? What help is there for investment fraud? What can investors do who have been defrauded by FGI Finance?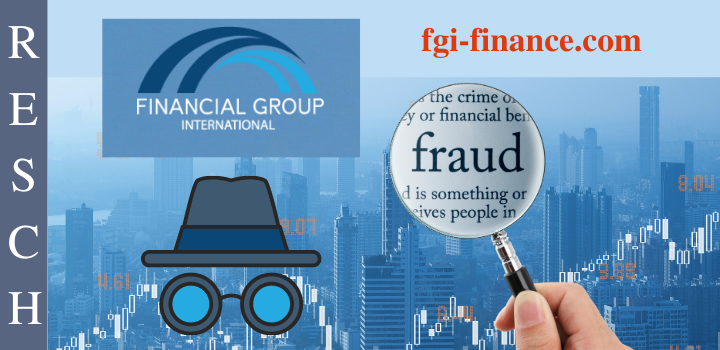 FGI Finance: Promises on fgi-finance.com are dubious
What do unsuspecting prospective investors read on fgi-finance.com? You have noticed that the website fgi-finance.com makes a very professional impression. A direct approach, supposedly interesting offers as well as the reference to support by the employees (brokers), should lead to a convincing yield and profits. All this seems very convincing. As an unsuspecting investor, you are not in a position to realize that you are merely being played a game and not a cent of your money is being invested. All the money ends up right in the pockets of the perpetrators, who of course do not trade with the investors' money either. Sadly, the dubious business practices make for bad experiences and disappointed investors!
FGI Finance: Who is behind it?
The FGI Finance site does not contain a revealing imprint, which should prevent the perpetrators from being too easy to identify. Also, the domain data of the website fgi-finance.com does not contain any hint of who once registered the site, but only that the registration took place on 09.02.2021 at GoDaddy, LLC and that the real domain owners - quite expectedly for us - hide behind an anonymization service called Domains by Proxy, LLC. In this context, it is important to note that the perpetrators often operate various websites on which they offer their fraudulent business model. For example, we were able to establish a connection with the WS Investment platform (wsinvestmentco.com), which went online not so long ago.
And who is the operator?
There is insufficient information about this on the FGI Finance website. In addition to the obligatory support e-mail address, the British telephone number +(44) 2045790020 and the Hamburg Number +(49)40-22851312 are offered to the viewer of the website. Under the addresses mentioned on fgi-finance.com, 3rd Floor, 15 Grape Street, London, Poststrasse 33 in Hamburg or 410 Park Avenue, Suite 920, New York, there is no such company in any case.
FGI Finance: International searches
A worldwide search for FGI Finance in the relevant registers leads to no results. FGI Finance is a fantasy product. But with our research tools, our Investigations Team has succeeded in tracking down investment fraudsters. The perpetrators are a highly criminal organization that has been at the core of our investigations for years, which is why we recognize their signatures right away. FGI Finance joins a series of frauds that our investigation team has been able to uncover over the years.
FGI Finance: Identity fraud
The company identification number OC332029 from the imprint of fgi-finance.com were stolen by a company called FGI Finance UK LLP. This company, founded in 2007, has become a victim of identity theft. We are already familiar with this modus operandi from other cases in which this very same cloning tactic was used.
FGI Finance: Dubious business practices
The fact is that the German number has already attracted negative attention in the past, according to entries in various forums. Called ones reported there from Cold Calls, in which unscrupulous and psychologically well-trained callers tried to bring shares to the man. The fact that such cold calls are prohibited by law in Germany does not seem to interest the fraudsters to this day. And so they simply continue, previously under a different guise, this time as FGI Finance. It is only a question of time until other regulatory institutions will become aware of FGI Finance and warn of their criminal activities.
FGI Finance: Scheme of investment fraud
Investment fraud continuously follows the same pattern: investors initially put in a small sum - usually 250 euros - and quickly experience how this amount increases, so that they are willing to "invest" ever higher sums. The annoyance immediately starts when investors want to have their money paid out, because now supposedly taxes, commissions, fees, or anything else have to be paid all at once. Unfortunately, many investors are much too slow to understand that they have fallen for investment scammers who never intended to pay out the money again.
FGI Finance: What help is available for investment fraud?
Many defrauded investors wonder how to proceed in the case of investment fraud because criminal charges make little sense since criminal charges are primarily for prosecution and not for recovering the money. What kind of help can one hope for in the case of investment fraud and how do aggrieved investors get their money back? A lawyer specializing in investment fraud must know how to follow the money trail because as it used to be said, money is never gone, but unfortunately somewhere else. Nowadays, one can add: It is exhausting, but with the right tools it is possible to track money digitally regularly - even if it was deposited with Bitcoin via a Crypto Exchanger.
RESCH Rechtsanwälte GmbH - Experience in investor protection since 1986
If you have become a victim of FGI Finance or Financial Group International, respectively, and want to know if and how you can get your money back, call +49 30 885 9770 or fill out the questionnaire. You will receive a free assessment of your case.