Extrochain - Unreliable! Stay away! Scam alert
14.06.2023
At first glance, the website Extrochain.com seems solid: various trading options are highly praised by the masterminds behind this platform. They claim that traders, regardless of their experience, can quickly earn money. One might think it is a completely trustworthy and profitable trading platform. However, the unfortunate truth is that all the enticing promises on Extrochain.com are frauds. The unsuspecting investors' laptops are used consistently to deceive them with false promises and take away their belongings. In reality, no trading activities take place, and the seemingly well-invested capital ends up directly in the pockets of the scammers. Have you also had bad experiences with Extrochain.com? Then you are probably wondering how to recover money from this illegally operating provider. Additionally, what kind of support can victims expect in this unscrupulous form of online investment fraud?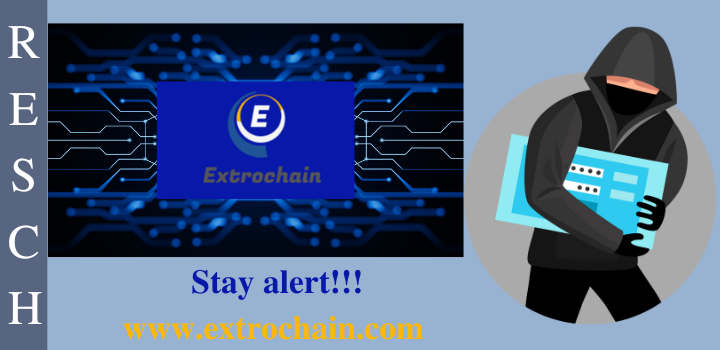 Extrochain: Investment fraud follows a well-established script
The deceptive website Extrochain is a paradigmatic example of the recurring and ruthless online investment fraud that lures unsuspecting investors into a dark scam trap. Seemingly respectable and psychologically savvy fake brokers rely on carefully crafted deceptions to subtly divert their victims' wealth into their own pockets. The scammers follow a well-established script by first convincing their victims to invest smaller amounts, around 250 euros, and then pushing for increasingly larger sums. They continuously exert more pressure on investors, creating new taxes and dubious phantom fees that supposedly need to be paid, completely disregarding the suffering their victims will eventually endure. Once the victims reach their financial limit, the scammers retreat from the fraud game, leaving a trail of financial devastation. The victims are often left confused and uncertain, not knowing how to proceed. Moreover, they feel deeply ashamed and find it extremely difficult to confide in their family members or colleagues. So, what can victims of investment fraud do to escape this precarious situation? One thing is certain: in such a seemingly hopeless situation, specialists, specifically experts in the field of online investment fraud, are essential. They can support the victims and assist in recovering their lost funds. The path to reclaiming lost funds is filled with numerous obstacles and is nearly impossible to navigate alone. Total losses should be avoided by seeking the help of an expert as early as possible; they can provide guidance and take the necessary actions in this complex situation.
Extrochain: Thieves Lurking in the Shadows of the World Wide Web
Similar to numerous shady online brokers and their associated trading platforms, the website Extrochain.com raises doubts about whether the platform operators comply with the provisions of the Telemedia Act. A coherent and undeniable imprint? Not available! But who is behind Extrochain? The Extrochain website provides hardly any reliable information in this regard. While it mentions the company Extrochain Ltd. with the business address 1 Great George St, London SW1P 3AA, the creators of Extrochain cannot be found there because it is a fictitious address. Additionally, only the email address info@extrochain.com is provided on Extrochain.com, with no phone number. But what about the certificate presented on the website to prove the existence and legality of Extrochain? It is a blatant forgery, nothing more and nothing less. The domain Extrochain.com was registered on September 11, 2022, with NameSilo, LLC.
Extrochain: Risk of loss instead of profit prospects!
Extrochain entices investors. All the inflated promises that fill their fraudulent site are meant to lure a multitude of unsuspecting investors into the investment scam network. The fundamentally honest investors receive messages there, claiming that their funds are always secure and that user data will never be disclosed. Statements like the following are also intended to push investors into the scammers' trap: "Our roots date back to 2013 – precisely at the beginning of the revolution known today as Bitcoin. After the boom of this industry, we quickly recognized some of the common issues that arose when people tried to get involved. We responded to this need and our ambition by developing an integrated platform that satisfies the investors' needs and fulfills their expectations for adequate returns on their investments. Since then, we have maintained our focus as a company that looks towards the future and implements the opportunities we offer to our esteemed clients..." It sounds trustworthy, no doubt, and like an excellent chance for success that shouldn't be missed. However, be cautious! It is just another act in this shady theater because Extrochain is a cunning scam that transforms investors into victims, not winners.
Extrochain: What help is there for investment fraud?
What to do in case of investment fraud, many aggrieved investors ask themselves, because filing criminal charges hardly makes sense, because criminal charges are mainly for prosecution, not for recovering the money. What kind of help can one hope for in the case of investment fraud and how do affected investors get their money back? The lawyer specializing in investment fraud must know how to track the money because as they used to say, money is never gone, but unfortunately somewhere else. In the present, this can be supplemented: It is not easy, but with the proper tools it is possible to track money digitally regularly - even if it was deposited with Bitcoin through a Crypto Exchanger.
RESCH Rechtsanwälte GmbH - Experience in investor protection since 1986
If you have been a victim of Extrochain and want to know if and how you can get your money back, call +4930 885 9770 or fill out the questionnaire. You will receive a free assessment of your case.