Europa Trade Capital - Scam alert: FCA, BaFin and FMA warn
07.02.2023
Europa Trade Capital implies that investors are provided with optimal opportunities to make fast and safe money when trading online assets. At Europa Trade Capital, everything is investment fraud. The money immediately landed in the pockets of the investment scammers. Nothing is traded on eurotrcap.com. Everything that the investor sees on his screen serves to deceive investors. Not a cent has been invested. Can you report comparable experiences? How does the investor get his money back from dubious providers? What help is available in the case of investment fraud? What can investors do who have been defrauded by Europa Trade Capital?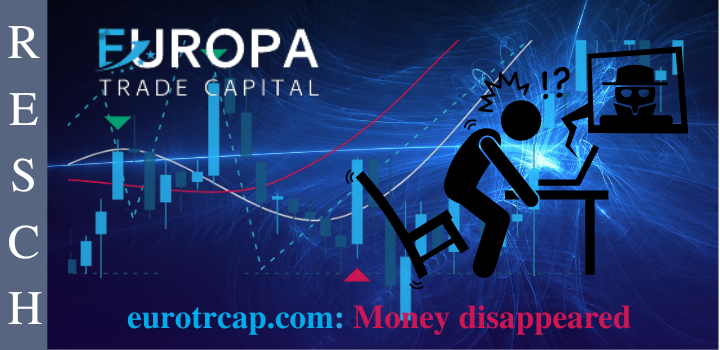 Europa Trade Capital: Promises on eurotrcap.com are dubious!
Investors are lured to the website eurotrcap.com (formerly europatradecapital.com) with questionable promises. For example, it says: "We like to keep things simple at Europa Trade. That's why we offer the best trading conditions and customer support to you and all our traders worldwide." It goes on to say, "We give you the tools to trade. From one of the best trading platforms in the world to the largest tradable assets - you decide what to trade, where, and how." It all seems very convincing. The unsuspecting investor is hardly able to realize that nothing is real. Not a dime of his money is invested. There is no trading going on. And therefore the investor does not get his money paid out. The exciting question is, who is behind this investment fraud?
Europa Trade Capital: Hidden domain entry!
Of course, the investment scammers do not want you to be able to track them down easily. That is why the website does not have a meaningful imprint with the website operators' full details and an address. Also, the domain data of the website eurotrcap.com does not contain any hint of who once registered the site, but only that the registration took place on 21.07.2022 at NameCheap, Inc. and that the real domain owners - quite expectedly for us - hide behind an Icelandic anonymization service called Withheld for Privacy ehf based in Reykjavik.
Europa Trade Capital: Who is behind it?
Investors will not be able to answer this question. The investment scammers disguise their identity perfectly - almost. This is normal because they regularly operate various websites offering fraudulent business models. Thus there was once the Domain europatradecapital.com, which was registered - likewise anonymized naturally - already on 15.12.2021 with NameCheap, Inc. and thus the predecessor platform of the construct around the Europe Trade Capital with the current Domain eurotrcap.com was.
Europa Trade Capital: Who is the operator?
On the current website of Europa Trade Capital, there is only sparse information about this. The company FD Trade LLC with its business address second floor in the First St. Vincent Bank Ltd. building on James Street, Kingstown, St. Vincent, and the Grenadines is indicated, such a company is also actually registered on St. Vincent and the Grenadines, under the address mentioned however the makers of Europa Trade Capital are not discoverable so that this trace remains a dead end regarding the platform responsible persons. In addition, the website still lists a contact form, the obligatory support e-mail address, and the British telephone number +44 203 8079 683.
Europa Trade Capital: International searches
A worldwide search for Europa Trade Capital in the relevant registers yields no results. Europa Trade Capital is a fantasy product. And even if we could find the alleged operating company - the FD Trade LLC - in the trade register of St. Vincent and the Grenadines under company number 329, it is still far not proven that it concerns i. S. Europa Trade Capital is a trustworthy enterprise. Reports of aggrieved parties let us seriously doubt it. But with our research tools, our investigation team has succeeded in tracking down investment fraudsters.

Europa Trade Capital: Warnings from Austria's FMA
It is not surprising that Europa Trade Capital has already been targeted by the Austrian Financial Market Authority (FMA) for its business conduct and questionable appearance. Thus, the latter issued the following warning on 15.04.2022: "Attention! The FMA warns against entering into transactions with:
FD Trade LLC (Europa Trade Capital) with an alleged registered office in St. Vincent and the Grenadines.
Tel: +44 203 8079 683,
Email: info@europetradecapital.com,
Web: europatradecapital.com
This provider is not authorized to provide banking services requiring a license in Austria."
Europa Trade Capital: BaFin warning
Also, the German Federal Financial Supervisory Authority (BaFin) already warned publicly against the machinations of Europa Trade Capital and published on 21.06.2022 the following warning:
"europatradecapital.com: BaFin investigates against FD Trade LLC - BaFin clarifies.... clarifies that FD Trade LLC does not have a license under the German Banking Act to conduct banking business or provide financial services. The company is not supervised by BaFin. The contents of its website europatradecapital.com justify the assumption that FD Trade LLC is unauthorized to conduct banking business and provide financial services in Germany."
Europa Trade Capital: FCA warning
The Financial Conduct Authority (FCA) of the United Kingdom also did not leave a good hair on Europa Trade Capital and also published a warning, this happened on 07/21/2022: "Europa Trade Capital - We believe that this firm may be offering financial services or products in the UK without our authorization... This firm is not authorized by us and is targeting people in the UK.
Unauthorized Company - Europa Trade Capital
Address: First Floor First St. Vincent Bank Ltd, James Street, Kingstown, St. Vincent, and the Grenadines, ST. VINCENT AND THE GRENADINES
Phone: 02039360305, 02036175654, 02038079683, 01519470366, 02045254248
Mobile: 07537183807, 07833849301, 07769707578, 07537121881, 07360264574
E-mail: support@europatradecapital.com, daina@europatrtadecapital.com, bryanh@europatradecapital.co, lucaf@europatradecapital.co, mdavidm@europatradecapital.com, davidc@europatrade.com, alexanderr@europatradecapital.io
Website: www.europatradecapital.com, www.europatradecapital.co, europatradingcapital.com, europatradecapital.io"
Europe Trade Capital: Further Warnings
And we are - as far as official warnings are concerned, not yet at the end. For its part, the Ontario Securities Commission (OSC) also warned against Europa Trade Capital on 12/10/2022: "Europa Trade Capital, found at www.eurotrcap.com, is not registered in Ontario to engage the business of trading in securities." It remains only a question of time until other regulatory institutions will also become aware of the construct surrounding Europa Trade Capital and warn against their punishable activities.
Europa Trade Capital: Scheme of the investment fraud
The investment fraud runs continuously according to the usual scheme: investors enter with a small sum - usually 250 euros - and quickly experience how this amount multiplies so that they are ready to "invest" higher and higher sums. The problems start when investors want to have their money paid out, because now taxes, commissions, fees, or anything else have to be paid first. Unfortunately, most investors realize much too slowly that they have fallen for investment fraudsters who never intended to pay out the money again.
Europa Trade Capital: What help is available in case of investment fraud?
How to proceed in case of investment fraud, many angry investors ask themselves, since a criminal complaint hardly makes sense, because criminal complaints are mainly used for a criminal prosecution, but not for the recovery of the money. What kind of help is available in investment fraud cases and how do the aggrieved investors get their money back? A lawyer specializing in investment fraud knows how to follow the money trail, because as it used to be said, money is never gone, but unfortunately somewhere else. In the present, you can add to that: It is challenging, but with the right tools it is possible to track money digitally on a regular basis - even if it was transferred with Bitcoin via a Crypto Exchanger.
RESCH Rechtsanwälte GmbH - Experience in investor protection since 1986
If you have been a victim of Europa Trade Capital and want to know if and how you can get your money back, call +49 30 885 9770 or fill out the questionnaire. You will receive a free assessment of your case.