Euro Finance - Experiences: It's an investment fraud
26.08.2022
Euro Finance pretends that investors are granted the best possible conditions to earn equally fast and safe money while trading online. Everything at Euro Finance is investment fraud. The money immediately landed in the pockets of the investment scammers. Everything the investor sees on his screen is fake. Nothing is traded at Euro Finance. Not a cent has been invested. Can you report similar experiences? What can investors who have been scammed by Euro Finance do? What help is available in case of investment fraud? How can investors get their money back from dubious providers?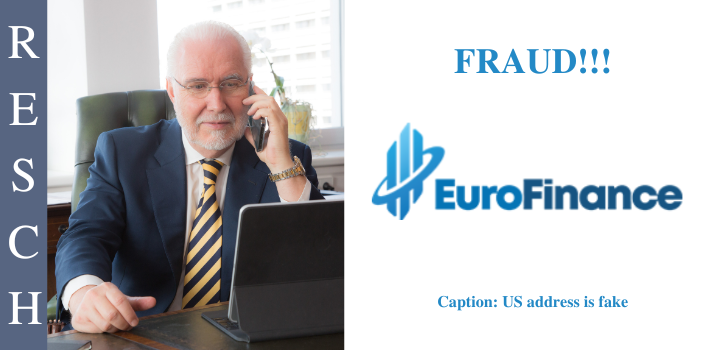 Euro Finance: Unbelievable and dubious assertions
What do the astonished investors read on the website of Euro Finance? "At Euro Finance Capital Partners, our team of experienced professionals is committed to helping investors identify these risks, advising on strategies that meet the client's objectives and constraints (through hedging or as an alpha source), and providing them with simple and cost-effective solutions, transparent pricing, trade execution, and automated post-trade services." This is just a small sample of the untrustworthy claims that the curious can find on Euro Finance's website. Not one of these lofty promises made by Euro Finance has been kept. Regrettably, the shady business conduct rather provides for disappointed investors and bad experiences!
Euro Finance: Who is behind it?
Because the Euro Finance makers do everything they can to conceal the true circumstances, most investors will probably have trouble answering this question. This is not uncommon because scammers often run several of these websites with the same fraudulent business model. Such are produced continuously, brought online one after another, and taken offline just as quickly, moreover, the top-level domain is changed again and again to confuse financial regulators and law enforcement agencies.
Euro Finance: Who is the operator?
There is hardly anything usable on the Euro Finance website in this regard. Admittedly, the Euro Finance Group is listed with the business address 99 Wall Street, New York, NY 10005, USA, but the makers of Euro Finance cannot be found at this address; after all, this is at best a letterbox company. It can be assumed that it is a clone of the Euro Finance Group based in Ireland. The domain eurofinglobal.com was registered on 03.09.2021 with GoDaddy.com, LLC and anonymized with Domains By Proxy, LLC. In addition, the mandatory email address and the US phone number +1 (929) 930 33 44 can be found on the website.
Euro Finance: Investment fraud scheme
Investment fraud usually follows the well-known scheme: investors initially put in a small sum - usually 250 euros - and quickly experience how this amount increases, so that they are ready to "invest" higher and higher sums. The worries show up immediately when investors want to have their money paid out, because then ostensibly taxes, commissions, fees, or anything else must be paid first. Unfortunately much too sluggishly, most investors understand that they have fallen for investment fraud and never the intention was to pay out the money again.

Euro Finance: What help is there for investment fraud?
What to do in case of investment fraud, many defrauded investors ask themselves, because a criminal complaint hardly makes sense, since criminal complaints serve primarily the prosecution, but not the recovery of the money. What help can be used in investment fraud cases and how do investors get their money back? The lawyer specializing in investment fraud knows how to trace the money, because as it used to be said, money is never gone, only somewhere else. Today you can add to that: It is tricky, but with the appropriate tools it is possible to track money systematically digitally - even if it was transferred with Bitcoin via a Crypto Exchanger.
RESCH Attorneys at Law - Experience in investor protection since 1986
If you have become a victim of Euro Finance and want to know if and how you can get your money back call +49 30 885 9770 or fill out the questionnaire. You will receive a free assessment of your case.