EU Finance - Is this investment fraud?
11.11.2022
EU Finance implies that investors are offered excellent opportunities to make fast and safe money with online trading at the same time. At EU Finance, everything is investment fraud. Nothing is traded at EU Finance. Everything the investor sees on his screen is fake. Not a cent has been invested. The money has landed right in the pos of the investment scammers. Have you had similar experiences? What can investors who have been defrauded by EU Finance do? How do investors get their money back from dubious providers? What help is available in case of investment fraud?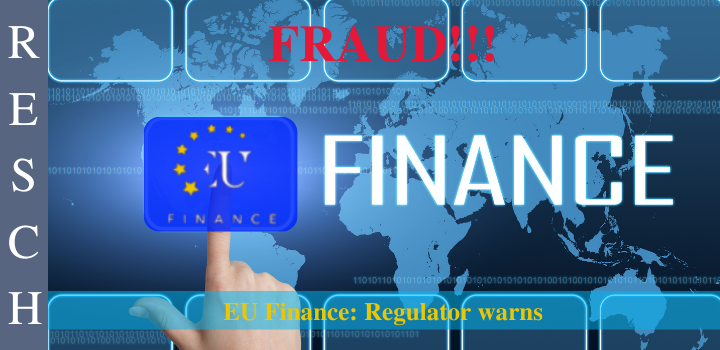 EU Finance: Information on eufinance.co is false and dubious!
What are surprised visitors to the EU Finance website being presented with? "With a comprehensive focus on safety, security, and risk management, we are focused on helping our clients achieve the highest possible income with their preferred strategy, budget, and financial instrument." That's just a small excerpt of the over-the-top promises that interested parties can find on EU Finance's website. Not a single one of these full-throated assurances from EU Finance has been delivered. Sadly, the shady business conduct makes for bad experiences and unhappy investors!
EU Finance: Domain entry is hidden!
Of course, the investment scammers don't want people to easily track them down. That is why the EU Finance website does not have a meaningful imprint with the full details and the address of the operators of this very website. Also the domain data of eufinance.co do not contain any hint who once registered the site, but only that the registration took place on 28.01.2022 at NameSilo, LLC, and that the real domain owners - as expected - hide behind an anonymization service called PrivacyGuardian.
EU Finance: Who is behind it?
Investors will not be able to answer this question. The investment scammers disguise their identity perfectly - almost. This is normal because they regularly operate various websites where they offer their fraudulent business model. Before the domain eufinance.co was launched, there was already the domain eufinance.eu, which is now no longer accessible. In terms of content, there were no differences whatsoever between this domain and the currently active domain, which can therefore be attributed to the same group of perpetrators.
EU Finance: Who is the operator of this construct?
On the current website of EU Finance, there is only sparse information about this. In addition to the obligatory support e-mail address support@eufinance.eu, potential investors are given the contact telephone numbers +441164710015 and +442080896172, each with a British country code, which does not allow any conclusions to be drawn about the operators of the platform. The address is 2B John Islip Street, Westminster, London, SW1P 4PX, in the United Kingdom, but at no time was there a trading empire à la EU Finance. Interesting in this context is that the same address was also used for another trading platform already exposed as fraudulent, namely CoinePro (coinepro.com). Is this merely a coincidence? Our investigation into this is ongoing.
EU Finance: International Searches
A worldwide search for EU Finance in the relevant registers leads to no results. EU Finance is a fantasy product. And also the information concerning a possible operating company of EU Finance, which we could read within the information on the meanwhile already switched off domain eufinance.eu, we could not verify. A Schroder Ltd., so the name of the alleged operating company, which should be resident under the address Trust Company Complex, Ajeltake Road, Ajeltake Island, Majuro, Republic of the Marshall Islands, MH 96960, we could not find at the place mentioned.
EU Finance: Ajeltake Island?
This is the island of Majuro Atoll in the Pacific Ocean and has well under 2,000 inhabitants. If anything, this place serves as a mailbox address. Especially since the named address has repeatedly popped up in the past in connection with fraudulent platforms and even the Panama Papers, not a good sign! But with our research tools, our Investigations team succeeded in putting the trail to the investment fraudsters.
EU Finance: warnings from regulators
It is not surprising that EU Finance, with its business practices and questionable appearance, has been targeted by the Spanish CNMV for quite some time, when the predecessor domain eufinance.eu was still active. Thus the supervisory authority published already on 20.09.2021 the following warning:
"CNMV WARNS THE PUBLIC OF NON REGISTERED COMPANY... warns the Comisión Nacional del Mercado de Valores that:
https ://eufinance.eu
EU FINANCE
is not authorized to provide the investment services listed in Article 140 of the Spanish Securities Market Law, which includes investment advice..."
It is only a matter of time before other regulatory institutions - the German Federal Financial Supervisory Authority (Bundesanstalt für Finanzdienstleistungen, BaFin) may be mentioned here as an example - will become aware of EU Finance and warn of its criminal activities.
EU Finance: Scheme of investment fraud
The investment fraud runs evidently after the recurring scheme: Investors enter with a small sum - usually, 250 euros - and experience fast, how this amount multiplies so that they are ready to "invest" ever higher sums. The problems come up immediately when investors want to have their money paid out, because then supposedly taxes, commissions, fees or whatever have to be paid all at once. Only with delay did many investors notice that they sat down an investment fraud and never the intention existed to disburse the money again.
EU Finance: What help is there for investment fraud?
Many aggrieved investors ask themselves how they should act incase of investment fraud since a criminal complaint hardly makes sense because these serve above all the prosecution and not the recovery of the money. What kind of help is available in case of investment fraud and how do the aggrieved investors get their money back? The lawyer specializing in investment fraud knows how to follow the traces of money, because as it was said in the past, money is never gone, only somewhere else. Today can be added: It is complicated, but with the right tools, it is possible to systematically track money digitally - even if it was deposited with Bitcoin via a crypto exchanger.
RESCH Rechtsanwälte GmbH - Experience in investor protection since 1986.
If you have been a victim of EU Finance and want to know if and how you can get your money back, call +49 30 885 9770 or fill out the questionnaire. You will receive a free assessment of your case.