Ethereal FX Pro: FCA warning confirms negative experiences of investors
12.09.2023
In the fast-paced world of online trading, it is crucial to distinguish legitimate platforms from fraudulent ones. In this article, we take a critical look at Ethereal FX Pro, a platform that has come under increased scrutiny in recent months. With negative experiences and a questionable rating, it's time to take a closer look at the seriousness of this trading platform.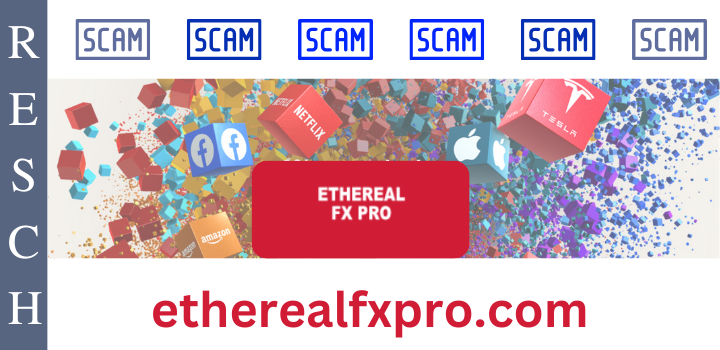 Ethereal FX Pro: A Very Brief History
Ethereal FX Pro first appeared on July 7, 2023, when the domain etherealfxpro.com was registered with NameSilo, LLC. Interestingly, at the same time, the domain was anonymized by PrivacyGuardian.org LLC. This raises some questions.

Ethereal FX Pro: Warning from the FCA
A serious alarm bell went off when the UK Financial Conduct Authority (FCA)warned about Ethereal FX Pro and its lack of permission to provide financial services on September 5, 2023. This warning is a clear indication that the platform is operating in legal waters that it should not be entering.

Ethereal FX Pro: Lack of transparency and questionable statements
Ethereal FX Pro's website describes the platform as an "award-winning round-the-clock service". However, given that the platform has only been around for a few weeks, it begs the question of when these alleged awards were given. Also, the statement that they are proud of their global reputation for reliability and trustworthiness does not seem very credible given the negative experiences of investors.

Ethereal FX Pro: Mysterious address and missing contact information
Ethereal FX Pro gives an address in Wales, but it is a fake address where the operator is not physically present. The listed service hotline is not available and the imprint does not comply with legal requirements. These shortcomings raise serious questions about the seriousness of the platform. The founders and executives of Ethereal FX Pro remain in the dark. There are no clear portraits or information about them.

Ethereal FX Pro: Lack of legal safeguards and regulation
Ethereal FX Pro has no legal accounts with established banks, offers no collateral, and is not listed on any recognized trading lists or exchanges. No authority can confirm the license or existence of the operator. This lack of regulation and transparency is alarming.

Ethereal FX Pro: Negative experiences and questionable practices
Negative experiences with Ethereal FX Pro are piling up in various forums and social media. Investors report high pressure to invest quickly and are emotionally pushed to make more deposits. These practices are highly questionable and indicate fraudulent intentions.

Ethereal FX Pro: Questions and Answers
Question: Is it safe to invest with Ethereal FX Pro?
Answer: Given the FCA's warning and the platform's lack of transparency, it is advisable to exercise caution and check out other reputable options.
Question: Are there any signs of fraud?
Answer: The lack of regulation, dubious practices, and negative investor experiences point to fraudulent intentions.
Question: How can I protect myself from these platforms?
Answer: Do your research, check the regulation and transparency of the platform, and don't be swayed by pressure tactics.

Ethereal FX Pro: Conclusion
The experience and review of Ethereal FX Pro is consistently negative and raises serious doubts about the seriousness of this platform. Given the warning issued by the FCA and the lack of transparency, caution is advised. Before investing in any online trading platform, it is advisable to do your research and rely on reputable and regulated providers. Your financial security should always come first.

RESCH Rechtsanwälte GmbH - Experience in investor protection since 1986
If you have been a victim of Ethereal FX Pro (etherealfxpro.com) and want to know if and how you can get your money back, call +49 30 885 9770 or request a call back from an attorney specializing in investment fraud. You will receive a free evaluation of your case.