Reviews: Check if Emiratemines.net is legit or scam?
07.06.2023
Regarding Emiratemines, also known as Emirate Minez or Emirate Coinz, our internal research team has gathered important information. Emiratemines implies that investors are provided with excellent opportunities to earn fast and secure money through investments in cryptocurrencies. However, everything at Emiratemines is investment fraud. The money has ended up directly in the pockets of the investment scammers. Nothing is actually traded on emiratemines.net. Not a single cent has been invested. Everything the investor sees on their screen is meant to mislead them. Have you had the same experiences? What can investors do if they have been deceived by Emiratemines? What assistance is available for investment fraud? How can investors recover their money from unscrupulous providers?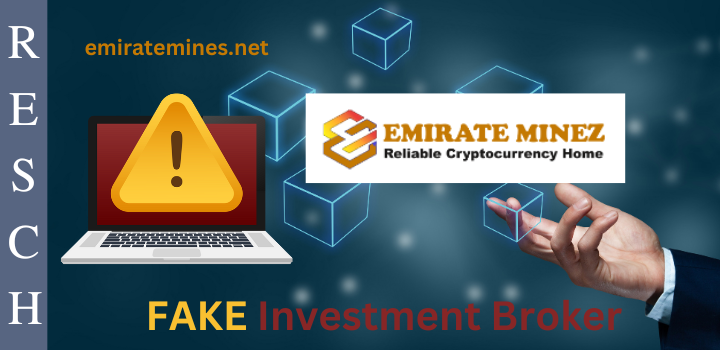 Unreliable promises on emiratemines.net
What is presented to bewildered prospects on www.emiratemines.net? You have likely noticed that emiratecoinz.net and emiratemines.net seem convincing at first glance. There is direct communication, supposedly interesting offers, and the mention of support from brokers, which is supposed to lead to convincing returns and profits. All of this appears very convincing. As an unsuspecting investor, you are unable to recognize that you are being presented with a theatrical performance and that not a single cent of your money is being invested. Instead, it ends up directly in the pockets of the perpetrators who, of course, do not engage in any trading with the investors' money. These criminal business practices consistently lead to negative experiences and harm investors!
Emiratemines: Who is behind it?
The trading platforms Emiratemines (Emirate Minez, Emirate Coinz) do not provide an imprint, which is intended to make it difficult to identify the perpetrators. The domain data of the websites emiratecoinz.net and emiratemines.net also do not provide any indication of who registered them, but only that the former was registered on July 28, 2022, and the latter on January 5, 2023, with NameSilo, LLC, and the actual domain owners, as expected, hide behind an anonymization service called PrivacyGuardian in both cases.
But who operates Emiratemines?
It is important to note that the perpetrators often operate various websites on which they offer their fraudulent business model. The predecessor of Emiratemines (Emirate Minez, Emirate Coinz) is called Fiatci (fiatci.io), and it originated from the same source. Fiatci was also registered anonymously on January 12, 2021. In addition to the obligatory support email addresses support@emiratecoinz.net and support@emiratemines.net, potential investment prospects on the Emiratemines sites are also presented with the phone numbers +1 5053025614 with a U.S. country code, +44 587154765 with a British country code, and +55 576234532 with a Brazilian country code, but this does not allow any conclusions to be drawn about the operators.
Emiratemines: False information, contradictions, and nonsense
The addresses provided there are 2767 Sunrise Street, 10th Avenue, New York in the United States, as well as Chem. du Bois de Villers, 1325 Chaumont-Gistoux in Belgium, but both are fictitious addresses. In addition, the address 121 King St, Melbourne VIC 3000 also appears. There is no Emiratemines (Emirate Minez, Emirate Coinz) located there either. Furthermore, if you take a closer look at the websites, you will find that they only appear decent at first glance. For example, if you access the "Terms of Service," you will notice that only the first paragraph makes sense. The subsequent text is displayed as placeholder text. The "Privacy Policy" is not even available.
Emiratemines: International investigations
The worldwide search for Emiratemines (Emirate Minez, Emirate Coinz) in relevant registers does not yield any results. It is a fantasy product. The statements placed on the websites that Emiratemines (Emirate Minez, Emirate Coinz) is a partner of Exxon Mobil or Fly Emirate (both reputable companies, but misspelled by the scammers, the correct spellings being ExxonMobil and Emirates) are simply lies. The U.S. oil giant and the world-class Arabian airline have nothing to do with the machinations of Emiratemines (Emirate Minez, Emirate Coinz). However, our investigations team has managed to pick up the trail of the investment scammers. When will the regulatory institutions take notice of Emiratemines (Emirate Minez, Emirate Coinz), as well as its predecessor, Fiatci?
Emiratemines: Investment fraud scheme
Investment fraud typically follows the same pattern: Initially, investors deposit a small amount, usually around 250 euros, and quickly see this amount multiply, which makes them willing to invest higher sums. The troubles begin when investors want to withdraw their money because they are then required, under flimsy pretexts, to pay taxes, commissions, fees, or whatever it may be. Most investors realize too late that they have fallen victim to scammers who never intended to pay out the money.
Emiratemines: What assistance is available for investment fraud?
Many affected investors wonder how to act in cases of investment fraud since filing a criminal complaint hardly makes sense, as it primarily serves law enforcement rather than recovering the money. What kind of assistance is available in cases of investment fraud, and how can investors recover their money? A lawyer specializing in investment fraud must know how to trace the money because, as the saying goes, money is never gone, it's just somewhere else. In the present, this can be supplemented with: It is tricky, but with the appropriate tools, it is possible to regularly trace money digitally, even if it was deposited through a crypto exchange using Bitcoin.
RESCH Rechtsanwälte - Experience in investor protection since 1986
If you have become a victim of Emiratemines and want to know if and how you can recover your money, call us at +49 30 885 9770 or fill out the questionnaire. You will receive a free assessment of your case.