EasyCrypto4U - Review: It is an unregulated broker platform
17.11.2022
EasyCrypto4U pretends that investors are granted ideal conditions to make equally fast and safe money when trading cryptocurrencies online. Everything at EasyCrypto4U is investment fraud. Nothing is traded at EasyCrypto4U. The money immediately landed in the pockets of investment scammers. Everything the investor sees on his screen is fake. Not a cent has been invested. Have you had similar experiences? What help is there for investment fraud? What can investors who have been scammed by EasyCrypto4U do? How can investors get their money back from dubious providers?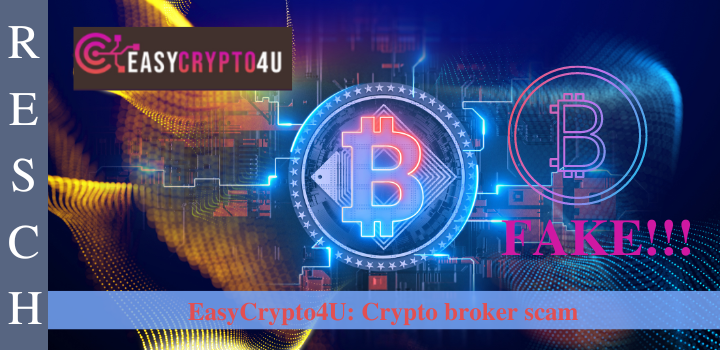 EasyCrypto4U: Baseless and dubious promises on easycrypto4u.com!
What do unsuspecting investors read on www.easycrypto4u.com? "Our goal is to make crypto markets easily accessible by offering services that allow quick exchanges through a secure platform. We have created an exchange platform where you can easily manage all your cryptocurrencies with just one click. Make simple deposits and withdrawals while keeping full control of your money." This is a quote that interested parties can find on EasyCrypto4U's website. None of these promises have been kept by EasyCrypto4U. Unfortunately, dubious business practices make for miserable experiences and unhappy investors!
EasyCrypto4U: Domain entry is hidden!
Of course, the investment scammers don't want people to track them down easily. That is why the EasyCrypto4U website does not have a meaningful imprint with the website operators' full details and the address. Also, the domain data of easycrypto4u.com does not contain any indication of who once registered the site, but only that the registration was made on 11/18/2021 with GoDaddy, LLC and that the real domain owners are hiding behind an anonymization service.
EasyCrypto4U: Who is behind it?
Investors will not be able to answer this question. The investment scammers disguise their identity perfectly - almost. This is normal because they regularly operate various websites where they offer their fraudulent business model. And who is the operator? There is insufficient information about this on the EasyCrypto4U website. In addition to an obligatory support email address support@easycrypto4u.com, the potential investment prospect is also given the British phone number +44(7)418358410, but this does not allow any conclusions to be drawn about the operators of the platform.
EasyCrypto4U: Business address in Cyprus
Several addresses are also offered, two in Lithuania and one in Cyprus. As far as the Cypriot address 3 Griva Digeni Avenue, Patsalos house, 4th Floor, Office 401, 6030 Larnaca in Cyprus is concerned, we noticed that a payment provider named OctovioPay (octoviopay.com) also gives this address, exactly this address including office 401, as its company address. Just like Candelisk Marketing (candelisk-marketing.com). Is this merely a mailbox address, or is there a connection between the respective companies? Our investigations into this are ongoing.
EasyCrypto4U: Two Lithuanian addresses
On the website, the two Lithuanian addresses Eisiskiu Sodu 18-oji g. 11, LT-02194 Vilnius and Žalgirio g. 90-D, 6th floor, 09303 Vilnius are mentioned. The former address is a side street in a quiet, idyllic residential area surrounded by forest and consisting mainly of single-family houses with well-kept front gardens. It is very untypical for an alleged crypto empire to use such a place as its business address. And the second address mentioned in Vilnius, which is referred to as the operational address, also makes us wonder because we could not find a company named EasyCrypto4U there, but we could find a well-known provider of office services and virtual offices. Thus, anyone can get an operational address at this location without being physically there. This is practical when visitors are generally rather undesirable. Therefore, we could not find a crypto empire à la EasyCrypto4U at any of the three locations.
EasyCrypto4U: International searches
A worldwide search for EasyCrypto4U in the relevant registers yields no results. EasyCrypto4U is a fantasy product. We were indeed able to find the ostensible operating company called Astlinda, UAB in the Commercial Register of Lithuania, the registration number is as stated on the EasyCrypto4U website - 305929218. Within the commercial register details, we were even able to find a phone number of Astlinda, UAB, namely +370 652 25888. Strangely enough, we were able to find a lot of other companies in Lithuania that listed exactly this phone number as a contact, for example, CSpot (cspot.io), an ostensible crypto trading platform. It almost seems that EasyCrypto4U creators wanted to confuse us with the various addresses, connections to other platforms, and other aspects to avoid tracking them down if possible. But with our research tools, our Investigations team managed to track down the investment scammers.
EasyCrypto4U: Warnings from regulators
It is not surprising that EasyCrypto4U has already come under the scrutiny of the Swiss Cantonal Police Zurich due to this business conduct and questionable appearance. The police published the following warning on their website cybercrimepolice.ch on 09.10.2022: "easycrypto4u.com - This online platform was reported to us by users due to fraud. To warn against such, cybercrimepolice.ch provides a list of online platforms reported as fraudulent..."
It is certainly only a matter of time before other regulatory institutions - it is worth mentioning the German Federal Financial Supervisory Authority (BaFin) as an example - will take notice of EasyCrypto4U and warn against its criminal activities.
EasyCrypto4U: Scheme of investment fraud
The investment fraud runs according to the unchanging scheme: investors initially put in a small sum - usually 250 euros - are impressed by how quickly this amount multiplies, so much so that they are ready to "invest" higher and higher sums. The problems start as soon as an investor wants to have his money paid out, because then, allegedly, taxes, commissions, fees, and things else have to be paid first. Only too late do most investors realize that they have fallen for investment scammers who never intended to pay out the money again.
EasyCrypto4U: What help is there for investment fraud?
How to act in case of investment fraud, many angry investors ask themselves, after all, filing a criminal complaint makes little sense, because criminal complaints primarily serve the prosecution, but not the recovery of the money. What kind of help is available for investment fraud and how do aggrieved investors get their money back? The lawyer specializing in investment fraud knows how to follow the trail of money, because as it used to be said, money is never gone, but unfortunately somewhere else. In the present, you can add to that: It is complex, but with the proper tools it is possible to track money digitally regularly - even if it was deposited with Bitcoin through a crypto exchanger.
RESCH Rechtsanwälte GmbH - Experience in investor protection since 1986.
If you have become a victim of EasyCrypto4U and want to know if and how you can get your money back, call +49 30 885 9770 or fill out the questionnaire. You will receive a free assessment of your case.