Reviews DIFC Investment (Klon) - FCA warn
04.08.2023
Digitization has made trading stocks and other financial products much easier for individual investors in recent years. However, it has also opened the door to fraudsters using online platforms to exploit unsuspecting investors. One such platform is DIFC Investment, also known as Difcinvestment.world. British Financial Conduct Authority (FCA) recently issued a warning because DIFC Investment operates in the UK with the required license. This article highlights typical warning signs of investment fraud on this platform and explains why professional legal advice can be crucial in recovering investment losses.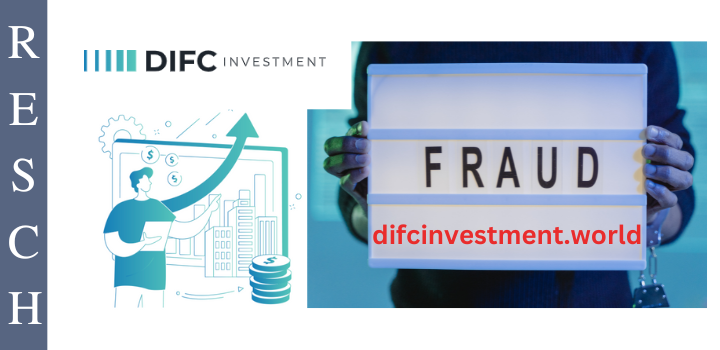 The dubious identity of DIFC Investment
DIFC Investment claims to be operated by Pepperstone, which claims to have a global presence and user-friendly trading terms. However, the information on their website is vague and provides little concrete information about their legal framework and the real risks of their services. In addition, difcinvestment.world contains a serious misspelling. The scammers write "Peperstone". This reinforces the serious doubts about the seriousness of the platform.

The DIFC Investment fraud pattern
Fraudulent online trading platforms like DIFC Investment use various tactics to deceive and exploit investors. These include unregulated activities, where the platform operates without the necessary licenses or permits and is therefore not subject to any official financial oversight. They lure investors with promises of superior returns that are often unrealistic and unattainable. They also put potential customers under time pressure to make quick investment decisions. The platforms often offer trading in complex financial products, such as contracts for difference (CFDs) or cryptocurrencies, which carry a high risk of loss. They also fail to provide sufficient information about the risks associated with trading on the platform.

BaFin and FCA Warn - FCA Update
The Federal Financial Supervisory Authority (BaFin) is investigating the operators of difcinvestment.world on suspicion of unauthorized financial activities, it announced on June 15, 2023. DIFC Investment is also identified as a clone of a firm authorized by the Financial Conduct Authority (FCA). The FCA first warned on 04/21/2023 about scammers who copy the details of authorized firms to make it appear that their firm is genuine. On 07/06/2023 the FCA published an update. The operators of DIFC Investment are using fake information such as phone numbers, email addresses, and websites of Pepperstone Limited to defraud unsuspecting investors.

The scam
The operators of DIFC Investment advertise high-profit opportunities and lure customers with fake reports and offers pretending to invest like celebrities. To gain the trust of victims, they pose as personal contacts. They cleverly sound out how to obtain an initial payment to enable further payments to be made. The names of the contacts may be fake or invented, making investigations more difficult. Many customers even grant the broker remote access to their PC via AnyDesk or Teamviewer, which can be legally disadvantageous.

Protection against investment scams
To protect themselves from scams like the one perpetrated by DIFC Investment, investors should take the following steps: Research the provider thoroughly and verify that they have the necessary licenses. Be skeptical of offers that seem too good to be true. Educate yourself and understand complex financial products that fit your risk profile. Don't be pressured and make investment decisions calmly and after careful consideration. When in doubt, seek a second opinion from a specialized attorney.

The Role of Resch Attorneys at Law
Resch Rechtsanwälte has extensive experience in combating investment fraud and has in-depth knowledge of the practices of platforms such as DIFC Investment. They can not only advise you if you have been a victim of fraud but also assist you in the process of recovering your money. The firm works closely with regulators such as BaFin and uses its network and chain analysis tools to achieve the best possible results for its clients.

Frequently Asked Questions
1. Is DIFC Investment a legitimate platform?
DIFC Investment has been associated with fraudulent activities and operates without the required authorization from BaFin. The platform is not considered trustworthy and has a low trust rating.
2. Can I get my money back from DIFC Investment?
If you have been a victim of investment fraud with DIFC Investment, it is advisable to seek professional legal advice. The law firm Resch Rechtsanwälte can help you get your money back.
3. How can I protect myself from investment fraud?
To protect yourself from investment fraud, do your research, be skeptical of offers that are too good to be true, educate yourself, don't make hasty decisions, and get a second opinion from a trusted financial advisor or attorney.

DIFC Investment (difcinvestment.world): Conclusion
DIFC Investment is associated with fraudulent activities and operates without the required BaFin license. The platform lures investors with unrealistic promises of returns and puts pressure on them to make quick investment decisions. It is advisable to exercise extreme caution and seek professional legal advice when investing in such platforms. Resch Attorneys at Law will assist you in recovering your money from DIFC Investment (Klon) and in taking action against investment fraud.

RESCH Rechtsanwälte - Experience in protecting investors since 1986
If you have been a victim of DIFC Investment (difcinvestment.world) and would like to know if and how you can get your money back, please call 030 885 9770 or request a call back from a lawyer specializing in investment fraud. You will receive a free assessment of your case.