Delta Finanz - Fake trade with Duracell shares
09.12.2022
Delta Finanz / www.delta-finanz.com implies that investors are provided with excellent opportunities to make both fast and safe money with shares in reputable companies that would otherwise only be offered to institutional investors. With Delta Finanz, however, it's all investment fraud. Everything the investor sees on his screen is deception. Nothing is traded on delta-finanz.com. The money has landed right in the pockets of investment scammers. Not a cent has been invested. Can you report similar experiences? How do investors get their money back from dubious providers? What can investors do who have been defrauded by Delta Finanz? What help is available in case of investment fraud?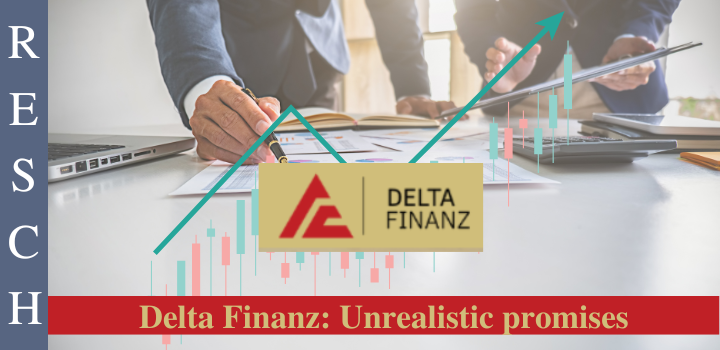 Delta Finanz: Who is behind it?
Investors will not be able to answer this question. The investment fraudsters disguise their identity perfectly - almost. This is normal because they regularly operate various websites offering fraudulent business models. And who is the operator? On the Delta Finanz website, there was only scanty information about this. When examining documents of Delta Finanz, one can find the following contact details, among others:
DELTA GLOBAL
Market 19
6071 JD Swalmen
Netherlands
T:+49(0)6920091633
www.delta-finanz.com
Av Mamix 17 1077ZX
Amsterdam Netherlands
However, there are no references to the company Delta Finanz either at Markt 19 in Swalmen or at Av Mamix 17 in Amsterdam. Similarly, the alleged address Westhafenplatz 1, 60327 Frankfurt am Main is also used. Here, too, the fraudsters cannot be found. A worldwide search for Delta Finanz in the relevant registers leads to no results. Delta Finanz is a fantasy product to deceive investors.
Delta Finanz: Hide and seek with the domain entry!
If one looks at the appropriate Domain data of the Website www.delta-finanz.com, one finds there no reference to the operators and states that the Domain delta-finanz.com was registered to 02.11.2021 and hides itself the real Domaininhaber behind the Internetdienstleister Vautron computing center AG. In the meantime, the website www.delta-finanz.com is no longer accessible.
Delta Finanz: Many platforms, one scam!
The same group of perpetrators is always registering new websites and initiating fraudulent share deals according to the same pattern. However, one often finds the same actors, but with a new company name and different financial products. The scam remains the same. But that's not all, we are already familiar with this scam from various cases. However, it concerns thereby pure air business! But with our research tools, our investigation team has succeeded in tracking down investment fraudsters. The crucial thing here is to follow the money trail!
Delta Finanz: In the sights of the German financial regulator BaFin!
It is not surprising that Delta Finanz has already been targeted by the financial supervisory authorities for its business conduct and questionable appearance. Thus the BaFin published the following warning on 04.05.2022: "Delta Finanz: Unauthorized offer of shares of Duracell Inc. - Delta Finanz, allegedly located at Westhafenplatz 1, 60327 Frankfurt am Main, makes unsolicited telephone contact with consumers to offer them shares of Duracell Inc. Contrary to its statements on its website delta-finanz.com, the company is not supervised by ESMA."
Delta Finanz: Scheme of investment fraud.
The investment fraud runs again and again according to the recurring scheme: investors initially put in a small sum - usually 250 euros - are impressed by how quickly this amount multiplies, so much so that they are willing to "invest" higher and higher sums. The problems arise as soon as investors want to have their money paid out, because now ostensibly taxes, commissions, fees or whatever have to be paid first. Unfortunately, many investors discover much too late that they have fallen for investment scammers who never intended to pay out the money again.
Delta Finanz: What help is there for investment fraud?
Many investors wonder what to do in the case of investment fraud since criminal charges hardly make sense because criminal charges are primarily for prosecution and not for recovering the money. What help is available for investment fraud and how do affect investors get their money back? A lawyer specializing in investment fraud knows how to track the money, because as they used to say, money is not gone, but unfortunately somewhere else. Now it can be added: It is challenging, but with the right tools it is possible to track money digitally regularly - even if it was transferred with Bitcoin via a Crypto Exchanger.
RESCH Attorneys at Law - Experience in investor protection since 1986.
If you have been a victim of Delta Finanz and want to know if and how you can get your money back, call +49 30 885 9770 or fill out the questionnaire. You will receive a free assessment of your case.