Definite Area - Without a doubt it is investment fraud
10.10.2022
Definite Area pretends that investors are granted the best possible conditions to earn fast and safe money with online trading at the same time. But at Definite Area everything is investment fraud. Everything the investor sees on his screen is fake. The money immediately ended up in the pockets of the investment scammers. Not a penny has been invested. Nothing is traded at Definite Area. Have you had similar experiences? What help is there for investment fraud? How can investors get their money back from dubious providers? What can investors who have been defrauded by Definite Area do?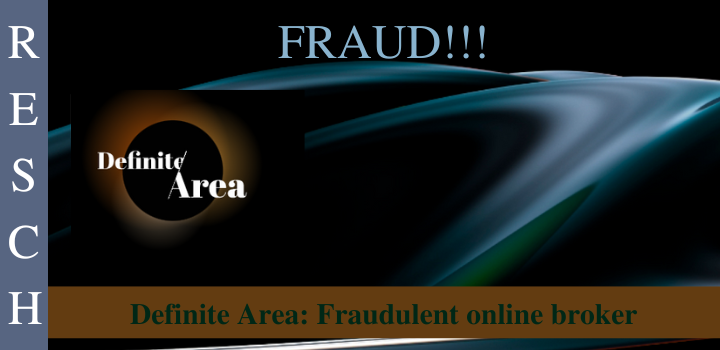 Definite Area: Experiences of other investors
Definite Area is a fraudulent company with fake positive reviews. Investors get nothing and lose everything they deposit there. Investors are systematically ruined by the supposed advisors using manipulative methods. Definite Area's entire system is designed to exclusively take and give nothing.
Definite Area: Promises on the website are untrustworthy and unserious
What are surprised investors being served up on Definite Area's website? "A team of Definite Area experts will guide you in achieving financial goals. Our specialists evaluate market conditions to keep up with any changes and provide you with the best trading experience. We provide all the necessary practical advice, support, monitoring, and training from the best traders. You can also contact your manager for help at any time." This is just a small sample of the untrustworthy promises investors can find on Definite Area's website. Not one of these given promises by Definite Area has been kept. Unfortunately, questionable business conduct rather makes for unhappy investors and bad experiences!
Definite Area: Who is behind it?
Answering this question should be rather difficult for most investors because the Definite Area makers do everything to conceal the true circumstances. However, this is nothing unusual, because the scammers usually operate several of these websites with the same fraudulent business model. Such are created continuously, put online quickly, and shut down just as swiftly, moreover, the top-level domain is changed again and again to fool financial regulators and law enforcement agencies.
Definite Area: Who operates the broker?
There is no usable information on the definitearea.com website in this regard. The Definite Area Company has just mentioned without any address or legal form it is a fantasy product. Besides that, definitearea.com provides the obligatory support e-mail address as well as the telephone numbers +44 2035355844 for Great Britain and +31 97010265364 for the Netherlands. Of course, these details are not even remotely sufficient to determine the whereabouts or origin of Definite Area's creators. The domain was registered on 11.03.2022 with Internet Domain Service BS Corp and anonymized with Whois Privacy Corp.
Definite Area: Scheme of the investment fraud
Investment fraud usually follows the same pattern: investors initially put in a small amount of money - usually 250 euros - are impressed by how quickly this amount increases and are therefore willing to "invest" higher and higher sums. The misfortunes begin, immediately if investors want to have their money paid out, because now all at once taxes, commissions, fees, or something else must be paid. Much too late, most investors realize that they have fallen for investment fraud and that there was never any intention to pay out the money again.

Definite Area: What help is there for investment fraud?
What to do in the case of investment fraud, many defrauded investors ask themselves, because filing criminal charges makes little sense because criminal charges are primarily for a criminal prosecution, not for recovering the money. What kind of help is available in investment fraud cases and how do affect investors get their money back? The lawyer specializing in investment fraud must know how to follow the money trail, because as they used to say, money is never gone, only somewhere else. Nowadays, one can add: It is complex, but with the right tools it is possible to track money systematically digitally - even if it was deposited with Bitcoin through a Crypto Exchanger.
RESCH Attorneys at Law - Experience in investor protection since 1986
If you have been a victim of Definite Area and want to know if and how you can get your money back, call +49 30 885 9770 or fill out the questionnaire. You will receive a free assessment of your case.