DaxGlobe - FCA warns consumers about unauthorised orex investment
02.03.2023
DaxGlobe creates the impression that investors are provided with the best possible conditions to make money with contracts for difference, shares, commodities, and indices as quickly as safely. Everything at DaxGlobe is investment fraud. Everything the investor sees on his screen is fake. Not one cent has been invested. Nothing is traded on daxglobe.com. The money has landed right in the pockets of investment scammers. Have you had the same experience? What help is there for investment fraud? What can investors who have been defrauded by DaxGlobe do? How do investors get their money back from dubious providers?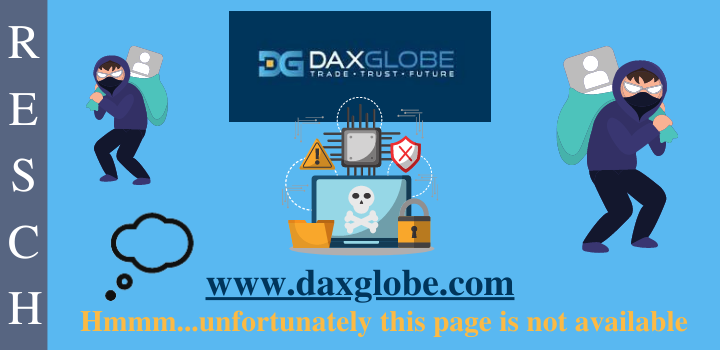 DaxGlobe: Assurances are dubious and unserious
Our in-house research department has already been able to gather some important information about the DaxGlobe platform. You have noticed that the website daxglobe.com makes a very professional impression. A direct approach, supposedly interesting offers as well as the reference to support by the employees (brokers), should lead to a convincing yield and profits. All this seems very convincing. As an unsuspecting investor, you are not in a position to realize that you are merely being played a game and not a cent of your money is being invested. All the money ends up right in the pockets of the perpetrators, who of course do not trade with the investors' money either. Everything is just staging and illusion.
DaxGlobe: Who is behind it?
The DaxGlobe site does not contain a revealing imprint, which should prevent the perpetrators from being too easy to identify. The domain data of the daxglobe.com website also contains no indication of who once registered the site, only that the registration was made on February 28, 2022, with NameCheap, Inc. and that the real domain owners - quite expectedly - are hiding behind an Icelandic anonymization service called Withheld for Privacy ehf.
DaxGlobe: Connection to Daxiron
It is important to note that the perpetrators operate different websites where they offer their fraudulent business model. For example, according to our findings, DaxGlobe originates from the same pen as DaxIron (daxiron.com), which was registered on 05.04.2021. A platform that has already been exposed as fraudulent and that many investors fell for before.
DaxGlobe: Who is the operator?
On the website of DaxGlobe, there is only sparse information about this. In addition to the obligatory support e-mail address support@daxglobe.info, potential investors are also given the British telephone number +44 203 885 7539.
DaxGlobe: International searches
A worldwide search for DaxGlobe in the relevant registers leads to no results. It is a fantasy product. The alleged operating company of DaxGlobe - a Synnfrey Sol Ltd., address 8 Copthall, Roseau Valley, 00152, Commonwealth of Dominica - can show a registration in Dominica, but such a registration says nothing about the intentions of a company, which in this case do not bode well. Probably also because this same Synnfrey Sol Ltd. was already the operator of Daxiron, which once ripped off gullible investors by the dozen. And thus the DaxGlobe only continued, what began with the Daxiron. But with our research tools, our investigation team has succeeded in tracking down investment fraudsters.
DaxGlobe: In the sights of financial regulators
It is not surprising that the aforementioned operator Synnfrey Sol Ltd., with its business practices and questionable appearance, has been in the sights of various financial market regulators for quite some time. The Spanish Comisión Nacional del Mercado de Valores (CNMV), for example, warned against this company and it's then protégé Daxiron as early as December 20, 2021. The Financial Conduct Authority (FCA) of the United Kingdom also recognized the foul play of Synnfrey Sol Ltd. and DaxIron and warned against doing business with this company on Jan. 21, 2022. But that's not all, the Russian Central Bank also issued a warning on this matter, which happened on 04.02.2022.

DaxGlobe: Scheme of the investment fraud
The investment fraud plays itself evident after the well-known pattern: Investors enter with a small sum - usually 250 euros - and experience fast, how this amount multiplies so that they are ready to "invest" ever higher sums. The Scherereien begin, as soon as investors want to have their money paid out, because then allegedly first taxes, commissions, fees, or otherwise must be paid. Most investors do not realize until it is too late that they have fallen for investment scammers who never intended to pay out the money again.
DaxGlobe: What help is there for investment fraud?
Many defrauded investors ask themselves what to do in case of investment fraud because criminal charges hardly make sense since criminal charges serve primarily the prosecution, but not the recovery of the money. What help is available in investment fraud cases and how do affect investors get their money back? A lawyer specializing in investment fraud knows how to follow the money because as they used to say, money isn't gone, it's just somewhere else. Now that can be added to: It is challenging, but with the proper tools, it is possible to systematically track money digitally - even if it was deposited with Bitcoin through a Crypto Exchanger.
RESCH Rechtsanwälte GmbH - Experience in investor protection since 1986
If you have been a victim of DaxGlobe and want to know if and how you can get your money back, call +49 30 885 9770 or fill out the questionnaire. You will receive a free assessment of your case.