CTmatador - international financial service is scam or a broker?
26.01.2023
CTmatador gives the impression that investors are granted the best possible conditions to make both fast and safe money with foreign exchange and currency trading, stocks and bonds, commodities and cryptocurrencies, and indices. At CTmatador, everything is an investment scam. Nothing is traded on ctmatador.com. Everything investors see on their screens is to deceive investors. Not a penny has been invested. The money has landed right in the pockets of investment scammers. Have you had similar experiences? What help is available for investment fraud? What can investors do who have been defrauded by CTmatador? How do investors get their money back from dubious providers?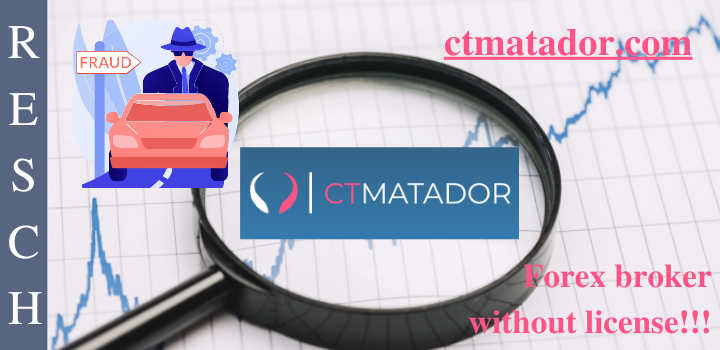 CTmatador: Assurances on the website are false and unseriös
What are the surprised investors on www.ctmatador.com served up there? "CTmatadoris an international financial services platform that provides clients with high-quality investment opportunities. All our activities are aimed at increasing your trading opportunities. The CTmatadorPlatform is easy to use and designed to make trading smarter, easier, and more intuitive." This is just a small quote of the questionable promises that curious people can find on CTmatador's website. None of these given promises by CTmatador have been fulfilled. Unfortunately, the suspect business practices make for miserable experiences and unhappy investors!
CTmatador: Experiences of other investors
The testimonials of other users of Ctmatador are devastating. What is perfidious about CTmatador is that small amounts are paid out at the beginning, but as soon as a certain threshold is reached, the normal rip-off begins.
CTmatador: Who is behind it?
Answering this question should certainly be difficult for investors since the CTmatador makers do everything they can to conceal the true circumstances. Admittedly, this is not unusual, as scammers often operate several of these websites with the same fraudulent business model. These are produced continuously, put online without pause, and shut down just as quickly; moreover, the top-level domain is often changed to deceive financial regulators and law enforcement agencies.
But who is running CTmatador?
There is hardly any usable information on this on the website ctmatador.com. Certainly the company Wind Holdings Ltd, Suite 305, Griffith Corporate Centre, Kingstown St. Vincent and the Grenadine with further business addresses Grosspeteranlage 29 Grosspeter Tower, 4052 Basel, Switzerland as well as 110 Bishopsgate, London EC2N 4AY, United Kingdom is indicated. However, the creators of CTmatador cannot be found at these addresses, as they are fake addresses. Besides, there is also the E-Mail address support@ct-matador.com and the telephone numbers +46 317813619 (Sweden), +31 97010282375 in the Netherlands, and +44 2033766181 (Great Britain). The domain ctmatador.com was registered on 07/26/2021 with Internet Domain Service BS Corp. Meanwhile, Finma warns about CTmatador.
CTmatador: Scheme of investment fraud
Investment fraud usually follows a recurring pattern: investors initially put in a small sum - usually 250 euros - are impressed by how quickly this amount increases and are therefore prepared to invest ever larger sums. The annoyance sets in, as soon as an investor would like to have their money paid out because now pretended first of all taxes, commissions, fees, or otherwise what must be paid. Unfortunately, most investors only perceive a delay that they sat on investment fraudsters, who never intended to disburse the money again.
CTmatador: What help is there for investment fraud?
Many angry investors ask themselves what to do in case of investment fraud because filing a criminal complaint makes little sense, because criminal complaints serve primarily the prosecution, but not the recovery of the money. What kind of help can one hope for in investment fraud cases and how do investors get their money back? The lawyer specializing in investment fraud knows how to follow the trail of money, because as they used to say, money is not gone, but unfortunately somewhere else. Today can be added: It is challenging, but with the right tools it is possible to track money digitally regularly - even if it was deposited with Bitcoin via a Crypto Exchanger.
RESCH Rechtsanwälte GmbH - Experience in investor protection since 1986
If you have been a victim of CTmatador and want to know if and how you can get your money back, call +49 30 885 9770 or fill out the questionnaire. You will receive a free assessment of your case.