Cryptos Ferrari - Without a question, this is an investment scam
13.07.2023
Cryptos Ferrari (also known as CryptosFerrari) promises investors convincing returns and profits through seemingly attractive offers and personal support from experienced brokers. However, what lies behind the professionally designed website is nothing more than a sophisticated fraud. Our research team has compiled important information about the fraudulent activities of Cryptos Ferrari to protect you from financial losses.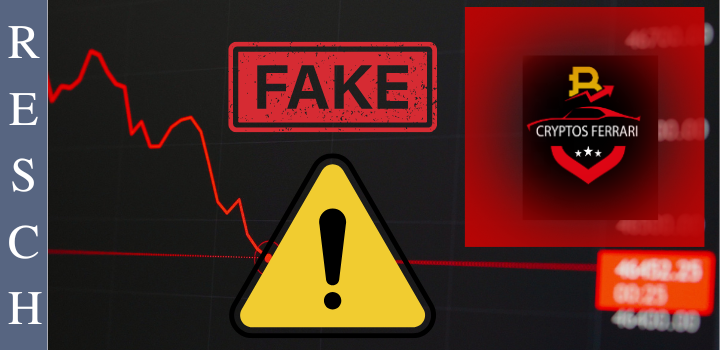 Cryptos Ferrari: A deceptive facade
The website cryptosferrari.com gives a professional impression and lures unsuspecting investors with seemingly attractive offers. However, behind the scenes, only a play is being performed in which not a single penny of the invested money is traded. Instead, all the money goes directly into the pockets of the perpetrators who cleverly conceal themselves. The Cryptos Ferrari site lacks an informative imprint, and the domain data provides no clues about the actual operators. This approach is intended to protect the perpetrators from easy identification.
Lack of transparency and questionable contact information on cryptosferrari.com
The website cryptosferrari.com does not provide clear information about the company's location, the number of employees, or the name of the CEO. Only the email addresses compliance@cryptosferrari.com and financialanalyst@cryptosferrari.com are given, but no phone number for direct contact. This raises doubts about the legitimacy and trustworthiness of Cryptos Ferrari. Despite the use of British phone numbers during communication with potential victims, we suspect that the perpetrators are located elsewhere and have no connection to the United Kingdom.
Cryptos Ferrari: Dubious "broker"
The alleged "broker Eva Müller," who addresses potential investors on behalf of Cryptos Ferrari, appears to be a fictional person. Upon closer examination of the website, it becomes clear that the provided terms and conditions are not accessible. The lack of transparency and information suggests that Cryptos Ferrari is by no means a company with which one should enter into a business relationship. It is undoubtedly an illegal and untrustworthy trading platform.
On the trail of the Cryptos Ferrari fraudsters
Our investigative team, using specialized research tools, has tracked down important signs of the investment fraudsters behind Cryptos Ferrari. Although the platform is not found in official registries, we have gathered enough evidence to expose the deception and criminal activities. It is only a matter of time before the authorities become aware of Cryptos Ferrari and warn against these fraudulent activities.
Questions and Answers about Cryptos Ferrari
Question: Is Cryptos Ferrari a legitimate trading platform?
Answer: Cryptos Ferrari is not a legitimate trading platform. It is a sophisticated fraud where investors' money is stolen without any actual trading taking place.
Question: How can I recognize fraudulent trading platforms like Cryptos Ferrari?
Answer: Look out for a lack of transparency, untraceable imprints, and opaque communication channels. Conduct thorough research and evaluate the credibility of a platform before investing money.
Question: How can I protect myself from such scams?
Answer: Educate yourself about known scams, avoid opaque platforms, and carefully verify the information provided by companies. Be cautious and never disclose personal or financial information if you have doubts.
Conclusion regarding Cryptos Ferrari
Cryptos Ferrari turns out to be a sophisticated fraud targeting the money of unsuspecting investors. The deceptive facade and lack of transparency are undeniable warning signs that help protect against fraudulent trading platforms like cryptosferrari.com. Get informed, conduct thorough research, and never entrust your money to questionable companies. Safeguard your investments and stay vigilant.
RESCH Rechtsanwälte GmbH - Experience in investor protection since 1986
If you have become a victim of Cryptos Ferrari (cryptosferrari.com) and want to know if and how you can recover your money, call us at +49 30 885 9770 or fill out the questionnaire. You will receive a free assessment of your case.