Federal Financial Supervisory Authority (BaFin) warns against Cronos!
05.09.2023
In an era of digital transformation, the credibility and integrity of online platforms is an essential pillar of the modern economic system. This paper presents an in-depth analysis of the platform Cronos, whose outwardly professional facade contrasts with fraudulent machinations. Using a variety of research methods, this paper exposes the orchestrated illusion behind the alleged investment opportunity. It illustrates how deception and anonymity serve as key tools in this dubious endeavor. What is your experience with Cronos? Did you also think it was legitimate? Then you are one of the many deceived people who fell for this fake company! But is the money you deposited there now lost forever? We say: Not necessarily! There are ways to get your money back! But what exactly happened here? Who are we dealing with?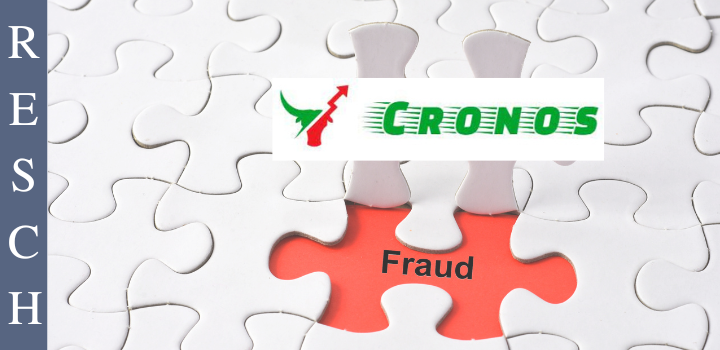 The mastery of deception
Cronos' website, cronos.fund conveys a high degree of professionalism through direct approaches and seemingly lucrative offers. The impression is created that dedicated employees as brokers ensure a promising return on investment. Regardless of this convincing presentation, however, it is a carefully orchestrated online trading illusion; the invested capital ends up directly in the hands of the scammers, who in no way trade with the investors' financial resources. There is no trading at all and nothing is invested!

Anonymity as a tactic
The lack of transparency in the Cronos imprint serves to prevent any identification of the operators. The domain data only shows that the registration of the website cronos.fund took place on January 10, 2023, at NameCheap, Inc. Furthermore, the real owners are behind an Icelandic anonymization service, Withheld for Privacy ehf, based in Reykjavik.

Links to other websites
Our meticulous research also revealed a link to the similarly designed website Vchain (vchain.fund), suggesting that both platforms may be from the same fraudulent pen. The limited contact information, such as the email address support@cronos.fund and the UK phone number +44 8438091252, does not allow any conclusions to be drawn about the actual location of the operators. The address 1 Aldgate, London, EC3N1RE is also pure fiction.

A non-existent company
Our search of international business registries reveals Cronos to be pure fantasy. A Cronos Ltd. is listed in the British Commercial Register, but it was dissolved on January 24, 2023, and had a completely different business purpose. However, with the help of specialized research tools, we have managed to get closer to the perpetrators, as they leave useful traces on each of their web presences, which our in-house team of investigators will follow meticulously in each case.

On the regulatory radar
Germany's Federal Financial Supervisory Authority (BaFin) issued a warning about Cronos' activities as early as August 30, 2023. It was only a matter of time before other regulators became aware of the company's dubious practices. Examples include the Swiss FINMA and the Austrian FMA.

Our recommendation: Do not waste your money on Cronos!
In conclusion, this analysis paints a shocking picture of a company that uses highly sophisticated manipulation strategies to deceive potential investors. The apparent lack of legal and ethical standards highlights the need for strict regulation and oversight of such online platforms. The information uncovered shines a harsh light on the dark depths of the digital financial world and underscores the critical role of due diligence for anyone considering investing in or using online investment platforms.

If you've already fallen into the trap, there's good help out there!
If you suspect you've been manipulated and robbed by online fraudsters, give us a call. Our team of more than forty people - consisting of experienced lawyers, highly motivated investigators, and certified IT specialists - is ready to help you. We can assure you that all financial transactions are always traceable, whether they're made by bank transfer or in the form of cryptocurrencies! We have a whole pool of levers we can pull to help you get what you deserve! For example, we are partners with Chainalysis, the world's leading tool for tracking cryptocurrency payment flows on the blockchain. Thus, it is no obstacle for us if all your money transfers were made in the form of cryptocurrencies (such as bitcoin), We can also track these payments promisingly! We are specialized in investment fraud, we know what to do!
You can reach us at +49 (0)30 8859770 or contact us via our online form. In either case, you will receive a free and non-binding evaluation of your case.