Cortana World - Investment scammers make funds disappear
03.11.2022
Cortana World creates the impression that investors are granted excellent conditions to make fast and safe money while trading online at the same time. Everything at Cortana World is investment fraud. Not a penny has been invested. Everything that the investor sees on his screen is deception. Nothing is traded at Cortana World. The money has landed right in the pockets of investment scammers. Have you had similar experiences? How can investors get their money back from dubious providers? What can investors do who have been defrauded by Cortana World? What help is available in case of investment fraud?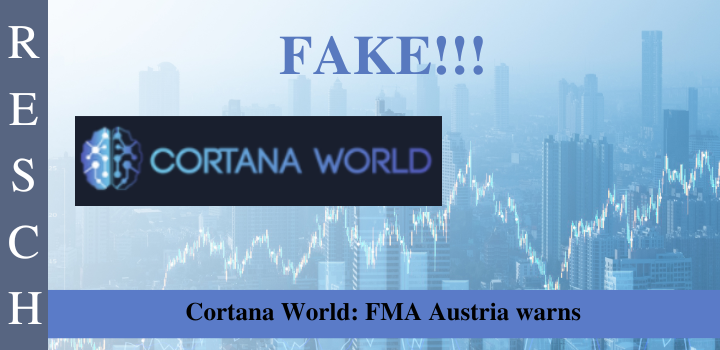 Cortana World: Promises are disreputable and dubious
What is the perplexed prospective customers on www.cortana-world.com da weisgemacht? "The Cortana Protocol incorporates sophisticated AI designed for trading the FOREX and CRYPTO markets. However, what makes the Cortana Protocol unique is the fact that it not only relies on AI but works with our Cortana traders on top of it. Empty promises and wrong decisions can easily cost people their capital and at the same time cost companies their existence. This is why the Cortana AI was developed over 2 years, with a proven trading history of more than a year!" This is just a small passage of the suspect promises investors can find on Cortana World's website. Not one of these lofty promises by Cortana World has been delivered. Disappointingly, the suspicious business conduct rather makes for disappointed investors and miserable experiences!
Cortana World: Domain entry is hidden!
Of course, investment scammers do not want to be easily tracked down. That is why the website does not have an imprint with the full details and the addresses of the website operators. Al, so the domain data of the website ww.cortana-world.com does not contain any of those who once registered the site, but only that the registration took place on 05.09.2022 at Wix.com Ltd. and that the real domain owners are hiding behind an anonymization service. Wix.com Ltd. is a company that produces websites for business people.
Cortana World: Who is behind it?
Investors will not be able to answer this question. The investment scammers disguise their identity perfectly - almost. This is normal because they regularly operate various websites where they offer their fraudulent business model. And who is the operator? On the website of www.cortana-world.com there is the following information about it. At the bottom of the web page, one finds the following note: "Cortana World Broker LLC, 1st Floor, First St. Vincent Bank Ltd.PO Box 1574, James Street, Kingstown VC0100 St. Vincent & the Grenadines."
Cortana World: St. Vincent and the Grenadines?
This is a group of islands in the Caribbean that is popular with offshore companies due to its lax legislation and is often used by criminals for shell companies. When searching for the company Cortana World Broker LLC in the company register of the Caribbean island of St. Vincent, we do find something and discovered that this company was registered on February 28, 2022. However, this is not very indicative of the seriousness of the whole thing, because the First St. Vincent Bank LTD Building in Kingstown is well known to financial investigators because here reside various shell companies that are engaged in cyber trading.
Cortana World: Warnings from regulators
It is not surprising that Cortana World has already come under the scrutiny of the Austrian Financial Market Authority (FMA) due to its business practices and questionable appearance. The FMA issued the following warning on 16.09.2022:
"The FMA warns investors against concluding transactions with:
Cortana world
with its registered address apparently in James Street, Kingstown, St. Vincent, and the Grenadines.
Web: cortanaworld.com; www.cortana-world.com
E-mail: info@cortanaworld.com
This provider is not authorized to carry out banking transactions in Austria that require a license. The provider is therefore neither permitted to trade on a commercial basis on its account or behalf of others (Article 1 para. 1 no. 7 of the Austrian Banking Act (BWG; Bankwesengesetz))."
It is probably only a matter of time before other regulatory institutions will also take notice of Cortana World and warn against its criminal activities.

Cortana World: Scheme of the investment fraud
The investment fraud follows the usual pattern: investors initially put in a small sum - usually 250 euros - are impressed by how quickly this amount increases and are therefore willing to "invest" ever higher sums. The disputes start when an investor wants to have his money paid out, because then, ostensibly, taxes, commissions, fees or whatever have to be paid first. Many investors realize much too late that they have fallen for investment scammers who never intended to pay out the money again.
Cortana World: What help is there for investment fraud?
What to do in case of investment fraud, many investors ask themselves, because filing criminal charges makes little sense because criminal charges are primarily for prosecution, not for recovering the money. What kind of help is available for investment fraud and how do affect investors get their money back? The lawyer specializing in investment fraud must know how to track the money because as they used to say, money is never gone, it's just somewhere else. Now one can add: It is challenging, but with the right tools it is possible to track money systematically digitally - even if it was transferred with Bitcoin via a Crypto Exchanger.
RESCH Rechtsanwälte GmbH - Experience in investor protection since 1986
If you have been a victim of Cortana World and want to know if and how you can get your money back, call +49 30 885 9770 or fill out the questionnaire. You will receive a free assessment of your case.