Concept Trading (Trade Concept) - Our in-depth online forex trade course reviews
27.04.2023
Concept Trading (Trade Concept) pretends to provide investors with excellent opportunities to make fast and safe money while trading Forex, precious metals, stocks, indices, futures, commodities, and cryptocurrency online at the same time. Everything in concept trading (trade concept) is investment fraud. The money immediately landed in the pockets of investment scammers. Everything that the investor sees on his screen is for deception. Not a cent has been invested. Nothing is traded on concept-trading.net. Can you report similar experiences? How does the investor get his money back from dubious providers? What help is available in case of investment fraud? What can investors do who have been defrauded by Concept Trading (Trade Concept)?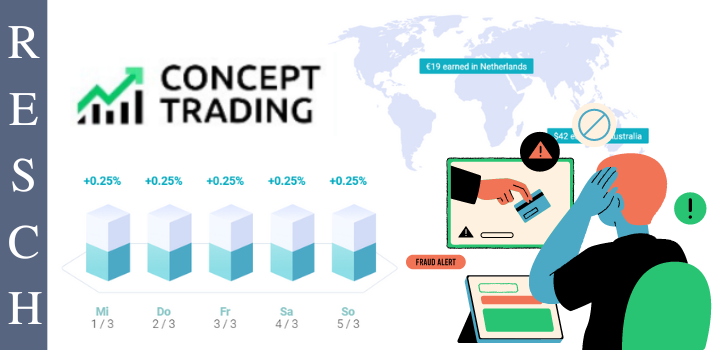 Concept Trading (Trade Concept): Dubious affirmations on concept-trading.net
What are the perplexed prospective customers served up on the website of Concept Trading (Trade Concept)? You have noticed that the website concept-trading.net makes a very professional impression. A direct approach, supposedly interesting offers as well as the reference to support by the employees (brokers), which is supposed to lead to a convincing yield and profits. It says, "Concept Trading is built on an uncompromising level of service to all of its clients, backed by some of the best prices and execution speeds in the industry." All of this comes across as very convincing. As an unsuspecting investor, you are not in a position to realize that you are merely being played a game and not a dime of your money is being invested. All the money ends up right in the pockets of the perpetrators, who of course do not trade (trade) with the investors' money either. Everything is just staging and illusion. Disappointingly, the suspicious business behavior rather provides disappointed investors and bad experiences!
Concept Trading (Trade Concept): Who is behind it?
Answering this question should certainly be difficult for many investors because the Concept Trading (Trade Concept) makers do everything they can to conceal the true circumstances. The Concept Trading site does not contain a revealing imprint, which is supposed to prevent the perpetrators from being too easy to identify. The domain data of the concept-trading.net website also contains no indication of who once registered it, only that the registration took place on 25.01.2023 at Hostinger, UAB, and that the real domain owners - quite expectedly for us - are hiding behind an anonymization service called Privacy Protect, LLC.
But who is running Concept Trading (Trade Concept)?
It is interesting to note that the perpetrators often operate various websites on which they offer their fraudulent business model, which is switched on or offline as needed. And so it comes as no surprise that just the other day Trade Concept became Concept Trading - more or less overnight - and that in the course of this also the domain trade-concept.org was exchanged for concept-trading.net. The bona fide investors could not log in thus longer into their account with Trade Concept, whereupon they received the new web page data of Concept Trading from their brokers. It is clear that they did not suspect anything at first, after all, after logging in to Concept Trading, everything looked the same as it once did on Trade Concept.
And who are the makers of this construct?
On the Concept Trading website, there is only sparse information about this. Besides the obligatory support email address info@concept-trading.net one looks then however in vain for a telephone number. The address is 95 Promenade, Cheltenham, Gloucestershire GL50 1HH in the United Kingdom. It is a quite respectable building, however, one looks there in vain for a company named Concept Trading (or Trade Concept), with no trace of it. In addition, we wonder why a company that is located in the United Kingdom and, according to information on the website, is even supervised by the Financial Conduct Authority (FCA), should fall under the law of St. Vincent and the Grenadines. Indeed, the Concept Trading page also points out exactly that. So far, we have not been able to establish any connections to this Caribbean island state. Nor have we been able to find any evidence that would prove that the FCA would have given the green light in the Concept Trading case and thus approved the activities of this company, let alone supervised them.
Concept Trading (Trade Concept): International Searches
A worldwide search for Concept Trading in the relevant registers does not yield any suitable results. The Concept Trading is - like also the Trade Concept - a fantasy product, even if the investment fraudsters would like to prove us the opposite with the designation of a legally acting company on their web page. Explicitly one refers to Quadrangle Nominees Limited, which is led in the English trade register under number 02455577. This company is indeed registered under the above-mentioned address. However, it was merely the victim of identity theft and has nothing to do with the criminal contents of Concept Trading. Also a Concept Trading spot. s r.o. based in Tábor, Czech Republic, which we found in the commercial register, is according to our findings not responsible for the contents of the website concept-trading.net.
Concept Trading (Trade Concept): Tracked down
With our research tools, our investigation team succeeded in tracking down investment fraudsters. This is because the respective groups of perpetrators leave directional traces on every platform they create, which sometimes need to be analyzed. It remains merely a question of time until the regulatory institutions - for example, the already-named FCA of the United Kingdom or the German BaFin - will also become aware of the construct around Concept Trading and/or Trade Concept and will warn against their activities worthy of punishment.
Concept Trading (Trade Concept): Scheme of the investment fraud
The investment fraud plays itself out conspicuously after the same pattern: Investors enter with a small sum - usually 250 euros - and experience fast, how this amount multiplies, so that they are ready to "invest" ever higher sums. The conflicts arise as soon as investors want to have their money paid out, because now, speciously, taxes, commissions, fees, or anything else have to be paid all at once. Unfortunately, only with delay, did many investors understand that they fell for investment fraud and never the intention existed to disburse the money again.
Concept Trading (Trade Concept): What help is there for investment fraud?
How to proceed in case of investment fraud, many investors ask themselves, since filing a criminal complaint hardly makes sense, because criminal complaints are mainly used for prosecution, not for recovering the money. What kind of help can one hope for in investment fraud cases and how do affected investors get their money back? The lawyer specializing in investment fraud knows how to trace the money because as they used to say, money is not gone, but somewhere else. Now it can be added: It is not easy, but with the right tools it is possible to track money systematically digitally - even if it was transferred with Bitcoin via a Crypto Exchanger.
RESCH Rechtsanwälte GmbH - Experience in investor protection since 1986.
If you have been a Concept Trading (Trade Concept) victim and want to know if and how you can get your money back, call +49 30 885 9770 or complete the questionnaire. You will receive a free assessment of your case.