Coinswap - Warning from the Swiss Financial Market Supervisory Authority.
30.01.2023
Coinswap gives the impression that investors are offered optimal opportunities to make money as quickly as safely by trading derivatives, foreign exchange, cryptocurrencies and shares. With Coinswap, everything is investment fraud. Everything the investor sees on their screen is there to deceive them. Not a cent has been invested. The money has gone straight into the pockets of the investment scammers. Nothing is traded on Coinswap.fm. Have you had similar experiences? What can investors do who have been scammed by Coinswap? How do investors get their money back from dubious providers? What help is available in the case of investment fraud?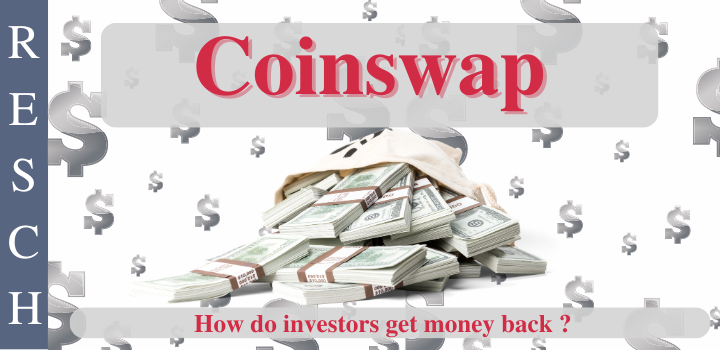 Coinswap: Promises on Coinswap.fm are unbelievable and dubious!
Investors were lured to the website Coinswap.fm with questionable promises. For example, it said: "Expand your investment portfolio by trading derivatives on metals, foreign exchange, cryptocurrencies and shares." And it went on to say, "Benefit from the best possible trading conditions and execution when you trade CFDs with us." But it all seemed very convincing. The unsuspecting investor was hardly in a position to realise that nothing was real. Not a cent of his money was invested. It all ended up right in the pockets of the investment scammers. There was no trading. That is why the investor does not get his money paid out. The real question is, who is behind this investment fraud?
Coinswap: Domain entry hidden!
Of course, the investment scammers don't want you to be able to track them down easily. That is why the website did not have a meaningful imprint with the full details and an address of the website operators, as required by law. The domain data of the website Coinswap.fm also contain no indication of who once registered the site, but only that the registration was made on 16.07.2021 with NameCheap, Inc. and that the real domain owners - quite expectedly for us - are hiding behind an anonymisation service provider.
Coinswap: Who is behind it?
Investors will not be able to answer this question. The investment fraudsters disguise their identity perfectly - almost. This is normal, because they regularly operate various websites on which they offer their fraudulent business model. In this case, the former victims of Coinswap were transferred, after the site was shut down, to the equally fraudulent website Tradeup (tradeup.fm), where they were led to believe, as before, that it was a reputable company. But here, too, it was merely a matter of fleecing the gullible investors to the maximum. Tradeup was registered - also with NameCheap, Inc. and also anonymously, of course - on 07.09.2022.
Coinswap: Who is the operator?
On the Coinswap website there was only scanty information about this. In addition to the obligatory support e-mail address, potential investors were given the telephone number +442081570805 with a British country code, but this did not allow any conclusions to be drawn about the operators of the platform. The address was Bahnhofpl. 2 in Meiringen, Switzerland. However, the Meiringen Cultural Centre is located at Bahnhofplatz 2, and cultural events, celebrations and the annual Christmas market take place here regularly during the winter season, but you won't find a trading empire à la Coinswap there, not a trace of it.
Coinswap: Successor also with a fake address
And so it is not surprising that the address on the successor site of Coinswap - we remember, it is called Tradeup - is also nothing more than hot air. The address is the Prime Tower, a Zurich skyscraper that was opened in 2011 and is known far beyond the borders of Switzerland. The complex houses many offices, restaurants and other institutions, but a company called Tradeup cannot be found there either.
Coinswap: International searches
A worldwide search for the Coinswap in the relevant registers leads to no result. The Coinswap is a fantasy product. But with our research tools, our investigation team succeeded in tracking down the investment fraudsters.
Coinswap: warnings from regulators
It is not surprising that Coinswap has already come under the scrutiny of the Swiss Financial Market Supervisory Authority (finma) with its business practices and questionable appearance. On 30.11.2022, finma published a warning regarding Coinswap on its homepage. It is only a matter of time before other regulatory institutions become aware of Coinswap and warn of its criminal activities.


Coinswap: Scheme of investment fraud
The investment fraud obviously follows the usual pattern: investors initially put in a small sum - usually 250 euros - and quickly see this amount multiply, so that they are prepared to "invest" higher and higher sums. The worries start when an investor wants to have his money paid out, because then, flimsily, taxes, commissions, fees or whatever have to be paid first. Unfortunately, most investors understand far too late that they have fallen for an investment scam and that there was never any intention of paying out the money again.
Coinswap: What help is there for investment fraud?
Many defrauded investors ask themselves how to act in the case of investment fraud, because a criminal complaint makes little sense, as it primarily serves the purpose of prosecution and not the recovery of the money. What kind of help is available in cases of investment fraud and how do affected investors get their money back? A lawyer specialising in investment fraud must know how to follow the money trail, because as they used to say, money is never gone, only somewhere else. Today, this can be added to: It is complicated, but with the right tools it is possible to trace money systematically digitally - even if it was deposited with Bitcoin via a Crypto Exchanger.
RESCH Rechtsanwälte GmbH - Experience in investor protection since 1986
If you have been a victim of Coinswap and want to know if and how you can get your money back, call +49 30 885 9770 or fill out the questionnaire. You will receive a free assessment of your case.