Investment fraud with Coinex.la: Reviews
08.09.2023
The world of online trading undoubtedly offers many opportunities, but it is also full of dangers that can lead even experienced investors astray. One of these dangers is the trading platform Coinex.la, which has been making headlines since its registration on June 3, 2023. In this article, we highlight the background and experience with Coinex.la to warn investors about the risks of this provider.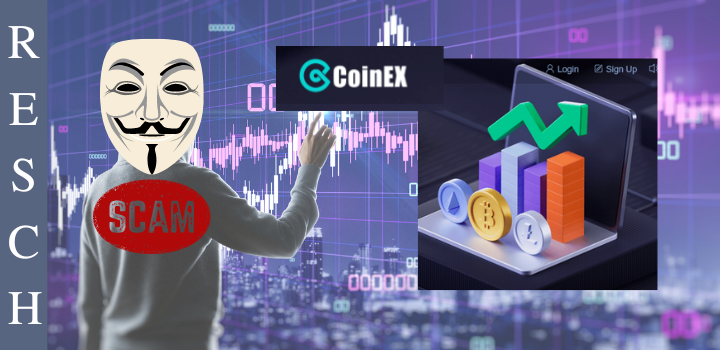 Identity theft and questionable origins of Coinex.la
Coinex.la was registered with GoDaddy.com, Inc, but anonymously, which is already a first warning sign. After all, a serious platform should operate in a transparent and traceable manner. The Austrian Financial Market Authority (FMA) issued a clear warning against Coinex.la on August 31st. The reason: Coinex.la does not have the necessary license to conduct banking business in Austria. This is a case of identity fraud at the expense of the reputable broker coinex.com.

The dubious promises of Coinex.la
Coinex.la describes itself as "the world's leading digital asset trading platform" and promises "secure and reliable digital asset trading and wealth management services for millions of users in over 130 countries worldwide". But how reliable are these promises?

Coinex.la's lack of transparency
One of the most glaring shortcomings of Coinex.la is the lack of a legally valid imprint. A legal notice is not only required by law but also serves to strengthen the trust of users. At Coinex.la one searches in vain for such an imprint. This is often the first sign of a dubious platform.

Lack of regulation and security at Coinex.la
Legitimate trading platforms are monitored and licensed by regulators to protect investors from fraud and shoddy business practices. Coinex.la, on the other hand, has no such license and thus operates outside the regulated framework. In addition, Coinex.la does not provide any collateral for deposited funds, which poses a significant risk to investors.

Problems with withdrawals and aggressive methods at Coinex.la
Several investors have reported significant problems withdrawing their funds from Coinex.la. In many cases, withdrawals were blocked or delayed for no apparent reason. In addition, Coinex.la aggressively pressures investors to make additional and larger deposits. The platform often entices investors with supposedly once-in-a-lifetime opportunities or suggests that investors could miss out on great opportunities if they do not act quickly.

Coinex.la: Negative investor experiences
Aside from the warning signs already mentioned, there are numerous reports from investors who have had negative experiences with Coinex.la. These range from technical glitches to opaque fees and returns. The list of complaints is long and disturbing.

Coinex.la: Help for victims of investment fraud
In light of this alarming information, investors who suspect that they are victims of investment fraud mustn't hesitate to seek professional help. In this regard, Resch Rechtsanwälte GmbH offers assistance in recovering their funds. This law firm has extensive experience in dealing with fraudulent platforms such as Coinex.la and has already helped numerous clients.

Chainalysis: Tracing your money
Resch Rechtsanwälte has a strategic partnership with the American blockchain analysis company Chainalysis. Its research team has been trained in the use of Chainalysis Reactor, a proprietary software for investigating financial crimes. This software enables the tracking and tracing of virtual currencies, including bitcoin. This is an important step in helping victims of Coinex.la recover their funds.

Questions and answers about Coinex.la
Question: Is Coinex.la legitimate?
No, Coinex.la has several serious warning signs that indicate a lack of seriousness, including a lack of licenses, problems with payouts, and aggressive marketing.
Question: Are there any positive experiences with Coinex.la?
So far, there are no known positive experiences with Coinex.la. Most investor reviews and experiences are negative.
Question: Should I invest my money with Coinex.la?
It is strongly recommended not to invest your money with Coinex.la. After all, the FMA has issued a warning.

Bottom line: stay away from Coinex.la.
The world of online trading can undoubtedly be lucrative, but it also carries significant risks. Coinex.la is a platform with numerous warning signs. From lack of regulation to failed payouts and aggressive advertising methods, there are plenty of reasons to be suspicious. If you suspect that you have become a victim of investment fraud, do not hesitate to seek professional help. Resch Attorneys at Law will provide you with competent and targeted assistance. Do not let fraudsters like Coinex.la rob you of your hard-earned savings.

RESCH Rechtsanwälte GmbH - Experience in Investor Protection since 1986
If you have been a victim of Coinex.la and want to know if and how you can get your money back, call +49 30 885 9770 or ask a lawyer specializing in investment fraud to call you back. You will receive a free evaluation of your case.