Clearpoint Fin - FCA warns against cloning
01.12.2022
Clearpoint Fin gives the impression that investors are provided with perfect conditions to win both fast and safe money when trading Forex and contracts for difference (CFD). But at Clearpoint Fin, everything is investment fraud. Nothing is traded at Clearpoint Fin. Everything the investor sees on their screen is fake. Not a dime has been invested. The money has gone straight into the pockets of the investment scammers. Have you had similar experiences? What can investors who have been scammed by Clearpoint Fin do? What help is available for investment fraud? How do investors get their money back from rogue providers?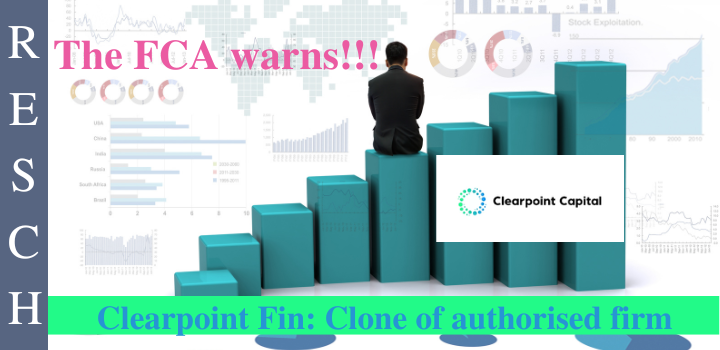 Clearpoint Fin: Half-Silk Promises
What must the surprised visitors receive on the www.clearpoint-fin.com website? First and foremost, countless empty promises. Clearpoint Fin's website was designed solely to lure as many investors as possible and subsequently relieve them of their money. Sadly, the dubious business practices make for extremely bad experiences as well as correspondingly unhappy investors!
What was the experience of other investors with Clearpoint Fin?
Investors report that while things went well initially, they also got the feeling that something was amiss. Lo and behold! Checks showed that Metatrader 5 on Clearpoint Fin was being manipulated. For those who noticed it, it was still too late, because all attempts to get back the deposited money failed due to the will of Clearpoint Fin employees. Moreover, the "advisors" try to gain access to investors' computers via AnyDesk. Conclusion: "Hands off Clearpoint Fin!"
Clearpoint Fin: Who is behind it?
Investors will find it rather difficult to answer this question because the Clearpoint Fin makers do everything they can to conceal the true circumstances. However, this is nothing out of the ordinary because the perpetrators usually operate several of these websites with the same fraudulent business model. Such ones are produced continuously, put online one after another, and shut down just as quickly, moreover, the top-level domain is often changed to deceive financial regulators and law enforcement agencies.
But who operates Clearpoint Fin?
The clearpoint-fin.com website provides little useful information on this. There is no mention of an operating company. However, the e-mail address info@clearpoint-fin.com and the telephone numbers +44 7367136244 (United Kingdom), +30 2111219977 (Greece), and +39 3509265587 (Italy) can be found. The domain clearpoint-fin.com was registered on 11/02/2022 with NameCheap, Inc. Since 11/05/2022 there is a warning from the UK financial regulator FCA.
Clearpoint Fin: Scheme of investment fraud.
The investment fraud unmistakably follows the usual scheme: investors initially put in a small sum - usually 250 euros - and are impressed by how quickly this amount multiplies, so much so that they are ready to "invest" higher and higher sums. The annoyances appear, each time an investor would like to have its money paid out, because now allegedly first taxes, commissions, fees, or anything else must be paid. Only belatedly do most investors realize that they have fallen for investment fraud and that there was never any intention of paying out the money again.
Clearpoint Fin: What help is available for investment fraud?
What to do in case of investment fraud, many affected investors ask themselves, since filing a criminal complaint hardly makes sense, because criminal complaints are mainly used for a criminal prosecution, not for recovering the money. What kind of help is available for investment fraud and how do defraud investors get their money back? A lawyer specializing in investment fraud must know how to follow the money trail because as they used to say, the money is not gone, it's just somewhere else. Now one can add: It is exhausting, but with the proper tools it is possible to track money digitally regularly - even if it was deposited with Bitcoin through a Crypto Exchanger.
RESCH Rechtsanwälte GmbH - Experience in investor protection since 1986.
If you have been a victim of Clearpoint Fin and want to know if and how you can get your money back, call +49 30 885 9770 or fill out the questionnaire. You will receive a free assessment of your case.