CFD Advanced - Review: Trap online trading
08.09.2022
CFD Advanced gives the impression that the investor is offered optimal conditions to make money with online trading both fast and safe. At CFD Advanced everything is investment fraud. Nothing is traded at CFD Advanced. The money immediately landed in the pockets of the investment scammers. Everything the investor sees on his screen is fake. Not a cent has been invested. Have you had similar experiences? What help is there for investment fraud? What can investors who have been scammed by CFD Advanced do? How can investors get their money back from dubious providers?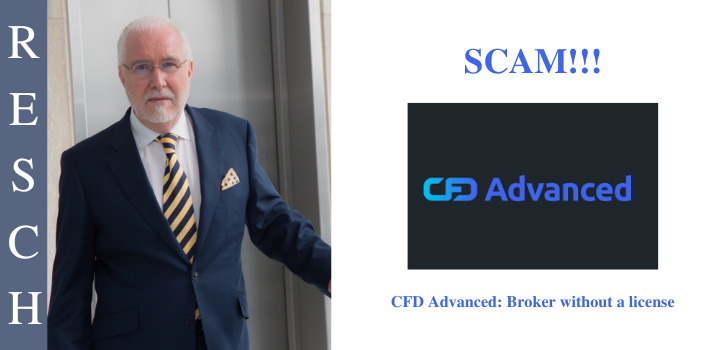 CFD Advanced: Information on the web pages is questionable
What did the perplexed prospective investors read on the websites of CFD Advanced? Investors were lured to the websites cfdadv.com, cfdadvances.com, and cfdadvanced.com with questionable promises. For example, they said, "Life takes us down many paths. Let CFD Advanced help you plan and enjoy the journey. Our mission is to build and preserve our client's wealth and improve their quality of life. Our dedicated team offers a unique, comprehensive program tailored specifically for each client. Every day, we combine long-term vision with a short-term focus to help you achieve resounding success."
CFD Advanced: Current Domain
The current domain cfdadv.io says: "Web-based platform, user-friendly, fast and powerful. Trade anytime, anywhere on all browsers with no downloads. Get access to all the tools, analysis, and everything else you need. Trade like a professional. It's fast, efficient, and provides a great user experience." Not a single one of these lofty promises from CFD Advanced was delivered. Yet it all seemed very convincing. The unsuspecting investor was barely able to tell that nothing was real. He was being played a game. Not a cent of his money was invested. Everything ended up right in the pockets of the investment scammers. There was no trading. Everything only appearance, no being. And that is why the investor does not get his money paid out. Unfortunately, the disturbing business practices rather provide for disappointed investors and bad experiences! But who is behind this investment fraud?
CFD Advanced: Domain entries are hidden!
Of course, the investment scammers do not want to be easily tracked down. That is why the websites did not have an imprint with the full details and an address of the website operators. Also, the domain data of the websites did not contain any hint of who once registered the site, but only that the registration of the respective website was done at NameCheap, Inc. and that the real domain owners - quite expectedly for us - hide behind an Icelandic anonymization service called Withheld for Privacy ehf based in Reykjavik. The website cfdadv.com was registered on 15.02.2021, and the websites cfdadvances.com and cfdadvanced.com were already on 30.12.2020. The currently used domain cfdadv.io was registered on 31.01.2022.
CFD Advanced: Who is behind it?
Investors will not be able to answer this question. The investment scammers disguise their identity perfectly - almost. This is normal because, as in the case here, they regularly operate various websites where they offer their fraudulent business model. In addition to the three domains already mentioned, we have found other domains that, to all appearances, are already waiting in the wings, just waiting to be launched to continue the perfidious, rip-off game of the platform operators.
CFD Advanced: Who is the operator?
On the three CFD Advanced websites already mentioned, there was only sparse information about this. Besides the obligatory support email address support@cfdadv.com, still, various telephone numbers in the most diverse countries were listed to the potential investment prospective customer: UK +44-2039875808, NL +31-102005301, BE +32-460225079, AU +61-251109669 and NZ +64-99515818. Also one could find an address on the web pages: Floor 12, Broadgate Tower, 201 Bishopsgate, London EC2M 3AE in the United Kingdom. A nice office complex, but one looks in vain for a lively investor empire called CFD Advanced. On the fourth domain cfdadv.io the address One Canada Square, Canary Wharf London, E14 5AB is given.
CFD Advanced: Worldwide searches
The search for CFD Advanced in the relevant registers leads to no result. CFD Advanced is a fantasy product. Statements such as "CFD Advanced Europe Ltd a registered Cypriot Investment Firm (CIF)" made on the website regarding possible registrations are simply fictitious, there is no Cypriot registration of a pretended CFD Advanced Europe Limited. However, with our research tools, our investigation team has succeeded in tracking down the investment scammers.
CFD Advanced: FCA warning
It is not surprising that CFD Advanced has already been targeted by the Financial Conduct Authority (FCA) for its business practices and questionable appearance. For example, on Dec. 21, 2021, the latter issued a warning saying, "CFD Advanced - We believe this firm is offering financial services or products in the UK without our authorization. Learn why you should be wary of doing business with this unauthorized firm and how you can protect yourself... This company is not approved by us and is targeting people in the UK...:
Unauthorized Company - CFD Advanced
Address: Floor 12, Broadgate Tower, 201 Bishopsgate, London, UNITED KINGDOM, EC2M 3AE, Telephone: 07868915732,
Website: cfdadvanced.com
Please note that some companies may provide different details or change their contact details over time and provide new email addresses, telephone numbers or addresses..."
CFD Advanced: Warning from the FMA
The Austrian Financial Market Authority (FMA) also joined this warning on 18.03.2022 and published i. S. CFD Advanced the following: "Attention! The FMA warns against entering into transactions with:
CFD Advanced Ltd ("CFD Advanced").
With alleged registered office in London, E14 5AB, United Kingdom
www.cfdadvanced.com / www.cfdadv.com
This provider is not authorized to provide banking services subject to licensing in Austria. The provider is therefore not permitted to engage in commercial trading for its account or the account of third parties (Section 1 (1) (7) of the Austrian Banking Act)." It is certainly only a matter of time before other regulatory institutions will also take notice of CFD Advanced and warn of their criminal activities.

CFD Advanced: Scheme of investment fraud
The investment fraud runs again and again according to the notorious scheme: investors initially put in a small sum - usually 250 euros - and quickly experience how this amount multiplies so that they are ready to "invest" higher and higher sums. The worries start as soon as investors want to have their money paid out, because now supposedly taxes, commissions, fees, or anything else have to be paid first. Most investors realize far too slowly that they have fallen for investment scammers who never intended to pay out the money again.
CFD Advanced: What help is available in case of investment fraud?
What to do in case of investment fraud, many desperate investors ask themselves, since a criminal complaint hardly makes sense, because criminal complaints serve above all the prosecution, however not the recovery of the money. What help is available in investment fraud cases and how do investors get their money back? A lawyer specializing in investment fraud must know how to follow the money trail, because as they used to say, money is never gone, but somewhere else. Now one can add: It's tricky, but with the proper tools it is possible to systematically track money digitally - even if it was deposited with Bitcoin via a crypto exchanger.
RESCH Attorneys at Law - Experience in investor protection since 1986
If you have become a victim of CFD Advanced and want to know if and how you can get your money back, call +49 30 885 9770 or fill out the questionnaire. You will receive a free assessment of your case.