Centochain – Domain only a few months old
15.06.2023
Centochain implies that investors are provided with optimal opportunities to earn fast and secure money through oil and gas, real estate, pensions, and insurance, as well as gold. At Centochain, everything is investment fraud. Everything the investor sees on their screen is deception. Not a penny has been invested. The money has landed straight in the pockets of the investment scammers. Nothing is traded on centochain.com. Have you had similar experiences? What can investors do if they have been defrauded by Centochain? What help is available for investment fraud? How can investors recover their money from unreliable providers?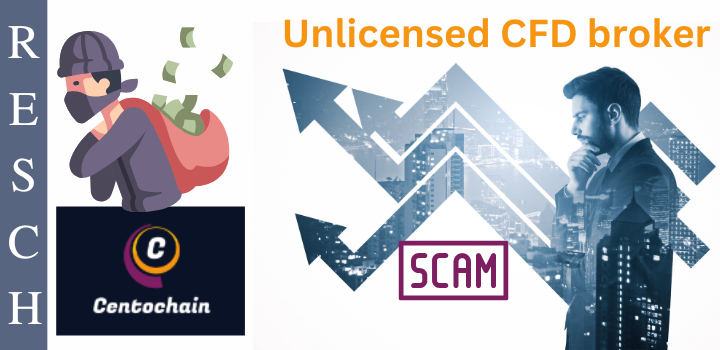 Centochain: Promises on centochain.com are questionable and unreliable
What do astonished investors read on the Centochain website? "Centochain is an automatic online investment platform founded by a team of professional traders who mainly focus on trading cryptocurrencies across multiple exchanges and markets. Adding value to the team of like-minded business people specialized in Bitcoin mining. Our company has rapidly grown through the expansion of the trading industry and mining techniques, and has hired more elite traders and miners." This is just a small selection of exaggerated promises that investors can find on the Centochain website. Not a single one of these promises made by Centochain has been kept. Sadly, this shady business behavior only leads to disappointed investors and miserable experiences!
Centochain: Who is behind it?
Since the creators of Centochain do everything to conceal the true circumstances, it is likely to be difficult for investors to answer this question. This is not unusual, as scammers usually operate multiple websites with the same fraudulent business model. These are created in series, uploaded to the internet one after another, and quickly shut down. Additionally, the top-level domain is changed repeatedly to deceive financial supervisory and law enforcement authorities.
But who is the operator of Centochain?
Nothing useful can be found on the Centochain website regarding this matter. Of course, the operator Centochain Limited is mentioned with the address 1 Great George St, London SW1P 3AA, but the creators of Centochain are certainly not to be found there, as it is a fake address. Furthermore, there is the email address info@centochain.com. The domain centochain.com was registered on 07/12/2022 with NameSilo, LLC.
Centochain: Scheme of investment fraud
Investment fraud follows the well-known pattern over and over again: Initially, investors deposit a small amount, usually 250 euros, and quickly see this amount increase, making them willing to "invest" higher sums. The troubles arise when investors want to withdraw their money because allegedly taxes, commissions, fees, or something else need to be paid first. Unfortunately, many investors realize too slowly that they have fallen victim to investment scammers who never intended to pay back the money.
Centochain: What help is available for investment fraud?
Many affected investors wonder how to deal with investment fraud because filing a criminal complaint makes little sense since criminal complaints primarily serve prosecution purposes, not the recovery of money. What kind of help can be expected in cases of investment fraud, and how can defrauded investors recover their money? A lawyer specializing in investment fraud knows how to trace the money because, as the saying goes, money doesn't disappear; it just ends up somewhere else. At present, it can be added that it is complicated, but with the appropriate tools, it is possible to trace money regularly, even if it was deposited with Bitcoin through a crypto exchanger.
RESCH Rechtsanwälte – Experience in investor protection since 1986
If you have become a victim of Centochain and want to know if and how you can recover your money, call us at +49 (0)30 885 9770 or fill out the questionnaire. You will receive a free assessment of your case.