Capital Way - This is investment fraud
20.09.2022
Capital Way pretends that investors are provided with ideal conditions to make money with online trading as fast as it is safe. Everything at Capital Way is investment fraud. The money immediately landed in the pockets of the investment scammers. Nothing is traded at Capital Way. Everything the investor sees on their screen is fake. Not a cent has been invested. Can you report similar experiences? How does the investor get his money back from dubious providers? What can investors who have been scammed by Capital Way do? What help is available in case of investment fraud?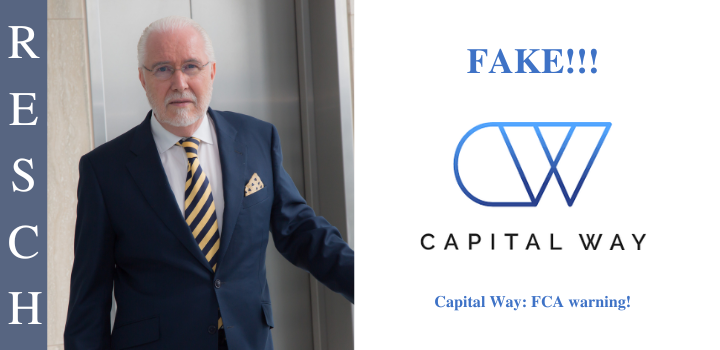 Capital Way: Unbelievable and dubious assertions on the website
What do the dumbfounded prospective investors read on capitalway.info? "Capital Way is a software company that values transparency, partnership, and sharing our success with each of our investors. We excel in our partnership strategies, sophisticated algorithm, and dynamic customer service.... We, as your investment software provider, work around the clock to monitor the software and improve its returns and results. All you, as our client, need to do is invest and relax." That's just one small snippet of text among the questionable assurances that the curious can find on Capital Way's website. Not a single one of these full-bodied promises by Capital Way has been kept. Unpleasantly, the dubious business conduct rather provides for disappointed investors and miserable experiences!
Capital Way: Domain entry is hidden!
Of course, the investment scammers do not want people to track them down easily. That is why the website does not have an imprint with the full details and the address of the website operators. Also, the domain data of the capitalway.info website does not contain any indication of who once registered the site, but only that the registration took place on 10.09.2020 at NameSilo, LLC and that the real domain owners - quite expectedly for us - are hiding behind an anonymization service provider called PrivacyGuardian.
Capital Way: Who is behind it?
Investors will not be able to answer this question. The investment scammers disguise their identity perfectly - almost. This is normal because they regularly operate various websites where they offer their fraudulent business model. Before handling the already mentioned domain capitalway.info, the domain capitalway.com was at the start. However, this domain is currently no longer accessible and is sometimes for sale. And who is the operator of this perfidious construct?
Capital Way: Who operates the portal?
On the Capital Way website capitalway.info there is only sparse information about this. In addition to the obligatory support e-mail address info@capitalway.info, potential investors are given the telephone number 44203456789, which appears to be a British country code, but which is explicitly hidden by the creators in the small print of the page under the heading "Privacy Policy". Three, four, five, six, seven, eight, nine? A strange number. In this way, no conclusions can be drawn about the people responsible for the platform. But what about a possible address?
Capital Way: Address in London?
On the current website capitalway.info, we only find the spartan information "London, United Kingdom". This is not a full address, so it will not be possible to deliver a letter here. Our research department has ways and means to inspect websites that have already been shut down and lo and behold, on capitalway.com we found the address "566 Chiswick Park, High Road, London W45YA, United Kingdom". This information is of course much more precise than the one on the current website. But unfortunately, we could not find a trading empire à la Capital Way there, only a provider of virtual offices. Anyone can thus organize an office address there without ever having been physically on site. This is practical when visitors are rather undesirable.
Capital Way: Worldwide searches
The search for a possible Capital Way in the relevant registers leads to no result. Capital Way is a fantasy product. And what about the alleged operating company named Eastridge Capital Ltd., which can be found in the "Terms and Conditions" of Capital Way? We were able to find such a company in the Commercial Register of the Marshall Islands, also the registration number 97369 is correct, but this company was already canceled in 2021 and therefore no longer exists. In addition, we are already familiar with the address "Trust company complex, Ajeltake Island, Ajeltake Island, Majuro, Republic of the Marshall Islands MH96960", which is mentioned in connection with this alleged operating company. It appears again and again in the context of our investigations of various platforms, which we were already able to expose as fraudulent. Not a good sign!
Capital Way: More leads
There is another Eastridge Capital Ltd., which can be found in the commercial register of the United Kingdom under number 07676438, but this one has demonstrably nothing to do with a possible Capital Way. It becomes even more confusing if one looks at a further side version of Capital Way, which is however not at present for everyone observably at the start. According to the site capitalway-group.com, there is a registration of a Capital Way Group, which also belongs to this rip-off construct, in Bulgaria. This Capital Way Group is to be found in the local trade register under the number 205399128. There is an entry with this number, but it is a company called Usain Power EOOD and not the Capital Way Group mentioned above. United Kingdom, Marshall Islands, Bulgaria? The confusion around Capital Way seems to be perfect, at least that's what the scammers think. We see it a little differently. Because of our research tools, our Investigations Team has succeeded in tracking down investment fraudsters.
Capital Way: Warnings from regulators
Unsurprisingly, Capital Way has already come under the scrutiny of the UK's Financial Conduct Authority (FCA) for its business practices and questionable conduct. Thus, the latter already issued the following warning on 08.09.2020: "Capital Way/Eastridge Capital - We believe that this firm is offering financial services or products in the UK without our authorization. ... Unauthorized Company - Capital Way/Eastridge Capital
Address: Trust company complex, Ajeltake Island, Ajeltake Island Majuro, Republic of the Marshall Islands MH96960, MARSHALLS ISLAND
Tel: +44(0)2033184938,
Email: support@capitalway.com, Website: capitalway.com
Additional Information: Address: 566 Chiswick Park; High Road; London; W4 5YA Phone: +47 21 40 0133; +49 3222 9990 062; +81 345 799 520; +46 107 502 363; +61 283 116 655; +353 766 042 739; +34 518 899 144; +45 787 242 46; +31 858 882 074; +65 31 38 8964; +43 720 022 821.
Email: tonyar@capitalway.com; leahd@capitalway.com Twitter: @Capital_Way.
Please note that this company is in no way affiliated with the UK registered company Eastridge Capital Limited ... ..."

Capital Way: Scheme of investment fraud
The investment fraud follows the same scheme: investors enter with a small sum - usually 250 euros - and quickly see how this amount multiplies, so that they are ready to "invest" higher and higher sums. The trouble comes when an investor wants to have his money paid out, because then taxes, commissions, fees, or anything else supposedly have to be paid first. Much too delayed, most investors perceive that they have fallen for an investment scam and that there was never any intention to have the money paid out again.
Capital Way: What help is available for investment fraud?
Many desperate investors wonder what to do about investment fraud because criminal charges make little sense since criminal charges are primarily for prosecution and not for recovering money. What kind of help is available for investment fraud and how do affect investors get their money back? A lawyer specializing in investment fraud must know how to track the money because as they used to say, money is not gone, it's somewhere else. In the present, one can add: It is not easy, but with the proper tools it is possible to trace money systematically digitally - even if it was transferred with Bitcoin via a Crypto Exchanger.
RESCH Attorneys at Law - Experience in investor protection since 1986
If you have been a victim of Capital Way and want to know if and how you can get your money back, call +49 30 885 9770 or fill out the questionnaire. You will receive a free assessment of your case.