CapFM – Review: FCA warns!
05.06.2023
CapFM implies that investors are provided with fantastic opportunities to make fast and secure money through online investments. At CapFM, everything is investment fraud. Nothing is traded on capfm.io. The money goes straight into the pockets of the investment scammers. Everything the investor sees on their screen is deception. Not a cent has been invested. Have you had similar experiences? What assistance is available for investment fraud? What can investors do if they have been scammed by CapFM? How can investors recover their money from unscrupulous providers?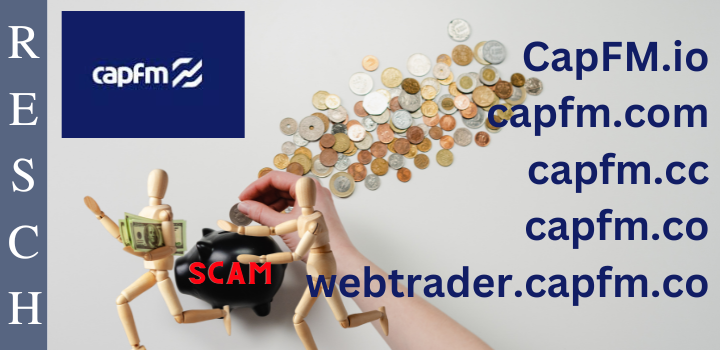 CapFM: Baseless promises
What do perplexed investors on www.capfm.io need to understand? They have realized that the websites capfm.com, capfm.io, capfm.co, and capfm.cc creates a very professional impression. Direct addressing, supposedly interesting offers, and the mention of employee support are meant to lead to convincing returns and profits. All of this appears very persuasive. As an unsuspecting investor, you are unable to recognize that you are only being shown a play and not a cent of your money is being invested. All the money goes straight into the pockets of the perpetrators, who do not trade with the investors' money either. Unfortunately, these questionable business practices lead to unhappy investors and terrible experiences!
CapFM: Who is behind it?
The CapFM website does not provide any revealing imprint information to prevent the culprits from being easily identified. The domain data of the websites capfm.com, capfm.io, capfm.co, and capfm.cc also does not provide any indication of who registered them, as the actual domain owners are concealed – as expected – behind common anonymization services.
But who is the operator of CapFM?
In addition to a collection of email addresses (support@capfm.io, technical@capfm.io, compliance@capfm.io), potential investment prospects on capfm.io are also offered the telephone number +102485877, which does not allow any conclusions to be drawn about the operators. Furthermore, in contact with potential victims, the British numbers +442080970946, +442045716885, and +447572923658, as well as the US number +1 551140020022, were used. The name of a managing director is not disclosed on capfm.io, and the scammers also withhold a valid business address.
CapFM: International investigations - Identity theft
A global search for CapFM in relevant registers yields no results. CapFM is a fictional product. Although this fake company tries to create the impression of a connection to the legally operating company Capital Finance Brokers Limited in London, England, this is a ruse. The fraudsters attempt to appear legitimate in this way, but we consider this approach identity theft. However, with our research tools, our investigation team has managed to track down the investment scammers.
CapFM: FCA warning
On April 28, 2022, the FCA issued a warning, which was updated on June 20, 2022: "CapFM / capfm.io / capfm.co / capfm.cc (clone of an FCA-authorized firm) - Fraudsters are using the details of firms we authorize to convince people that they are working for a genuine, authorized firm... Details of the clone firm - Fraudsters are using or giving out the following details as part of their tactics to scam people in the United Kingdom:
CapFM/ capfm.io/ capfm.co/ capfm.cc (clone of an FCA-authorized firm)
Telephone: +102485877, +442080970946, +442045716885, +1551140020022
Mobile: +447572923658
Email: victoria.hunter@capfm.co, technical@capfm.co, support@capfm.io, technical@capfm.io, compliance@capfm.io, victoria.hunter@capfm.io, support@capfm.co, compliance@capfm.co
Website: CapFM.io/, capfm.com, capfm.cc, capfm.co, webtrader.capfm.co
*
FCA authorized firm details
The FCA-authorized company, which the fraudsters claim to work for, has no connection to the "clone company." It is authorized to offer, promote, or sell services or products in the United Kingdom, and its correct details are as follows:
Firm Name: Capital Finance Brokers Limited, Company Reference Number: 943805
Address: 81 Rivington Street, London, EC2A 3AY, UNITED KINGDOM
Telephone: +4402071268515, Email: pras@capitalfinance.co.uk
Website: www.capitalfinance.co.uk..."
CapFM: Investment fraud scheme
Investment fraud typically follows the well-known pattern: Investors start with a small amount, usually 250 euros, and quickly see this amount multiply, which makes them willing to "invest" higher sums. The problems arise when investors want to withdraw their money because they are then asked to pay taxes, commissions, fees, or something else. Unfortunately, many investors only realize later that they have fallen victim to investment fraud and there was never any intention to pay back the money.
CapFM: What assistance is available for investment fraud?
Many frustrated investors wonder how to deal with investment fraud because filing a criminal complaint hardly makes sense since criminal complaints primarily serve prosecution, not the recovery of money. What kind of help can be used for investment fraud, and how can affected investors get their money back? An attorney specializing in investment fraud knows how to trace the money because, as it was said before, the money is not gone but elsewhere. In the present day, one can add: It is complicated, but with the right tools, it is possible to track money digitally on a regular basis, even if it has been transferred through a cryptocurrency exchanger like Bitcoin.
RESCH Lawyers - Experience in investor protection since 1986
If you have become a victim of CapFM and want to know if and how you can recover your money, call us at +49 30 885 9770 or fill out the questionnaire. You will receive a free assessment of your case.